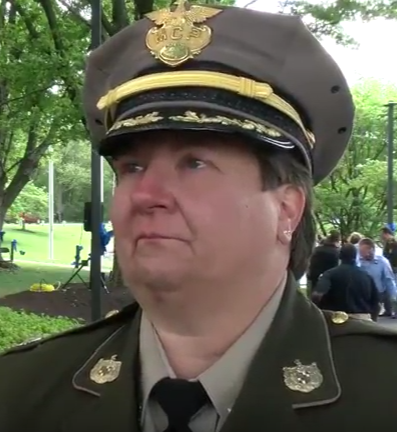 Assistant Chief Betsy Davis Plans to Retire This Year (VIDEO)
The highest ranking woman police officer in the Montgomery County Police Department has announced that she will retire later this year.
"I've been on the job about 33 years, and I have two years of sick leave, so I will leave in October with almost 35 years," Davis said. "I'm excited to go to the next chapter," she added, noting she will miss a lot of things, too.
Find out more in this MyMCMedia Extra video, below:
Davis said she joined the police department to help people.
"When I joined 33 years ago, I never thought I would stay as long as I have," she said. "It's a very rewarding career."
Police Chief Tom Manger mentioned Davis' pending retirement during the annual Fallen Heroes Memorial Service on May 3rd.
"Betsy, your dedication to this police department is exceeded only by the care, the love, the compassion that you have for the families gathered here," Manger said. "You have been a leader in caring for our family, and keeping that promise that we will never forget, and I want to thank you for that…Betsy, you are one of a kind."