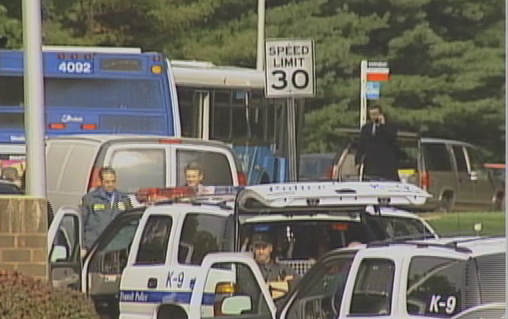 15 Years Later: Residents Remember D.C. Sniper Shootings (VIDEO)
The memorial dedicated to the 10 people murdered in one of the region's most notorious crime sprees, known to many as the D.C. Sniper Attacks, is being renovated at Brookside Gardens in Wheaton.
"I don't think anyone has really forgotten it," Marguerite Danowski of Colesville, said. "Every once in while the word sniper comes up and it immediately brings back memories of those days."
October 24 is the day John Allen Muhammad and Lee Boyd Malvo were arrested. 15 years later, the memories are still haunting for people who live in Montgomery County.
"It was like three weeks of hell here. We were frightened," Marguerite said.
"It's scary because you didn't know where these folks were going to shoot next," Alex Wertheim of Olney, said.
The random shootings took place at schools, grocery stores, bus stops and even gas stations. Alex said he remembers being afraid to do anything.
"That kind of put an element of random fear and I think random fear is kind of what drives people to be most afraid because of course you don't know where something could happen," he said.
It took three weeks for police to arrest Malvo and Muhammed.
Malvo is currently serving multiple life sentences at a maximum state prison facility in Virginia. Muhammed was executed by the state of Virginia in 2009 .
"I think it made us all aware that there is crime," Marguerite said. "Up until then it was just 'oh,well it was a random thing' and suddenly it felt like it was really terrible and I think the community came together."
"It was definitely a feeling of we're all in this together.  Anyone of could be a victim at any time and I think that tends to pull people together," said Alex.