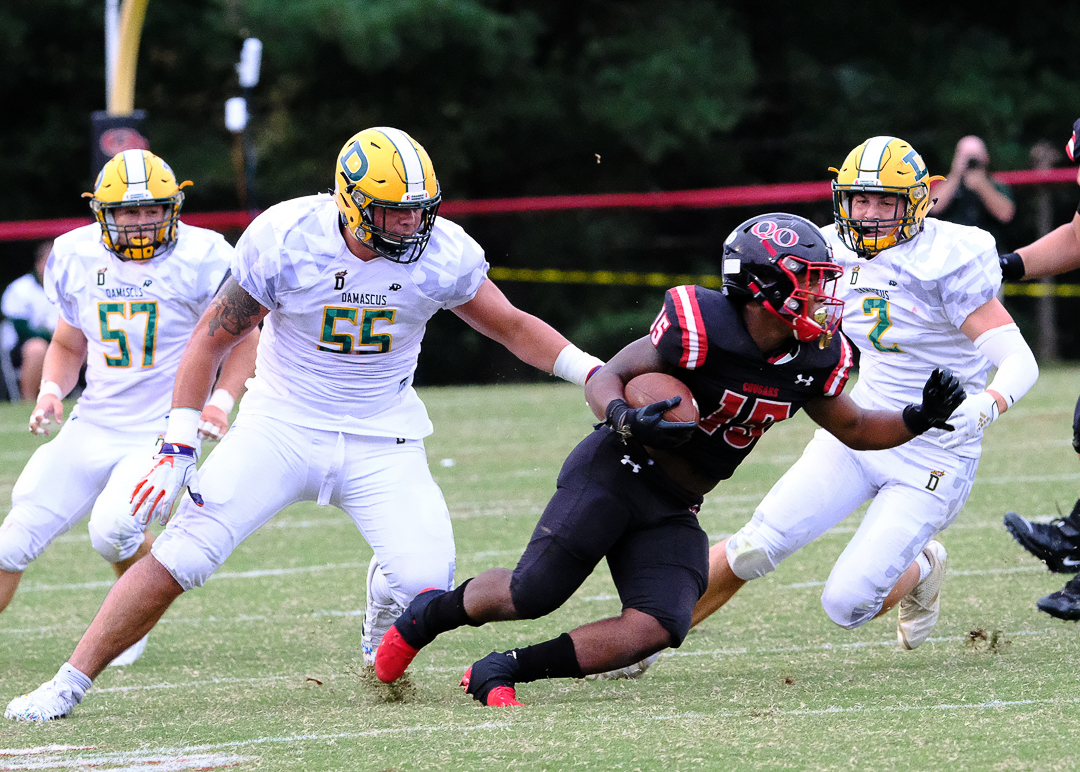 BLOG: We've seen a thing, or two. Glory Day Players of 2019.
I, along with two other associates, have initiated an inaugural standout players of the year football season compendium.  Together we have photographed for Montgomery Community Media covering over 30 football games during the season which began in mid-August and ended in early December.
We have photographed on private and public high schools' sidelines that call the DMV home, be it in Olney, Annapolis, MD or Chantilly VA.  This is more than strictly a coaching view of the best of MoCo classifications.  We have the seen routs, the upsets and the champions crowned.
For fun we put our heads together. Talking on the sidelines we came up with a small list of those high school players that have impressed, aka, stood out on the playing field.  We did not rely on statistical performance rather they need to pass our eye test.  Some players got viewed more than once based on our own assignments
We are not the ones to say whether these players are all county or all met material.  We could ask their coaches who not only have game film of them but also on their weekly key opponents.  That could be a slanted view should we do that.  Because it does not meet "our" eye test of what we saw and photographed.
So, what we have that their coaches don't always have is a perspective game day witness accounting.  Basically, the beat writers, the coaching staffs and some photographers cannot be everywhere to watch as many teams as we did at ground level.  Nor can they always see the expression of effort, satisfaction or disappointment that follows the high school game day experience.
The categories include Offense, Defense and Coach.  Within the offense category we broke it down to Lineman, Backfield, Quarterback, and Receiver.  For the defense category we have Lineman, Secondary, Safety and Special team/Kicker/punter.  Coach is the head coach.
Lastly, we added one fun but very telling category – the Glory Day Player of the Year category.  This one is about the player whom we have determined that years from now he and his friends will still talk about.  Listen to Bruce Springsteen's Glory Days song and you'll catch our sense of the category's meaning.
Like the tagline of an oft-repeated insurance commercial – "we know a thing or two, because we have see a thing or two".
So, let's begin with the Offense standout players
Lineman:  Senior, Bryan Bresee of Damascus.  There was a lot of hoopla surrounding Bryan, a 6'5" 280-pound lineman as being the #1 D1 college recruit in the nation.  He is a Clemson commit.  We caught him twice, once against Quince Orchard (QO) and the other time in the 3A state championship game.  We have been following him for the prior two years.  He is fast, agile and has multiple skill sets.  However, it was on the offensive line where he excelled in creating holes (and protection) for the Damascus Hornets offense.  Ultimately, his play helped the team to return to championship status.
A close second to Breeze would be the entire front offensive line of Good Counsel.  They were big and imposing.  That crazy five overtime period game against Gonzaga that they won was just a beef-fest.  For the first four quarters it was who was giving in first, Good Counsel's O-Line or Gonzaga's D-Line.  Fortunately, both lines got tired in the 5 overtime periods. The game officials moved the ball to the 25-yard line during the OTs.  Thanks to them both offenses backfields got a chance to play on a shortened field in that classic October game in Olney.
Backfield:  Senior, Marquez Cooper of Quince Orchard.  He has been tearing up the Bermuda turf (and some artificial stuff too) on football fields in the county for the past two years.  Quince Orchard record setting rushing and scoring performances aside, if you did not stop Cooper, chances are your team ends up on the losing side of the scoring column.  Never since the days of Jake Funk, from Damascus, could you physically see the synapses connecting in his eyes as he, a halfback, ran down field.  It was not always his brute strength that bowled over the opponent, rather it was his foot tapping quickness that buckled the defender's knees.  His next stop was the end zone.  He never danced in the end zone.  He acted like he'd been there before.  He'd drop (sometimes slammed) the ball to await his offensive lineman's shoulder pad pounding.
Quarterback:  Senior, Josh Forburger of Walter Johnson.  Surprised?  Don't be.  What the WJ Wildcats did this year is the best story in Montgomery County football this season.  A better story than Rockville's season.  It does not happen unless Forburger buys into what Coach Larry Hurd, Jr. is selling.  WJ moved the ball in the air, extended games by using an air attack and a smart senior QB who consistently found open receivers.  Yeah, they lost big to QO in the state playoffs, but it was not without taking full advantage of air attack to put up 21 points and kept them in the game late into the third quarter.  The Wildcats do not go 8-3 for their exceptional season without Forburger's leadership.  Leadership is what he exhibited in the Cougar Dome during the state playoff.
In comparison, teams that we saw who played in Montgomery County such as Gonzaga, Good Counsel, Rockville, NW, Quince Orchard, RM, Seneca Valley all had great leadership at that quarterback position.  However, Phil did see a leader on the other side of the Potomac in the VA Class 6 playoffs, who was similar to Forburger.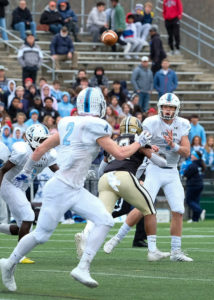 Phil, while on a personal assignment caught the Class 6 Virginia Playoff semi-final game between Westfield and Yorktown.  It was a great exhibition of two top DMV quarterbacks, Noah Kim (Westfield) and Grant Wilson (Yorktown).  Like Forburger at WJ, Grant Wilson a senior, lead the Yorktown Patriots to an exceptional 11-2 record. Though we don't see Arlington County teams often, you can see that Wilson has the leadership skills (over 2,400 passing yards and 22 TDs) to carry the Patriots up to and against the high caliber Westfield team.  Injured in the 3rd quarter, Wilson would leave the game and his glory days career on the field that afternoon, a leader.
Receiver:  Junior, Kaden Prather of Northwest.  David had the best chance to follow Kaden as he saw all four NW playoff games.  Phil saw NW three times and Daryl saw NW twice.  In the win over QO in the state semi-final NW stuck mostly to the ground and used Prather sparingly for end around runs.  NW's plan limited QO's ability to get into the backfield to disrupt the passing game, Kaden's game suffered.  In the State Championship game NW had no choice but to pass and found Prather a number of times including a 79-yard TD completion.  Wise, the 4A state champs, could make excuses, (we heard a few on their sidelines) that their coverage defenders were out of position, but the reality is Prather is just too talented, too fast and a load for any defense back, state champion or not.  He will be fun to watch next season.
Next is the Defense
Lineman:  Junior, Demeioun Robinson of Quince Orchard.  Wow, was he fun to watch.  There were not many teams that QO faced which could defend him.  Therefore, he spent much of his time in the opposing team's backfield.  If he wasn't involved in a sack, then he was blocking a punt.  Phil saw him block three during the season.  Many may contend that it was NW's winning formula to stop QO's running back Marquez Cooper that decided their classic playoff battle.  However, one of us (Phil) contends the NW win was more a result of running plays opposite Robinson and not relying on the pass or playing toward his strengths.  Too many images reviewed of that game showed Robinson playing catch up, running across the field in pursuit of a NW quay.   He is back next year.  Oh, and he's caught the eye of certain head coach from Alabama, who ventured north to QO to have a postseason chat with this rising uncommitted senior.
Some call for Bryan Bresee to be Defensive lineman standout.  Yes, though he was just as effective causing disruption at defensive end, but Robinson was the standout who played the same position.
Let's return once again to that long OT game in Olney, MD between Good Counsel and Gonzaga. Here, we could call for the entire Gonzaga defensive line to be honored.  Fact is, it did not matter whose line was bigger or better, both teams O-Line and D-Line were gassed at the end.  Only Good Counsel's backfield and receivers survived that quest when the game mattered most in the red zone.  The 5th overtime period.
Secondary:  Senior, Mitchell Melton of Our Lady of Good Counse, Olney, MD.  This 6'3" 235-pound linebacker helped the Eagles survive the rigors of the Washington Catholic Athletic Conference to end up #1 in the DMV.  Good Counsel also found a way to be relevant nationally ending up in the Top 25 for 2019.  It was that monster five overtime period game on October 10th in Olney where we first came across Melton.  He made his presence known on almost every defensive down he played.  If he wasn't in on a tackle or being double teamed, he'd end up in backfield to harass that cagey Caleb Williams, the opposing quarterback from Gonzaga.
Safety:  Senior, Jalil Faroog of Dr. Henry A Wise.  He played both ways for the 4A Champs.  He was in almost every defensive play at Navy-Marine Corps Stadium against NW.  Size in this instance does not matter, your best athlete is usually in that safety position.  He covered the previously mentioned Kaden Prather like a glove on all the deep routes.  He broke up a momentum changing pass play in the first half after having been beaten long once before.  He became a very quick study.
Special team member/Kicker/Punter:  Special Teams, Returner, Charles Bell, Jr. of Quince Orchard.  As an ever present danger on kickoff and punt returns Charles Bell was the moment changer for the Cougars.  His ability was uncanny as he wove up field to find an alleyway as provided by his teammates.  Until Quince Orchard met Arundel in the Round 3 playoff game, Arundel, who specialized with onside kicks were the only team to neutralize his potency.  Always a pleasure to watch him take off but difficult to capture photographically unless you waited near the end zone.  Bell launched the Cougars to extreme heights all season long.
Coach (Montgomery County)
Coach:  Teacher, Larry Hurd, Jr of Walter Johnson.  Yes, there are many good coaches whose programs throughout MoCo and the DMV deserved consideration.  However, this was a comeback year for Hurd who previously left Clarksburg under a cloud of scrutiny.
We mention that so as to outline why the recognition.  Walter Johnson was a perennial door mat of a football program in the county.  It needed a winning attitude adjustment.  A successful season had to be more than just beating Bethesda Chevy-Chase, or Whitman, or even shudder to think, Churchill.  But beat them all they did – both Whitman and Churchill for the first time since the 1970's.  Think about that – two generations of football players having to live in the shadow of losing to Whitman and Churchill, all the time.
So, to top that they get a 4A state playoff bid.  They win that, their first playoff win, EVER.  They are so lucky that they are rewarded to play the following week at then #2 Quince Orchard.
Larry Hurd, Jr was a quarterback in high school. He played and won a state championship for Quince Orchard in the late 1980's.  By all accounts he is a winner at this level.  He is the only major individual sitting in the athletic department at Walter Johnson who comes close to knowing what it's like to win a game at Quince Orchard.
On that night of November 15, 2019 Walter Johnson fell short of their greatest upset victory in this exceptional year.  But there are plenty of student-athletes who know and now believe in better future football days at Walter Johnson, thanks to teacher, Larry Hurd, Jr.
Glory Days Player of the Year.
Let's begin to define this acknowledgment.  What is a Glory Days player of the year?
Well, fast forward 15 or 20 years from now and your sitting next to some high school buds sipping an adult beverage.  You hear as their conversation turns inward as they relive the past in a fog of glory. They look at each other and laugh about who's the most noteworthy or greatest opponent they've played against (on the football field).  A name comes up, and the stories roll out longer and bigger than that fish anyone caught on the Outer Banks last summer.  Glory Days Player of the Year is defined.
Glory Days Player:  Bryan Bresee of Damascus
Who knows what will happen to Bresee?  He'll choose a D1 school, maybe stay the four years or be smart enough to be a graduate transfer and play elsewhere, follow a dream.  His options are endless at this point.  He may play on Sundays, or just choose to live another career choice.  Again, all too soon to tell.
So, we offer this as an example.  Look up (Wikipedia) the name Walt Patulski.  Bryan Bresee is his present-day double.
What, we saw at the 3A state championship game was a Glory Days flash forward.  A moment in time captured by our camera's.  Images that will live certainly in our memories, exist in our photo archives, and in Bryan's memory.  It will also exist in his teammate's and opponents' memories.
Bresee, as a fullback, with a broken hand ran 4 yards for a touchdown against Linganore.  Kind of strange for this Damascus O-Lineman and a Defensive end correct?  Then you didn't Wikipedia Walt Patulski.  Later, Bresee would represent and accept the 3A state champion trophy.  All glory day moments.
So, here are those images, just look at the smile on Bresee and his teammate faces.  This is why we photographers do what we do.  Coaches may understand and know the heartache, the agony of defeat or feel of victory.  But rare is the opportunity to see those moments from our unique vantage points as photographers.
We know a thing or two, because we have seen a thing or two.
Phil Fabrizio (with input and sideline collegiality from David Wolfe and Daryl Schultz).