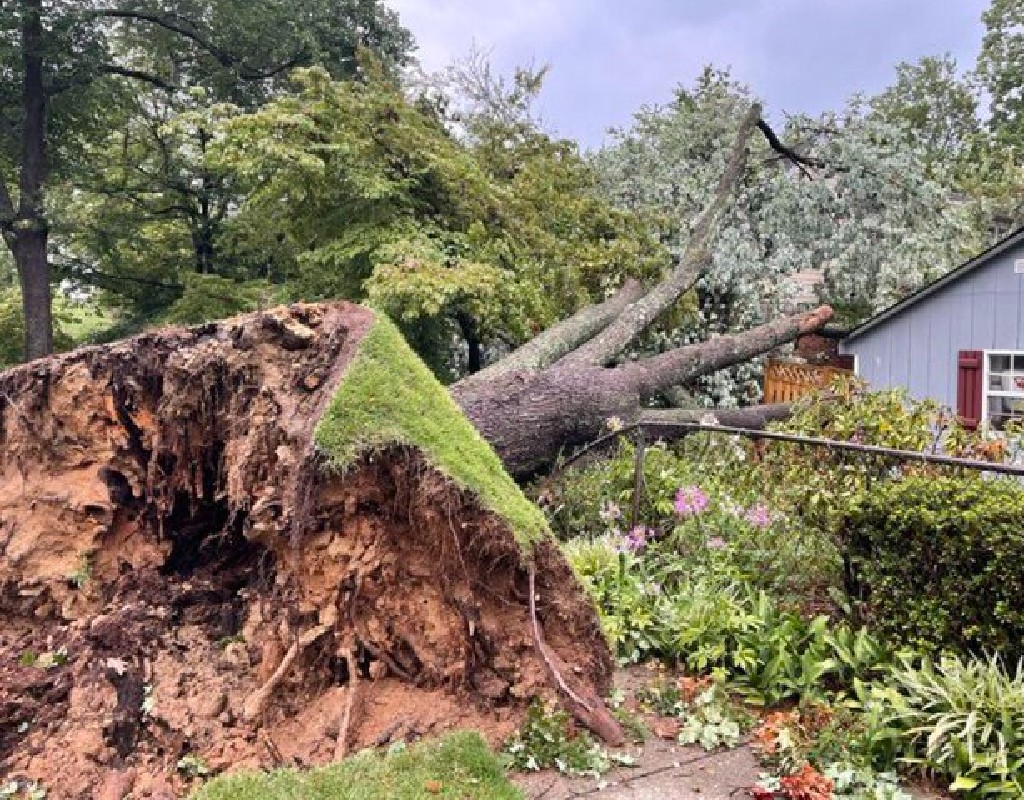 Wednesday's Storm Caused Downed Wires, Power Outages, Debris on Roads
Thunderstorms ripped through the county again Wednesday afternoon and evening, causing toppled trees, loss of power, vehicle accidents and stranded cars in high water.
At one point during the storm, about 10,000 customers were without power due mainly to downed trees on power lines. By Thursday morning, 899 customers remained without power due to 77 outages in the county, according to Pepco.      
Montgomery County Fire and Rescue Services Spokesperson Pete Piringer tweeted photos of roads filled with debris and power lines, many taken near Wildwood Shopping Center on Old Georgetown Road in Bethesda. Several trees fell onto houses in that area, but no injuries were reported, he said, noting that "just about every street in the Wildwood area" had trees and wires strewn throughout.
Hard hit areas also included Silver Spring, White Oak and Kensington, he said.
The county's Emergency Communication Center handled more that 100 calls for service between 3:30 p.m. and 5:30 p.m.. "About one call every minute. The daily average (24 hours) is about 325-350 calls for service. They were busy & handled it well," tweeted Piringer.
About 10,000 customers lost power this evening as storms downed trees and power lines. Our crews are making progress and many customers are now back in service. We will continue to work around the clock until all service is restored. Stay safe this evening!

— Pepco (@PepcoConnect) August 12, 2021
Kensington, MD several homes in area damaged by falling trees during Wednesday's (8/11) severe weather thunderstorm @MontgomeryCoMD https://t.co/ReZV7n6ihW pic.twitter.com/vsDSAx0c9x

— Pete Piringer (@mcfrsPIO) August 12, 2021
High water on beltway between I270 Spur/Bradley Boulevard and Old Georgetown Road, near Fernwood Road overpass, some lanes blocked locked @MontgomeryCoMD @MontgomeryCoMD @MDSHA https://t.co/4lUxp3vkh2 pic.twitter.com/8FWySHShlL

— Pete Piringer (@mcfrsPIO) August 12, 2021
IAO Wildwood neighborhood, Luxmanor School on Grosvenor La, power out in area https://t.co/s5HUDE78JP pic.twitter.com/mwo1WIAVCy

— Pete Piringer (@mcfrsPIO) August 11, 2021
Wildwood neighborhood, lots of trees down, power out near Wildwood shopping Center https://t.co/72wiXR0RB7

— Pete Piringer (@mcfrsPIO) August 11, 2021
ICYMI – few large trees down near Beech Avenue and Old Georgetown Road in front of YMCA Bethesda/Chevy Chase https://t.co/4TNKKHQTiC pic.twitter.com/w8FJikHp0D

— Pete Piringer (@mcfrsPIO) August 11, 2021
Alta Vista Rd, off Old Georgetown Rd, tree rock wires down on top of vehicle, utility vehicle being used by work crew in area, no injuries, other nearby homes received some damage including one on Lundigan Ct https://t.co/BVFyqwPDGy pic.twitter.com/Q3cojbz7CR

— Pete Piringer (@mcfrsPIO) August 11, 2021
(8/11) Wildwood Neighborhood, typical scene, Power out, lots of debris in the roadway, some houses damaged, Chatsworth Dr, Farnham Rd, Rossmore Rd ….. @MontgomeryCoMD https://t.co/h1Nryhr5A1 pic.twitter.com/LKaDnlEWtK

— Pete Piringer (@mcfrsPIO) August 11, 2021
WATER RESCUE – IL I495 beltway between 8 to 70 Spurrier and old Georgetown Road vehicle in high water with entrapment, @mcfrs SW710, SW710B, A710, PE726, BC702, E750, A751

— Pete Piringer (@mcfrsPIO) August 12, 2021
ICYMI (8/11) @MontgomeryCoMD @mcfrs emergency communication center (ECC) handled >100 (dispatched) calls for service between 330 and 5:30 PM. About one call every minute. The daily average (24hrs) is about 325-350 calls for service. They were busy & handled it well pic.twitter.com/s19hEZguin

— Pete Piringer (@mcfrsPIO) August 11, 2021