Watch Manage Your Damn Money with Ben & Malcolm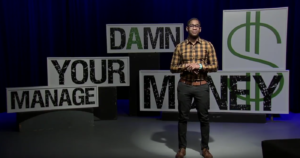 Ben Carter and Malcolm Ethridge co-host the latest episode of Manage Your Damn Money (MYDM) with conversations about money management. The show includes stories to help viewers gain more confidence in what they know or should know about personal finances.
On this episode of Manage Your Damn Money, Ben and Malcolm discuss:
MYDM production moves to Montgomery Community Media studios;
Malcolm looks back at financial accomplishments in 2017, including paying off his student loans;
Both Ben and Malcolm begin the new year with major purchases and share strategies to being successful;
Tips for creating financial goals;
Impactful money news stories from the start of 2018;
Malcolm's money minute;
News and opinions on cryptocurrency;
A startup business that converts space in an apartment to help tenants afford rent.
Watch the show in its entirety below:
Find Ben on social media using @MYDM1 or Malcolm using @MalcolmOnMoney.
Send questions, comments, or concerns to Ben and Malcolm via email to info@manageyourdamnmoney.com.