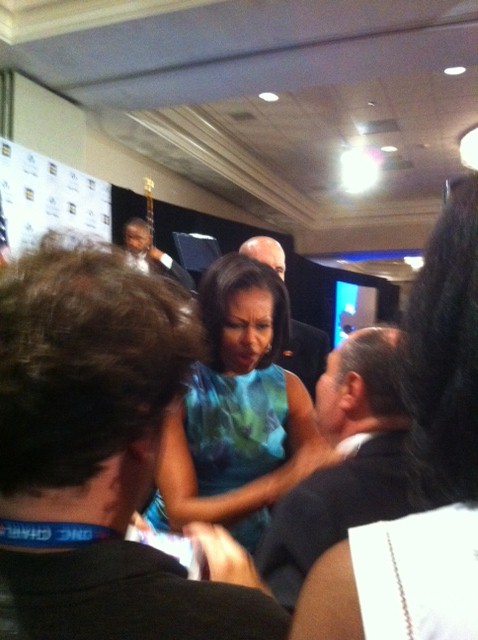 "She is the Real Deal"
The DNC got started off with a huge bang. I will always remember where I was when Mayor Corey Booker, Gov. Duvall Patrick, Mayor Julian Castro, Lilly Ledbetter, and Gov. Martin O'Malley spoke the truth to the American people about what the Democratic party means to all of us. But what a night it was when Michelle Obama took the stage and rocked the nation! She is the real deal.
Today, I didn't think anything could top last night. But it came in a real close second. I was privileged to attend the Human Rights Campaign's panel discussion at the Google tent. The panelists were Ben Jealous, National President of the NAACP (and my constituent), Chad Griffin, the Executive Director of the Human Rights Campaign, a hugely charismatic and brilliant new leader of that organization, Eric Cathcart, from the Washington Post, and Campbell Brown, a journalist. It was the kind of conversation that was electric and reminded me of the struggles that so many people in our country have just to enjoy full citizenship. As Ben Jealous said, "No person can be mistreated based on what they are." And this is according to the U.S. Constitution. The way that we will move the country forward on the issue of gay marriage is understanding that people that you already know and love are gay. At the end of the day, why does it matter who each of us chooses to love?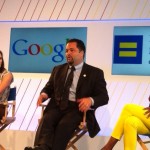 After the panel discussion I was invited along with Martine Rothblatt and her partner Bina to a luncheon sponsored by the HRC and the Victory Fund. The guest of honor was none other than Michelle Obama. What a thrill it was to see her in person at such an intimate gathering. She put the marker out there again asking all of the attendees to work harder on getting Obama elected than ever before. It was electric!
I also got my picture taken with Corey Booker. The highlight of my day. I also met Mayor Michael Hancock of Denver, Colorado. A really impressive guy who grew up in the Park Hill neighborhood of Denver where I spent summers and where my cousins, aunt and uncle live.
I just got to the Time Warner Center visiting the sky box of a friend. We got here early and the place is already filling up. It's almost 4:30 pm. I will post more later.