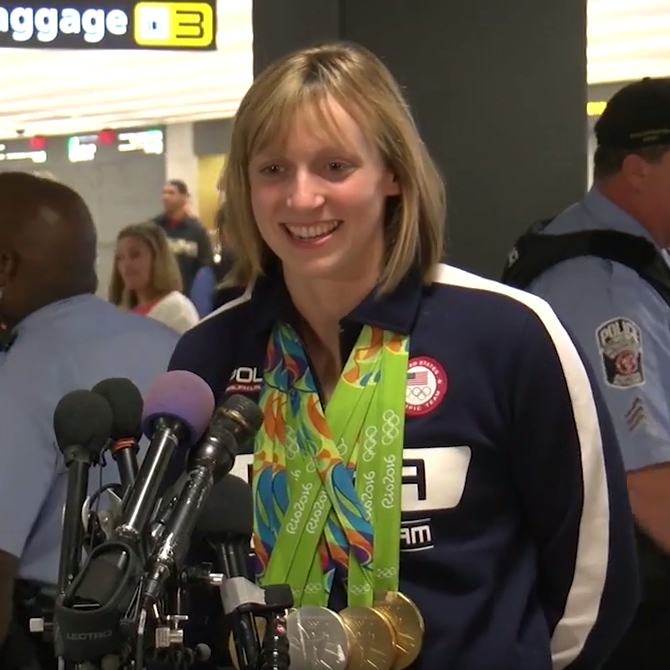 Two Maryland Olympians Named Olympic Athletes of Year
Gold medalists Katie Ledecky and Kyle Snyder were named Female and Male Olympic Athlete of the Year by Team USA Thursday at an awards ceremony in Los Angeles.
Bethesda's Katie Ledecky won five gold medals at the 2017 FINA World Championships. Ledecky graduated from Stone Ridge School in Bethesda and currently attends Standford University.
Kyle Snyder graduated from Good Counsel High School in Olney and currently attends Ohio University.
Female Olympic Athlete of the Year went to Katie Ledecky for swimming
Ledecky won six medals – including five golds – at the 2017 FINA World Championships, claiming three-peats in three individual events and setting the women's record for most career world championship gold medals with 14 overall.
Katie Ledecky was unable to attend the awards ceremony. Her acceptance speech can be viewed here.
Male Olympic Athlete of the Year went to Kyle Snyder in wrestling
In a bout that was dubbed "The Match of the Century," Snyder defeated Olympic and two-time world champion Abdulrashid Sadulaev of Russia, 6-5, to win the 97 kg. gold medal – his third straight world or Olympic title – and help Team USA claim its first men's freestyle wrestling world team title in 22 years at the 2017 World Wrestling Championships.
The United States Olympic Committee announced the winners of the 2017 Team USA Awards presented by Dow, Best of the Year, recognizing the outstanding achievements of Team USA athletes, teams and coaches in eight categories:
Katie Ledecky Female Olympic Athlete of the Year in swimming;
Kyle Snyder Male Olympic Athlete of the Year in wrestling;
U.S. Women's National Team Olympic Team of the Year in ice hockey;
Bill Zadick Olympic Coach of the Year in wrestling;
Tatyana McFadden Female Paralympic Athlete of the Year in Para track and field;
Mikey Brannigan Male Paralympic Athlete of the Year in Para track and field;
U.S. National Team Paralympic Team of the Year in sled hockey;
Eileen Carey Paralympic Coach of the Year in Para Nordic skiing
The eight awards were presented Thursday night at UCLA's Royce Hall in Los Angeles. The awards show hosted by singer, actor Mark McGrath will be televised from 5-6 p.m. ET Dec. 23 on NBC.
The year-end celebration also recognized Allyson Felix with the Jesse Owens Olympic Spirit Award – which recognizes an individual who has served as a powerful force for good in society, inspiring others by contributing to a better world, uniting people or leading a cause – and the Easton Sports Development Foundation as the recipient of the Building Dreams Award, presented by USG, which honors an individual, group or community that has gone above and beyond in its support of Team USA.
Additionally, high jumping sensation Chaunté Lowe was presented with her bronze medal from the Olympic Games Beijing 2008 during a special ceremony. The four-time Olympian initially finished sixth in Beijing, but was recently upgraded to the bronze medal by the International Olympic Committee.
The six athlete and team award winners were determined by online fan voting at TeamUSA.org/Awards, where more than 260,800 fan votes determined 50 percent of the final tally. Members of the Olympic and Paralympic family – including an esteemed panel of Olympic and Paralympic journalists – accounted for the other 50 percent. For coaching awards, National Governing Bodies selected their nominees as part of the USOC's annual Coach of the Year Recognition Program, and the winners were determined by a USOC selection panel of coaching and sport performance professionals.
In addition to presenting sponsor Dow, DICK'S Sporting Goods and USG are associate sponsors of the Team USA Awards, Best of the Year event.
Read more about the awards, here.