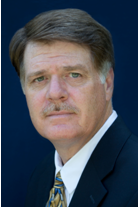 Tony Tomasello Named City Manager
Following a national search, the Gaithersburg Mayor and City Council has announced the appointment of Deputy City Manager Tony Tomasello as City Manager, effective immediately.  Tomasello has been serving as Acting City Manager since the resignation of Angel Jones on June 15.
"Tony has been a tremendous asset to the City for many years," said Mayor Sidney  Katz.  "The Council and I interviewed a number of well-qualified candidates for this position.  We were most impressed with what Tony can bring to the table in terms of familiarity with the city's operations and staff, knowledge of local and regional issues, a solid background in economic development, and a commitment to enhancing Gaithersburg's reputation for excellence."
"I'm honored to accept this outstanding opportunity, which I believe to be one of the premier positions in local government," said Tomasello. "The combination of a cooperative and informed Mayor and City Council, an exceptionally dedicated and professional staff, and an engaged citizenry, has made working in Gaithersburg a pleasure and provides a strong foundation for us to build upon."
Tomasello joined the City of Gaithersburg as Economic Development Director in 1996.  In 2001 he was promoted to the position of Deputy/Assistant City Manager.  He holds a Master of Business Administration from Frostburg State University and a Bachelor of Science in Finance from the University of Maryland, University College.
As Deputy City Manager, Tomasello assisted the City Manager with a variety of assignments related to the planning, direction, control, and evaluation of the operations and programs of the City.  In addition to significant involvement with budget development and oversight, Tomasello has recently been involved with transitioning the city's economic development programs to the recently-hired Economic Development Director, completely revamping the city's strategic plan, and working on a number of special City projects, including the future of the Kentlands Firehouse and plans to enhance Constitution Gardens.
Gaithersburg's City Manager is appointed by the City Council and serves as the chief administrative officer for the City.  Tomasello will manage Gaithersburg's administrative operations in accordance with policies and procedures set forth by the City Council, with a professional staff of 272 full time employees and a City budget of $50.6 million.  His starting salary will be $165,000.
For more information please contact the Gaithersburg City Manager's office at 301-258-6310 or visit the city's website at www.gaithersburgmd.gov.