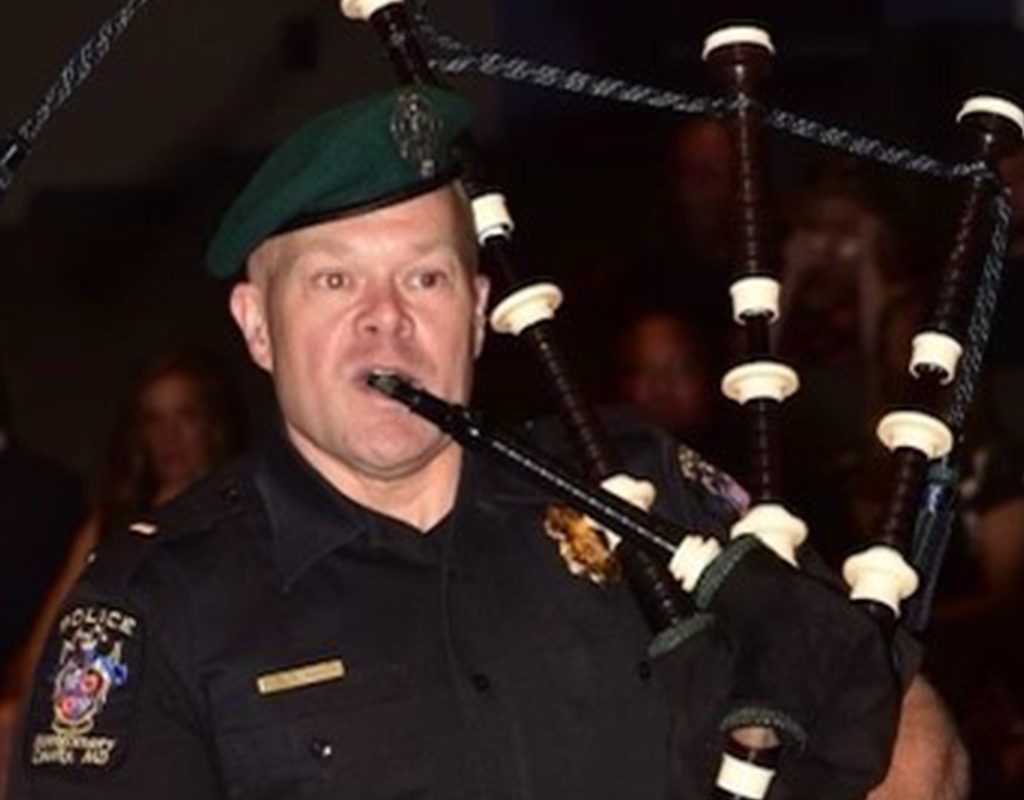 Teniente de MCPD Fallece en Accidente Vial
El teniente Daniel Friz del Departamento de Policía del Condado de Montgomery (MCPD) falleció poco después de la medianoche del lunes tras una colisión con un camión sobre la I-70 en Lisbon. Estaba fuera de servicio en el momento de su muerte. La Policía del Estado de Maryland continúa investigando el incidente.
Friz comenzó a trabajar para MCPD en enero de 2003. Mientras se desempeñaba como oficial de MCPD, Friz trabajó en los distritos de Gaithersburg y Silver Spring, la oficina de información pública, la academia de capacitación y la división de investigación de víctimas especiales.
El jefe de la policía Marcus Jones dijo que le resultó difícil hablar sobre la muerte de Friz porque lo conoce desde hace mucho tiempo, después de haber trabajado con él en la academia de policía.
"Nunca buscó reconocimiento o fanfarria. Estaba feliz de estar detrás de escena y permitirle a otro beneficiarse de su arduo trabajo. Si era lo mejor para el equipo, Dan se encargó de eso", dijo Jones.
View this post on Instagram
Friz subió de rango en MCPD. Fue ascendido a cabo y sargento en 2012. Se convirtió en teniente en julio de 2018 para el distrito de Gaithersburg y luego fue asignado a la academia de formación policial.
"La Academia de Entrenamiento de la Policía del Condado de Montgomery, y este departamento de policía son mejores por el trabajo que Dan realiza todos los días y todas las noches", dijo Jones.
Friz también era conocido por tocar la gaita en una variedad de ceremonias policiales. "Sé que la próxima vez que escuche la gaita voy a estar pensando en él", señaló Jones.
This afternoon, Chief Marcus Jones held a press conference where he talked about the life and service of MCP Lieutenant Daniel John Friz, who died in a fatal collision this morning in Howard County.

To watch the press conference, visit the link below. https://t.co/eNo8nxeEOZ

— Montgomery County Department of Police (@mcpnews) November 2, 2021
A Friz le sobreviven su esposa, quien también se desempeña como oficial de MCPD y sus tres hijos. Jones dijo que MCPD está tratando la muerte de Friz como una muerte fuera de servicio, pero el departamento brindará apoyo total a su familia.
"Cuando perdemos a un oficial hermano o hermana, es algo que nuestra familia se une, nos abrazamos porque es un miembro de nuestra familia que hemos perdido hoy", dijo Jones.
Líderes del condado de Montgomery ofrecen condolencias
📰 Please read my statement on the loss of one of @MontgomeryCoMD's finest, @mcpnews Lt. Daniel Friz. pic.twitter.com/YsODwjOG8M

— County Exec Marc Elrich (@MontCoExec) November 1, 2021
Awful news this morning. We're sending our thoughts to Lieutenant Daniel Friz's family and the @mcpnews community. https://t.co/jr0s5TZ1UO

— Rep. David Trone (@RepDavidTrone) November 1, 2021
Heartbroken by the passing of Lieutenant Daniel Friz. For many years, Officer Friz gave his best to @MontgomeryCoMD, keeping our residents safe and secure. This is a tragic loss, and my sincere condolences go to his family, and the @mcpnews team.

— Nancy Navarro (@nancy_navarro) November 1, 2021
Our sympathies are with the family, friends, and colleagues of Lt. Daniel Friz who tragically passed away this past weekend.

I ask you all to keep the Friz family, and Daniel's colleagues at the MCPD, in your thoughts during this tragic time.https://t.co/GqCxpoKRJo

— Hans Riemer (@hansriemer) November 2, 2021
Deeply saddened to hear the unexpected passing of MCPD Lt. Daniel John Friz—an 18-year veteran of the County's police dept. His dedication to the safety of our residents will never be forgotten. Sending condolences to his loved ones & @mcpnews family during this difficult time.

— Councilmember Gabe Albornoz (@albornoz_gabe) November 1, 2021
Deeply saddened by the tragic death of Lt. Daniel Friz, an 18-year @mcpnews veteran and Deputy Director of the department's Training and Education Division.

Our thoughts are with his loved ones, friends, and colleagues at this difficult time. https://t.co/XPjTSqP7Hx

— David Blair (@DavidTBlair) November 1, 2021
The Maryland State Police send our condolences to the Montgomery County Police Department for the loss of Lieutenant Daniel John Friz. Our thoughts and prayers are with Lt. Friz's family and the entire department community. https://t.co/wRS4LB7DbL

— MD State Police (@MDSP) November 1, 2021
We extend our deepest sympathy and condolences to our friends and colleagues at @mcpnews on the tragic and untimely passing of Lt. Daniel Friz early Monday morning. Please keep him and his family in your thoughts. pic.twitter.com/GgnjfOWuV6

— Park Police MC (@ParkPolice) November 2, 2021
The thoughts of every member of ATF Baltimore are with family, loved ones, & @mcpnews colleagues of Montgomery County Police Lt. Daniel John Friz, who died in a fatal vehicle collision yesterday. His service & dedication to the citizens of Montgomery County will not be forgotten. pic.twitter.com/r8a9Ej5eBc

— ATF Baltimore (@ATFBaltimore) November 2, 2021
The BHPD sends our condolences to the family, friends, and fellow police officers from the Montgomery County Police Department on the loss of Lieutenant Daniel Friz. pic.twitter.com/PUpjJjqEmh

— Berwyn Heights Department of Police (@BHPDNews) November 2, 2021
The Rockville City Police Department would like to express our thoughts and prayers to the family, friends and @mcpnews for the tragic passing of Lt. Daniel John Friz early this morning. We are thinking of you and extend our deepest sympathies to all. pic.twitter.com/lNZuhXugyy

— Rockville City Police Department (@RockvilleCityPD) November 1, 2021