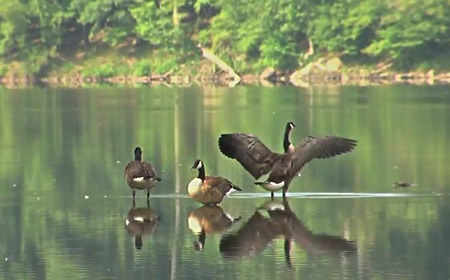 Ten Ways to Enjoy Montgomery County's Parks
The Montgomery County Council and County Executive Isiah Leggett have proclaimed the month of July as Parks and Recreation Month.
In fact, this month marks 30 years that park systems around the United States have celebrated Parks and Recreation Month.
However, a survey financed by the National Recreation and Park Association in May 2014 indicated that adults are not taking advantage of the recreation opportunities in their own backyards. Nearly 3 in 10 adults don't spend time outside on a daily basis, according to the survey.
Parks and Recreation Month is a great time to explore Montgomery Parks. A sampling of upcoming programs, events and festivals taking place this month include the Park's Wings of Fancy Live Butterfly and Caterpillar Exhibit, a neighborhood cookout and picnic at Wall Park on July 21, and the third annual Little Bennett Great Outdoors Festival on July 25.
With 420 parks, Montgomery Parks has plenty of options for people to get outside and enjoy nature, recreate and get away from it all, including:
Boating on Rock Creek Regional Park's Lake Needwood Black Hill Regional Park's Little Seneca Lake;
Enjoying a sunset pontoon cruise on Little Seneca Lake;
Try something new by enrolling in one of Montgomery Parks' many programs such as ice skating classes, golf clinics or tennis lessons;
Hiking on one of Montgomery Parks natural surface or paved trails;
Fishing at one of 9 locations in Montgomery Parks;
Camping at Cabin John or Little Bennett Campground;
Take a ride on the Wheaton Carousel and/or the miniature trains in Wheaton Regional Park and Cabin John;
Visit one of two public gardens (Brookside or McCrillis);
Drop in at one of four nature centers located in parks;
Take the kids to a new playground – there are 291 in the county's park system.
For additional ideas, visit www.MontgomeryParks.org and click on the "Things to Do" link on the left hand menu for a searchable data base of hundreds of offerings.