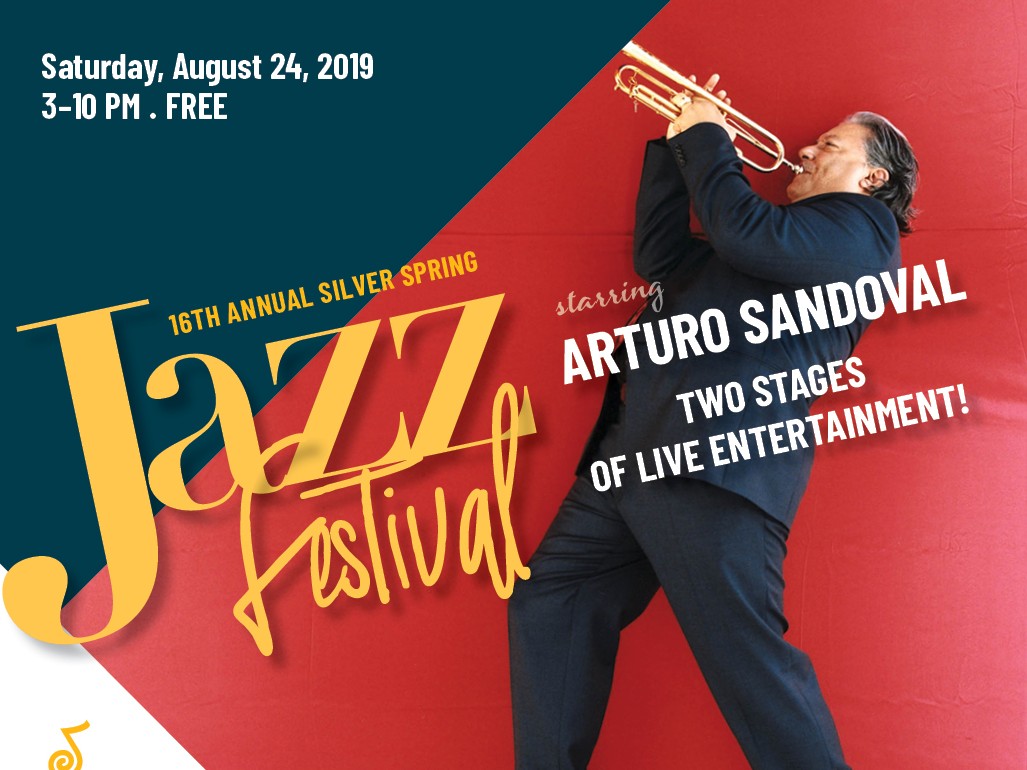 Ten Things To Know for Saturday's Silver Spring Jazz Festival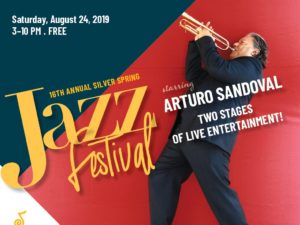 The Silver Spring Jazz Festival returns to Veterans Plaza this Saturday. Here are 10 things to know about the music festival.
1. What is going on at the Jazz Festival?
The 16th Annual Silver Spring Jazz Festival takes place in downtown Silver Spring Saturday, Aug. 24 beginning at 3 p.m. The event happens on Veterans Plaza at Fenton Street and Ellsworth Drive in the heart of downtown Silver Spring.
This free festival includes two stages of live entertainment featuring headliner Arturo Sandoval with additional performances by regionally renowned artists such as Marcus Johnson Project, the Eric Byrd Trio, Paul Carr and the Real Jazz Ambassadors and more.
2. Who is the headliner?
Arturo Sandoval, the protégé of the legendary jazz master Dizzy Gillespie, was born in Artemisa, a small town in the outskirts of Havana, Cuba in 1949, just two years after Gillespie became the first musician to bring Latin influences into American jazz. Sandoval began studying classical trumpet at the age of twelve and has evolved into one of the world's most acknowledged guardians of jazz trumpet and flugel horn, as well as a renowned classical artist, pianist and composer.
Sandoval has won four Grammy Awards, six Billboard Awards and an Emmy Award for his work composing the entire underscore of the HBO movie based on his life, "For Love or Country" starring Andy Garcia. He recently performed in the Grammy Awards with pop-phenomenon Justin Timberlake as well as on the Latin Billboard Awards with the gifted Alicia Keys, where he was awarded his sixth Billboard Award for "Best Latin Jazz Album."
Arturo, a Florida International University tenured professor, works nationally and abroad with innumerable institutions and their music departments.
3. What is the performance line-up?
 

| | |
| --- | --- |
| 3 p.m. | Alison Crockett |
| 3:30 p.m. | Collaboration |
| 4:15 p.m. | Eric Byrd Trio |
| 5 p.m. | Paul Carr and the Real Jazz Ambassadors |
| 6 p.m. | Lena Seikaly |
| 7 p.m. | Marcus Johnson and the Urban Jam Band |
| 8:30 p.m. | Arturo Sandoval |
4. What are the directions to the festival?
Here are some of the best options to get to Veterans Plaza:
Walking – If you live within a couple of miles, walking is a good option. More than 50,000 people live within walking distance of Veterans Plaza.
Bus – WMATA or Ride-On bus have multiple options.
Metro Red Line – is three blocks away. The *FREE* VanGo Downtown Silver Spring Circulator stops at the Silver Spring Metro Station and circles around to Veterans Plaza within 10 minutes.
Ride Share – Lyft, Uber, or similar can drop you at the parking lot at the southeast corner of Colesville and Georgia. The walkway through Ellsworth Pedestrian mall provides access to Veterans Plaza.
Bicycle – There are plenty of bike racks throughout downtown. It is best to leave the bikes a couple of blocks from Veterans Plaza.
Car – parking is available in one of the free parking garages in the periphery of the core of downtown on Cameron Street, Thayer Ave. and Dixon Ave.
5. Will there be street closures?
Road closures include:
Fenton Street between Colesville Road and Wayne Ave.
Ellsworth between Georgia Ave. and Cedar Street (the garage is accessible).
Veterans Place and Roeder Road.
6. What happens if there is inclement weather?
The Silver Spring Jazz Festival is held rain or shine. If weather conditions become dangerous, an announcement will be made from the stage to take cover in the adjacent parking garage. If the dangerous weather causes the event to be canceled, an announcement will be made through the County's public information channels.
7. Are there restrooms?
Restrooms are available at the port-a-johns located on Veterans Place (behind the building).
8. What about food and drink?
Come early and stay late. There are plenty of eateries, watering holes, cafes and more adjacent and near Veterans Plaza. Many restaurants will stay open for a late dinner and fun after the show. Consider patronizing some of the many independently and locally owned business in the area, including those in the core of downtown and nearby Fenton Village. A directory of options is available on this web-site.
9. Are lawn chairs allowed at the event?
Attendees are encouraged to bring chairs for the festival.
10. What else should patrons bring to the festival?
In addition to chairs, patrons may want to bring blankets; water bottles; hats; sunscreen and your friends and family. Please leave your coolers and four-legged friends at home (except for service animals).
More festival information is available on the Silver Springs Arts & Entertainment District website.