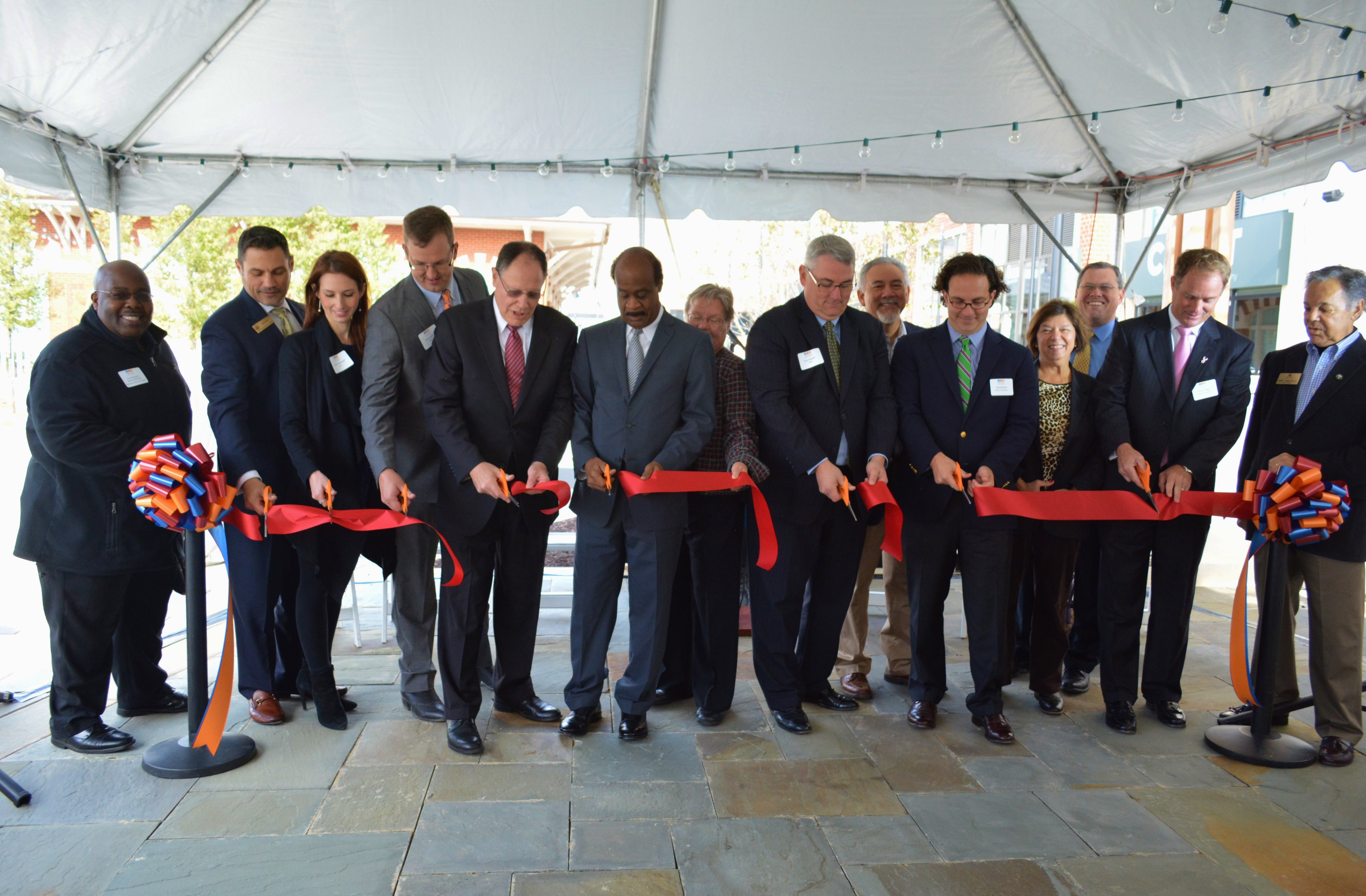 Ted's Montana Grill Coming to Downtown Crown (PHOTO)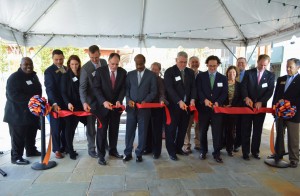 City officials and others joined representatives of JBGR Retail on Oct. 24 for a ribbon cutting at Downtown Crown, where it was announced that Ted Turner's Ted's Montana Grill has signed on as the latest restaurant headliner.
"We started reviewing plans for Downtown Crown years ago, watched over the past couple of years as it has taken shape and during recent months have seen it really explode as a fabulous new destination in our great city," said Gaithersburg Mayor Sidney Katz. "Now there's a restaurant for every night of the week."
Mayor Katz joined Dave Wagner, Executive Vice President of JBGR Retail, retail developer of Downtown Crown; Montgomery County Executive Isiah Leggett; Robert H. Zeiller, Executive Vice President, Westbrook Properties, Crown master developer; and Toby Bozzuto of The Bozzuto Group, developer of Cadence at Crown, in speaking at the ribbon cutting.
Ted's Montana Grill—a concept of media mogul Ted Turner and famed restaurateur George McKerrow Jr. featuring bison and the spirit of Big Sky Country—is making its first foray into Maryland at Downtown Crown, Wagner said. It joins a long list of other sit-down and fast-casual options, along with a wide range of shops and services.
"We are incredibly excited to finally bring Ted's Montana Grill and our authentic American dining to Maryland at Downtown Crown," said McKerrow, who serves as the company's CEO. "We love the central location in Montgomery County and the concept of a retail neighborhood that will be a hub of social life in a much broader community."
Downtown Crown includes 260,000 square feet of retail space along with the 538-unit Cadence apartment community. Starbucks, Harris Teeter and LA Fitness were the retail pioneers, opening winter 2014. There were additional openings through spring, but the past couple of months have seen a critical mass take shape as many more stores and restaurants have arrived.
"We have a terrific collection of restaurants that are helping establish Downtown Crown as a dining hotspot," JBGR Retail's Wagner said."We also have a broad mix of other retail—fashion, beauty, electronics, fitness, grocery—that is supporting Crown and the surrounding community in a great way. We are excited for the destination we've created and its success." Less than 40,000 square feet remains to be leased, he said.
County Executive Isiah Leggett helped celebrate the groundbreaking for Crown and Downtown Crown in October 2012. "It's wonderful to see all that is here just two years later," Leggett said. "The transformation from vision to successful reality is striking. Crown is becoming a wonderful place to live and Downtown Crown is becoming a great attraction for people from not only Montgomery County but surrounding areas as well. Crown will only get better."
The latest openings at Downtown Crown include Asia Nine, Ruth's Chris Steak House, la Madeline Country French Café, Coastal Flats, Paladar Latin Kitchen and Rum Bar, Venti Tre Modern Italian, Yogiberry, Couture by Posh Bridal, Amazing Art Studio, Zagg and Crown Cleaners.
In addition to Ted's Montana Grill, which is expected to open early next year, other restaurants on their way to Downtown Crown include &pizza in November, Washington favorite Ted's Bulletin in January, and Chicago's Old Town Pour House in February.
Today's ribbon cutting kicks off a weekend of fun at Downtown Crown. Sip. Nosh. Mingle.—a fundraiser for NIH Charities—takes place 4 p.m. to 7 p.m. Friday and features the chefs of Downtown Crown who will be offer tastings of their signature dishes.
Festivities continue on Saturday, October 25, from 1 p.m. to 4 p.m. with the Downtown Crown Beauty Bash, a beauty and glamour extravaganza featuring fashion trucks, product samplings, demonstrations and more. Sunday Funday in the Park, also, 1 p.m. to 4 p.m., rounds out the weekend on October 26 with an afternoon of fun and games, exercise classes, a running clinic, farmers market and music among other attractions.
For a complete list of activities and ticket information for Sip. Nosh. Mingle. visit www.DowntownCrown.com.