Takoma Park Police: Off Duty Officer was Acting as Civilian When He Shot and Killed Two Men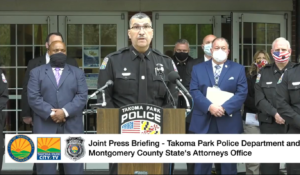 David Hall Dixon was a civilian, and not acting in his role as a Pentagon Force Protection Agency police officer, when he allegedly shot and killed two men, according to Takoma Park Police Chief Antonio DeVaul.
"He was a civilian who acted as a civilian" and had no law enforcement powers in Maryland, DeVaul said during a Friday afternoon press conference in front of the City of Takoma Park building.
Dixon is charged with two counts of second degree murder, each of which carry a possible prison sentence of 40 years in jail, in connection with the early morning April 7 shooting at 7333 New Hampshire Avenue in Takoma Park. Dominique Williams, 32, of Hyattsville, and James Lionel Johnson, 38, of District Heights were both killed in the incident.
They were shot from behind, in the rear upper torso, noted Takoma Park Det. Charles Earle.
Dixon, who is currently being held without bond in a Montgomery County detention facility, also is charged with two courts of use of a handgun in the commission of a felony and reckless endangerment. The use of a handgun carries up to a 20-year sentence each.
The Takoma Park resident also is charged with attempted second degree murder and use of a handgun in the commission of a felony in an assault against Michael Thomas, 36, of Washington, D.C., who was the driver of the vehicle Dixon shot into, according to Takoma Park Police.
Thomas will not be charged with any crimes, according to police.
DeVaul said there were "inconsistencies" in Dixon's account and the facts that the police uncovered. "Our investigation revealed that Mr. Dixon's overview of events was inconsistent with the facts in the case and that Mr. Dixon had no lawful or justifiable reason to shoot and kill Mr. Williams and Mr. Johnson," DeVaul said. Dixon had told police he confronted the men as he believed they were breaking into a car, police said.
Police do have video of the incident from a parking lot surveillance camera.
Less than 54 hours after the shooting, DeVaul praised his officers and the Montgomery County State's Attorney's Office for working so hard and so quickly on the case.
The victims were believed to be breaking into cars at the time, he said, and Dixon was on his way to work. He was not wearing a police uniform, and "The case did not involve him" in his role as a police officer, DeVaul said.
Dixon will appear before a district court judge in Rockville April 12  at 1 p.m. when it will be decided if  he will remain in custody, said John McCarthy, Montgomery County State's Attorney. A preliminary hearing date will be scheduled at that time. Meanwhile, McCarthy said his office is working to bring the matter before a grand jury.
"This has been almost a round the clock effort," McCarthy said.
According to the charging documents from the District Court of Maryland, at 5 a.m. on April 7, Takoma Park police responded to a call about shots being fired at the rear in the parking lot of the Takoma Overlook Apartment Completed, 7333 New Hampshire Avenue. When they arrived, they located Dixon, who identified himself as a Pentagon police officer.  He told police he was leaving for work when he saw a late model Lexus with headlights missing that was transporting someone who Dixon said had been attempting to break into a vehicle. He told police he saw that person break a window in the vehicle.
According to the documents, Dixon told police he confronted the subjects as they tried to speed away "and almost tried to run him over." Police reviewed the surveillance video, which showed Dixon confronting the subjects in their car and firing several rounds toward that car. He was behind the car at the time and continued firing after the vehicle passed him and no longer presented any threat that would justify the use of deadly force, according to the charging documents.
The driver proceeded to Prince George's Hospital, where medical officials determined that both Williams and Johnson were dead. The driver fled from the hospital, but left the Lexus, which police recovered and noticed it had multiple bullet holes in the rear.
DeVaul urged anyone who sees a crime to immediately call police. "Be a good witness. Call us, but do not take action," he said.
Our hearts are heavy with the senseless, shocking murder of Marylanders James Lionel Johnson and Dominique Williams. May their memories be a blessing to their families during this time of immense grief. https://t.co/rV9FVQlLPv

— Rep. Jamie Raskin (@RepRaskin) April 9, 2021
Related Post
Pentagon Police Officer Charged in Fatal Shooting in Takoma Park