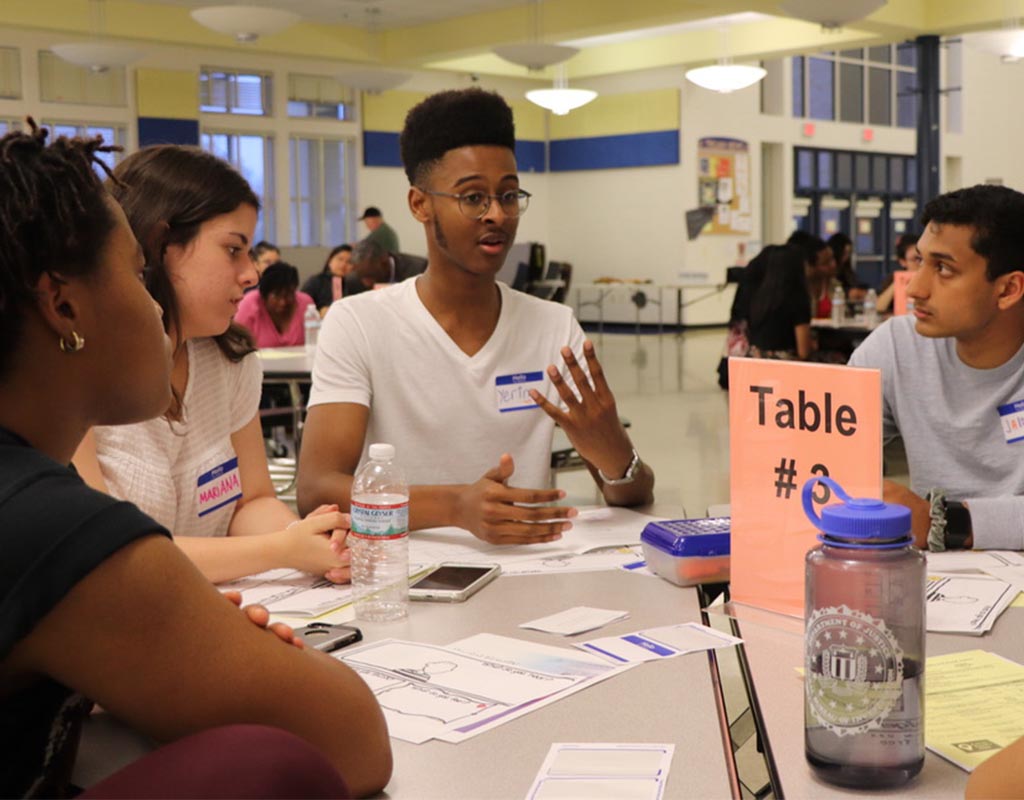 Students Enter Equity Conversation
'You Can't Fix Racial Equity if You're Going to Continue to Cater to Racists'
High school and middle school students came out to Gaithersburg High School Monday night to share their thoughts on racial equity and social justice policy.
Students discussed in groups — large and small — how they've been affected by inequities at their schools based on their race and ethnicities.
The event was hosted by Council President Nancy Navarro and Montgomery County Public Schools' Student Member of the Board of Education Ananya Tadikonda.
One common theme that students talked about was school boundaries.
During a large group discussion Kaylah Tengeya, a student at Northwood High School, referenced a Bethesda Beat article about MCPS's boundary community conversation at Quince Orchard High.
Bethesda Beat said 50 people attended the meeting with "questions of what would happen if students from schools with poor academic performance were moved into schools with higher achievement."
Tengeya said she was "hurt" by the the way parents were talking about lower performing schools in the county.
"When it [comes] to barriers when it comes to advancing racial equity, you can't fix racial equity if you're going to continue to cater to racists, or classists, or segregationists," Tengeya said.
Here's @MoCoCouncilMD President @nancy_navarro talking to students about why creating a policy about racial equity in @MontgomeryCoMD is especially personal for her. pic.twitter.com/fSX6Xs80Uh

— Deirdre Byrne (@DeirdreByrneMCM) April 9, 2019
Recap of the Social Equity and Racial Justice Student Forum
THREAD: I'm at Gaithersburg High School, where students are about to talk to @MoCoCouncilMD President @nancy_navarro and @mcps's SMOB @AnanyaTadikonda about the county's plans for racial equity policy. pic.twitter.com/zqEGMgMBUe

— Deirdre Byrne (@DeirdreByrneMCM) April 8, 2019
In addition to @MoCoCouncilMD Prez @nancy_navarro, Councilmembers @albornoz_gabe and @MC_Council_Katz are also in attendance.

— Deirdre Byrne (@DeirdreByrneMCM) April 8, 2019
These are the seven questions students will discuss at their tables. pic.twitter.com/5XxQufB4ha

— Deirdre Byrne (@DeirdreByrneMCM) April 8, 2019
The groups are spending 25 minutes talking about why racial equity and social justice matter to them. pic.twitter.com/6xpaceXTBq

— Deirdre Byrne (@DeirdreByrneMCM) April 8, 2019
Students are now sharing their experiences to the large group. pic.twitter.com/Ul4ZNwBB6s

— Deirdre Byrne (@DeirdreByrneMCM) April 9, 2019
Chloe Appel talks about how the classroom and English classes can be a place for open conversation rather than "white washing." pic.twitter.com/dIrTTETJnd

— Deirdre Byrne (@DeirdreByrneMCM) April 9, 2019
A Blair student talks about parents who are fighting against redistributing. She says people need to realize that not all students have the same opportunities and resources because on where they live in the county. pic.twitter.com/pXG8p1b6Rc

— Deirdre Byrne (@DeirdreByrneMCM) April 9, 2019
Photos From Gaithersburg High Forum