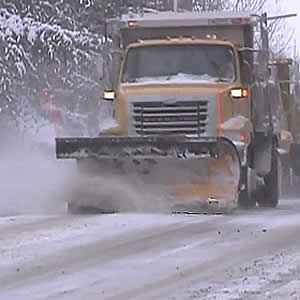 SHA Prepares for Winter Storm, Urges Drivers to Avoid Roads During Rush Hours
The Maryland Department of Transportation's State Highway Administration (SHA) is preparing for today's winter storm. Precipitation is expected to begin during the afternoon rush hour and continue all day Tuesday. While precipitation is forecasted to begin as rain, it is expected to change over quickly to snow. SHA is encouraging drivers to stay off the roads to give crews space to work.
"With another storm expected to begin during or just after the evening commute, we implore motorists to be part of the solution, not part of the problem," said SHA Administrator Gregory Johnson.
The SHA and contract crews pre-treated interstates and some primary roads on Sunday in anticipation of today's storm and will continue pre-treatment today. SHA's Emergency Operations center will activate later today and remain active throughout the storm to manage operations.
In storms that are predicted to produce six or more inches of snow, SHA makes some park and rides available to truckers to ride out the storm. Visit the SHA website here for a map and access to a free mobile application for the park and ride locations.
Drivers are encouraged to plan extra time and reduce speed as the storm passes through our area. Stay behind snow plow and plow trains as the untreated road is ahead of them, and the plowed/treated are behind them. Please follow this advice: "Don't Crowd the Plow."
SHA maintains the State numbered, non-tolled roads in Maryland. For a listing of which jurisdiction maintains a specific road, visit the SHA Know Your Road web page. http://www.mdot.maryland.gov/KnowYourRoads.html.
Travelers may obtain the latest free traffic and weather information by calling 5-1-1 from a landline or a hands-free mobile device or logging onto www.MD511.org. Maryland's 511 service now offers free text and email alerts for most frequented routes through 511Direct – simply register and set your routes and preferences on-line.
Related: