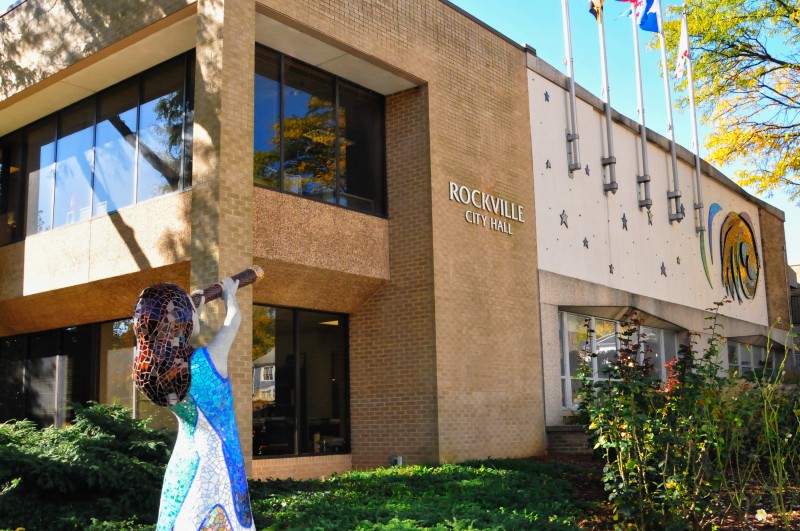 Rockville City Closed Due to Storm
The city of Rockville is closed today Wednesday, Mar. 6 due to the snowstorm. All facilities and programs are canceled. Essential personnel must report to work as directed.
The city snow emergency declaration continues today. Residents should remove all vehicles from roads, including neighborhood streets. All vehicles should be parked in garages and driveways whenever possible. Those without garages or driveways or with vehicles that do not fit in garages or driveways are asked to park on the even numbered side of the street.  On courts or cul-de-sacs, park away from the bulb and on the left hand side of the street as one enters the court or cul-de sac.
During this week's snowstorm, residents are reminded of the snow ordinance, which
states:
Snow must be removed from sidewalks, steps, driveways, parking spaces and similar paved areas for public use (including access ramps and curbs) within 48 hours after a snowfall of three to 10 inches and within 72 hours after a snowfall of more than 10 inches. When clearing paved areas, provide a safe, unobstructed, passable path 36 inches wide.
Recycling and refuse collection is canceled today due to the closure of  the Montgomery County Transfer Station. For this week only, Wednesday collection will shift to Thursday, Thursday collection will shift to  Friday and Friday collection will shift to Saturday. Yard waste  collection is canceled today as well.
Please check the City's website at www.rockvillemd.gov/weather/weather_closings for updates on facility closures and program cancellations. Updates on Rockville's storm response, City programs and facilities and other information is available at www.rockvillemd.gov,
on Rockville 11, on the City's Facebook page.  Residents can receive updates to
be delivered on their smart phones or email account by signing up for Alert Rockville at www.rockvillemd.gov/connections.
Emegency Preparedness Information
Comprehensive preparedness information is available at www.montgomerycountymd.gov.
If residents experience a power outage, call Pepco at 1-877-737-2662 or visit www.pepco.com.
For residents who have a tree emergency, such as a tree blocking a roadway or driveway, please call 240-314-8700. If residents notice a tree touching a power line, please call Pepco at 1-877-737-2662. Residents are advised to stay clear of trees that are touching power lines.
If power outages occur at signalized intersections, residents are reminded that
the intersection must be treated as a four-way stop. (Many Rockville traffic signals are supported by a back-up battery system, enabling them to operate even with the loss of Pepco power for several hours.) Under the law, a driver approaching a non-functioning traffic control signal from any direction must stop before entering the crosswalk or intersection.  If two vehicles approach an intersection with a non-functioning traffic control signal at the same
time, the driver on the left must yield the right-of-way to the vehicle on his or
her immediate right.
Residents are reminded to call 911 in an emergency. If residents require emergency
transport assistance, call the Fire and Rescue Service at 240-773-0027. To report
non-emergency items to the Rockville Police Department, call 240-314-8900.