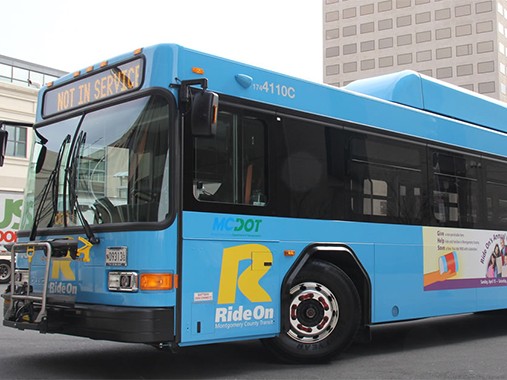 Ride On Bus Service to Expand Routes August 2
Beginning August 2, Montgomery County's Department of Transportation (MCDOT) will expand the Ride On Bus Service to support businesses that continue to reopen as well as those resuming activity previously impacted by the COVID-19 pandemic.
With these new additions in place, all Ride On-branded bus routes and Ride On Extra routes will be operating. The on-demand Flex service will remain suspended.
In order to reduce capacity, MCDOT encourages individuals to make essential trips only. Ridership capacity remains restricted to 15 to 20 passengers per bus. To accommodate routes that demand additional capacity, extra buses are stationed at all Metro stations in the County.
Passengers are urged to wear face masks, board through the rear door, as well as practice social distancing. The County's Department of General Services will continue to clean bus interiors each night with hospital-grade disinfectants. Additionally, bus filters and ventilation systems also are treated every night with a disinfectant.
Riders are encouraged to visit the new schedule webpage for further information.
"Expansion to serve all Ride On routes is a critical step in supporting people who live and work in the County," said MCDOT Director Chris Conklin in a press release. "Ride On's entire team worked hard to reach this point where we can provide bus transportation across the entire service area. I want to thank our planning and operations teams for the dedication and cooperation that have been critical to reach this level of reopening and support for Montgomery County's residents and overall economy."
*ICYMI* Sunday August 2- @RideOnMCT Bus Service Plan expands to include all routes except the Flex.

Details=79 bus routes operating/Free fares on all buses /Masks required-please,practice social distancing/Board through rear door.

Schedule=https://t.co/vT2eMIi073@MCDOTNow pic.twitter.com/LESG9I90UA

— mococommuter (@mococommuter) July 31, 2020