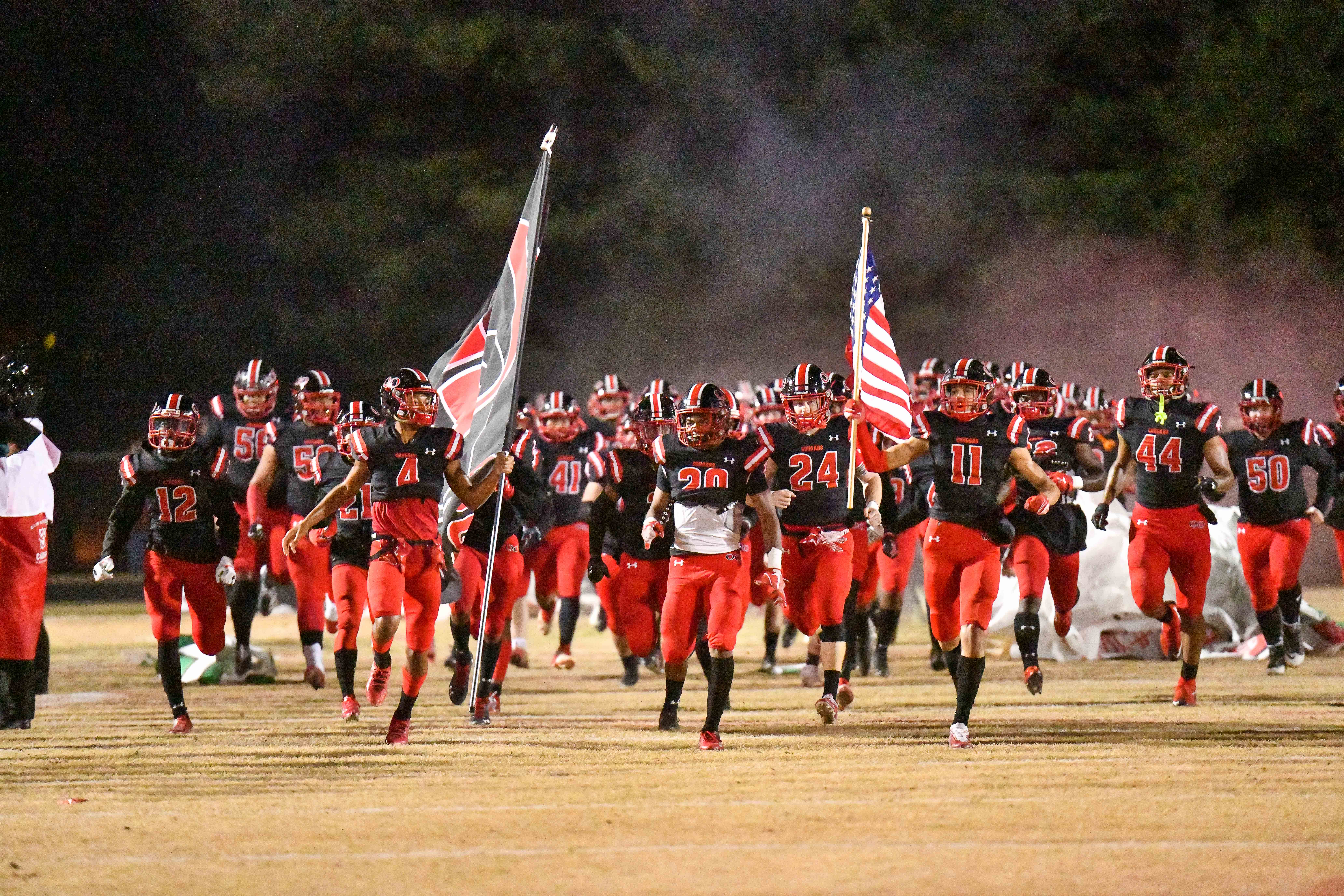 Quince Orchard Stays Perfect, Emphatically Ends Walter Johnson's Historic Season
Cougar Dome, Gaithersburg, MD: Friday, November 14, 2019
Football at Walter Johnson has never been here before.  Here, is the second round of the MPSSAA football playoff.  The Wildcats historic season finished 8-3 which included a playoff win against Urbana along with wins against, Bethesda-Chevy Chase, Whitman and Churchill.  A win against the latter two teams was last accomplished in the 1970's.  Quince Orchard put an end to their season with a score of 56-21.
The only members of the Walter Johnson team to ever get this far was it's new coach, Larry Hurd, Jr.  Hurd played at QO's "Cougar Dome" as a quarterback and state football champion in the late 80's before returning to Montgomery County to teach and coach.
In a spirited playoff game Walter Johnson kept it close for three quarters but eventually they bent to the will, the running legs, of Quince Orchard's Marquez Cooper.
Cooper, a shoe-in All-Met player and Kent State commit, had 308 yards on the ground to accompany his four touchdowns.  If it's not obvious to the opposition, Quince Orchard's game depends on Cooper.  The Cougars have multiple offensive weapons but few are as explosive and consistently a threat as Marquez Cooper,
For comparison consider this: Walter Johnson's passing game controlled nearly 13 minutes of the first quarter of the game.  It held Quince Orchard to 8 offensive snaps.  However, by the end of the quarter the Wildcats were behind 21-7.  Cooper had two touchdowns and accumulated over 100 yards in that one quarter.
Certainly for Walter Johnson to even get to this point of the season, when most MoCo teams have turned in their pads, it is a success.  What differed from their earlier season lost to the Cougars (42-7) is that they coveted each offensive down when the ball was in their hand.  Rather than punt on 4th downs (basically a defensive play by the offense) they chose to extend the offensive game and the their time of possession.
It may not have always worked in Walter Johnson's favor (for instance, a QO stop on 4th and goal from the 2 yard line), but they did find success.  Wildcat QB Josh Forburger connected on a 37 yard TD pass when faced with a 4th and 13.
Quince Orchard's next opponent has been determined by the MPSSAA algorithm for point standings.  They will face Arundel at the Cougar Dome 7 pm next Friday night.
Meanwhile, there remains only three other MoCo teams in quest for a state championship.  In the 4A bracket, Paint Branch and Northwest face off in Germantown at 7 pm on Friday.  The winner of that game plays the winner of QO and Arundel. Damascus is at home in the 3A bracket and will face Franklin at 7 pm also on Friday.
There you have it three state quarter final venue games in MoCo, next Friday night under the lights.
Photos to follow
All images copyrighted 2019 © Phil Fabrizio | PhotoLoaf®  for MCM