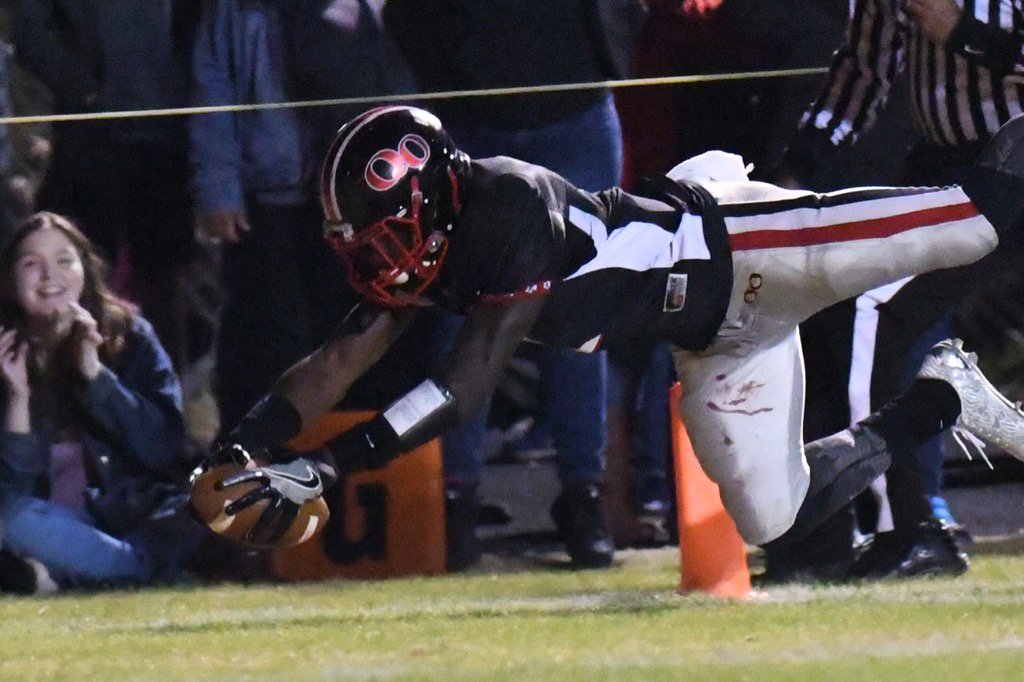 Quince Orchard Cougars Earn 4A West Region Title With Win Over Richard Montgomery, 49-23 (PHOTOS)
Quince Orchard Cougars are the 4A West Region champions with Friday's win against Richard Montgomery, 49-23.
Quince Orchard took an early lead in the first quarter with two unanswered touchdowns, making the score 14-0, QO.
Richard Montgomery scored a field goal in the second quarter, but Quince Orchard expanded their lead with two more touchdowns before the half was complete. Going into the half, the score was 28-3, QO
The second half saw numerous scores for both teams, ending in a final score of 49-23, Quince Orchard.
The Cougars advance to the state semifinals where they will play Wise High School from Upper Moloboro.
PHOTOS | Phil Fabrizio
Coach Kelly breaks through for QO. @mymcmedia pic.twitter.com/Pa50fSnDyL

— Phil Fabrizio (@Photoloaf) November 19, 2016
Coach Kelly celebrates 4AW Regional Championship as QO wins 49-23 over RM @mymcmedia @allmetsports @cszscores pic.twitter.com/U3mptnN6DF

— Phil Fabrizio (@Photoloaf) November 19, 2016
Bonner 2 yds for the score. 49-17 QO @mymcmedia @QOAthletics @QO_Coach_Kelley @QO_AD pic.twitter.com/WF9SyZDkXe

— Phil Fabrizio (@Photoloaf) November 19, 2016
RM scores on a 4 yd run to make it 42-17 after XP @mymcmedia pic.twitter.com/rTGmCZT82K

— Phil Fabrizio (@Photoloaf) November 19, 2016
End of 3 in Darnestown it's QO 42 RM 10 @mymcmedia pic.twitter.com/GbKVwAqQvu

— Phil Fabrizio (@Photoloaf) November 19, 2016
Birthday boy Doc Bonner on a 22 yd keeper scores to make it 41-10 QO @mymcmedia pic.twitter.com/blAMrvKAp9

— Phil Fabrizio (@Photoloaf) November 19, 2016
54 YD TD run for Beander 35-10 QO. Board says it all @mymcmedia @allmetsports @gdpoze pic.twitter.com/OYDLgYhsNW

— Phil Fabrizio (@Photoloaf) November 19, 2016
RM up the middle for 35 yd TD to make it 28-10 QO. In the 3rd @mymcmedia pic.twitter.com/6BaEqvQcE1

— Phil Fabrizio (@Photoloaf) November 19, 2016
7 YD TD pass from Bonnerskes it 28-3 with2 secs left in the half. Half ends. @mymcmedia pic.twitter.com/CsuX5sbYHg

— Phil Fabrizio (@Photoloaf) November 19, 2016
Bazzie on the end around some 32 yds and the dive into the EZ makes it QO 21 RM 3 @mymcmedia @allmetsports pic.twitter.com/NZ2UFAlpZh

— Phil Fabrizio (@Photoloaf) November 19, 2016
RM on the board with a FG. 14-3 QO with 6:21 left in the half. @mymcmedia @RMRockets_AD pic.twitter.com/PEl28GyPHy

— Phil Fabrizio (@Photoloaf) November 19, 2016
5 YD TD pass from Bonner makes it QO 14 – 0 @mymcmedia pic.twitter.com/pHIPRCvg7P

— Phil Fabrizio (@Photoloaf) November 19, 2016
Again RM beats QO long. @mymcmedia pic.twitter.com/snUBogyMps

— Phil Fabrizio (@Photoloaf) November 19, 2016
If RM is going long on QO this is the matchup to watch. @mymcmedia pic.twitter.com/iGiqJDIc7L

— Phil Fabrizio (@Photoloaf) November 19, 2016
QO in retro uniformed and numbers scores first. 7-0 at the 9:30 mark. @mymcmedia pic.twitter.com/xDczSj6rJd

— Phil Fabrizio (@Photoloaf) November 19, 2016
Klotz has a following on the RM sideline. @mymcmedia @RMRockets_AD pic.twitter.com/njiZPcEeaT

— Phil Fabrizio (@Photoloaf) November 18, 2016
RM facing QO in 4A West MPSSAA Football Regional Championship. Stay tuned game is 30 minutes away @mymcmedia pic.twitter.com/tde6FJVtPQ

— Phil Fabrizio (@Photoloaf) November 18, 2016
It's FNL and the Boys of Fall are playing what for some may be their last football game. Make it fun. @mymcmedia pic.twitter.com/9UQIBADlW9

— Phil Fabrizio (@Photoloaf) November 18, 2016