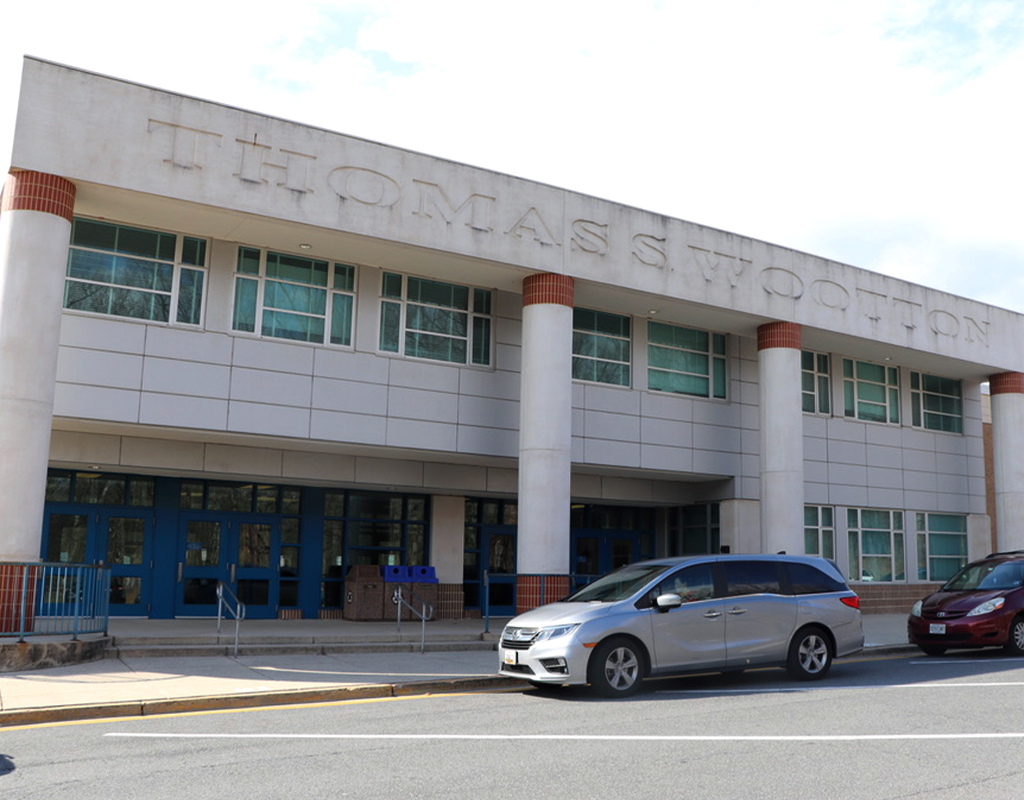 Policía: No hay Evidencia de Agresión Sexual en el Incidente de la Escuela Secundaria Wootton
La Policía del Condado de Montgomery (MCPD) concluyó que el "incidente grave" reportado en el vestuario del equipo de fútbol americano de la escuela secundaria Thomas S. Wootton, el 2 de noviembre, no fue un asalto sexual, y entregó la investigación a las Escuelas Públicas del Condado de Montgomery (MCPS).
La policía llegó a la escena después de que un miembro del personal presenció un incidente en el vestuario y lo informó a la administración de la escuela, quien luego llamó a MCPD. Una vez en la escena, la policía entrevistó a miembros del equipo de fútbol universitario masculino de Wootton, que estaban en el vestuario y a "otros adultos". La policía concluyó que no se había producido ninguna agresión sexual.
La portavoz de la policía del condado, Casandra Durham, dijo que "no hay más investigación criminal con respecto a este incidente y no se presentarán cargos en este momento".
El 11 de noviembre, nueve días después del incidente, la directora de Wootton High School, Kimberly Boldon, envió una carta a la comunidad de Wootton discutiendo los eventos, asegurándoles que no hubo actividad criminal y detallando el proceso que tomaron para investigar el caso. La carta completa se puede leer aquí.
Algunos han criticado cómo MCPS está manejando la situación y han pedido más transparencia.
NEW: On Thursday, I sent Montgomery County Public Schools this of questions about the serious incident at Wootton High School in Rockville. I haven't received answers.

One question…

Has MCPS collected any pictures or videos depicting the locker room incident? If so, how many? pic.twitter.com/Y1JQFPnFwe

— Kevin Lewis (@KevinLewis7News) November 5, 2021
El abogado Tim Maloney, representante de una víctima de un caso de violación en la escuela secundaria de Damascus en 2018, dijo a ABC 7 News: "Estamos profundamente consternados que la directora de la escuela envió un correo electrónico, instruyendo a los jugadores de fútbol que borren los vídeos de sus cámaras de este evento. Eso es esencialmente la destrucción de evidencia y plantea serios problemas de obstrucción de la justicia", dijo Maloney.
MORE: Attorney Tim Maloney represents one victim in the 2018 Damascus High School rape case.

"The school system cannot be trusted to investigate itself… This demands a serious, thoughtful, thorough investigation, not somebody announcing there wasn't a crime within an hour." pic.twitter.com/C5nTGO0Lam

— Kevin Lewis (@KevinLewis7News) November 5, 2021
Tres días después del incidente, el equipo de fútbol de Wootton perdió un juego de playoffs de primera ronda ante Magruder que terminó su temporada.