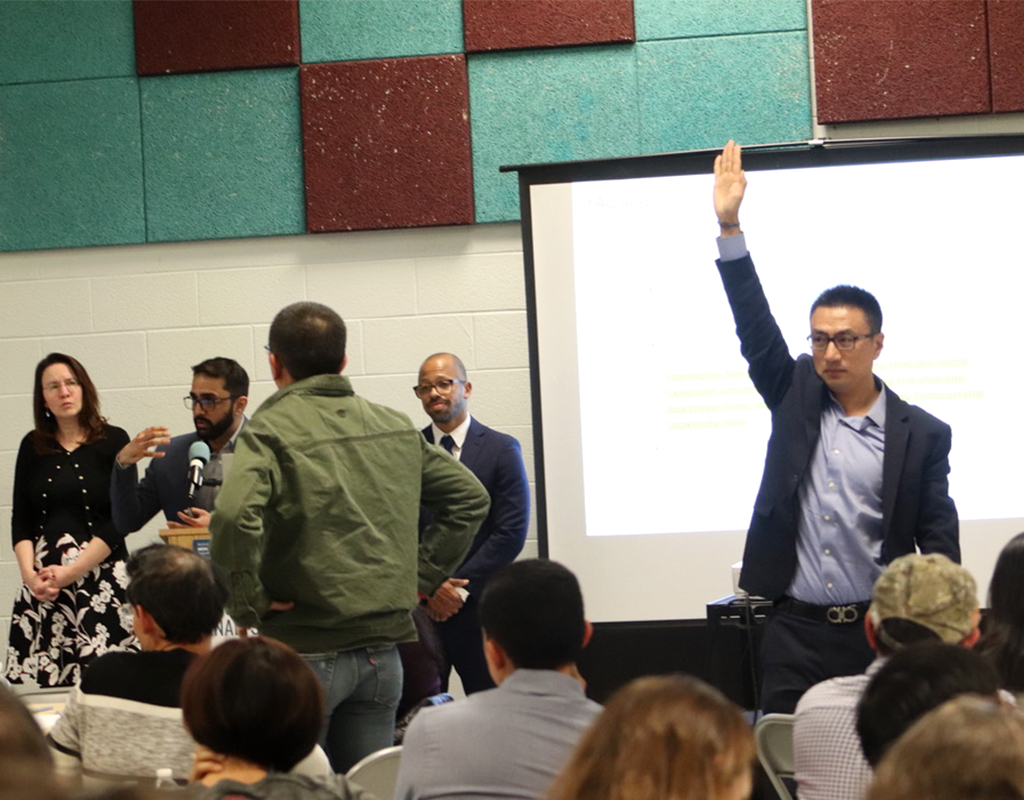 Parents Raise Concerns at MCPS Boundary Study Meeting
More than 250 people attended Montgomery County Public Schools' boundary analysis meeting at Northwest High School in Germantown on Tuesday.
The project, led by contractors from WXY Architecture, is currently in its initial phase, which consists of gathering public opinion. MCPS officials say the analysis is intended to examine the school system's current boundaries and gain an understanding of how the boundaries can be refined to prevent overcrowding.
In June, WXY Architecture will submit a report about the boundary analysis study to the Board of Education. During the meeting, attendees were receptive to MCPS and WXY officials, but at times things got heated.
Many parents are skeptical about the data MCPS is collecting and fear the possibility of their children switching schools. However, MCPS officials insist that the result of the study is meant for analysis, not to make recommendations about the current school boundaries.
More than half of the people attending the meeting were from the southwest and northwest parts of Montgomery County near Bethesda, Chevy Chase, Potomac, Poolesville, Germantown, Dickerson, and Boyds.
At the end of the meeting, attendees were polled and only 5% of people said that they learned a great deal about the current challenges MCPS faces. 58% of attendees said they were still skeptical about the boundary analysis.
There's one more boundary analysis meeting coming up on Jan. 23 at Walter Johnson High School in Bethesda.
Once the project enters its second phase, WXY Architecture will start testing ideas and metrics.
Tweet Recap of Northwest Boundary Study Meeting
Here's a play-by-play of the Northeest High School Boundary Analysis Study meeting in tweet form.
The meeting is starting. pic.twitter.com/meWsAJLpzs

— Deirdre Byrne (@DeirdreByrneMCM) January 15, 2020
Derek Turner, spokesperson for @MCPS discusses the agenda for tonight's meeting. pic.twitter.com/YfLsWo2R7P

— Deirdre Byrne (@DeirdreByrneMCM) January 15, 2020
Here are some frequently asked questions about the @MCPS boundary analysis study. pic.twitter.com/yTuiChE3ql

— Deirdre Byrne (@DeirdreByrneMCM) January 15, 2020
Here's why @MCPS said they're doing the study now. They say the study isn't intended to make boundary changes now. pic.twitter.com/8e242o7muU

— Deirdre Byrne (@DeirdreByrneMCM) January 15, 2020
Here's how traffic plays a factor into the study. pic.twitter.com/zG1Ohf3Zki

— Deirdre Byrne (@DeirdreByrneMCM) January 15, 2020
Here's what @MCPS says the final report will address. pic.twitter.com/0NI8gmVRn0

— Deirdre Byrne (@DeirdreByrneMCM) January 15, 2020
Here's what @MCPS means by the terms utilization, diversity, and proximity. pic.twitter.com/RopUwPTpLr

— Deirdre Byrne (@DeirdreByrneMCM) January 15, 2020
Another person stands and asks if all this information will be published online. He says he's not asking a policy question.

(Yes all the slides are available online, @MCPS says) pic.twitter.com/pYZF8gyhlF

— Deirdre Byrne (@DeirdreByrneMCM) January 15, 2020
And the tables are starting to discuss feedback about @MCPS' analysis and ideas about what should be included in the analysis. pic.twitter.com/1aV05qpbY4

— Deirdre Byrne (@DeirdreByrneMCM) January 15, 2020
Here's the first polling question. Most of the people attending tonight are parents with children in the @MCPS school system. pic.twitter.com/zBf10BmoCd

— Deirdre Byrne (@DeirdreByrneMCM) January 15, 2020
48% of the people attending do not agree at all with @MCPS reviewing the school boundaries occasionally. When the results were displayed some people cheered. pic.twitter.com/YHVTGKdLNs

— Deirdre Byrne (@DeirdreByrneMCM) January 15, 2020
Now @MCPS officials are talking about Ever-FARMs—which is the amount of students who have ever used free or reduced meals at school. pic.twitter.com/ru7y1jTxzm

— Deirdre Byrne (@DeirdreByrneMCM) January 15, 2020
The polling keypads are coming out again. pic.twitter.com/8ydkwzlARx

— Deirdre Byrne (@DeirdreByrneMCM) January 15, 2020
Another question where people vote that they are skeptical. pic.twitter.com/sAeQ06uOO5

— Deirdre Byrne (@DeirdreByrneMCM) January 15, 2020
People are raising their hands to get ready for the Q and A session. pic.twitter.com/b8GIK3ecVd

— Deirdre Byrne (@DeirdreByrneMCM) January 15, 2020
The first questioner had a heated exchange about how traffic is factored into the study. pic.twitter.com/ZrDL8bTD7l

— Deirdre Byrne (@DeirdreByrneMCM) January 15, 2020
Here's a question from an Olney man about if magnet schools will be factored into the analysis. pic.twitter.com/fourY2LRaX

— Deirdre Byrne (@DeirdreByrneMCM) January 15, 2020
Here's another question (accidentally stopped the video right before the end) pic.twitter.com/cTaAVZGbss

— Deirdre Byrne (@DeirdreByrneMCM) January 15, 2020
This person questions using Ever Farms in the analysis. pic.twitter.com/eJC6vKk70g

— Deirdre Byrne (@DeirdreByrneMCM) January 15, 2020
This person says there needs to be more data before the analysis moves to phase 2. pic.twitter.com/7sOgCb3sgE

— Deirdre Byrne (@DeirdreByrneMCM) January 15, 2020
Derek Turner, MCPS spokesperson, urges attendees to not fall into the trap of seeing the study through the lens of bussing. pic.twitter.com/Bh5vrEpwfP

— Deirdre Byrne (@DeirdreByrneMCM) January 15, 2020
Another person questions the use of Ever Farms. pic.twitter.com/wcCLwkpcM4

— Deirdre Byrne (@DeirdreByrneMCM) January 15, 2020
What man asks for data to backup the claim that "diversity increases creativity." pic.twitter.com/gDzJfIAEf2

— Deirdre Byrne (@DeirdreByrneMCM) January 15, 2020
Derek Turner, @MCPS spokesperson, defends Ever Farms saying it's used by the federal government as a baseline proxy measurement of poverty. pic.twitter.com/7zCaVHnk1I

— Deirdre Byrne (@DeirdreByrneMCM) January 15, 2020