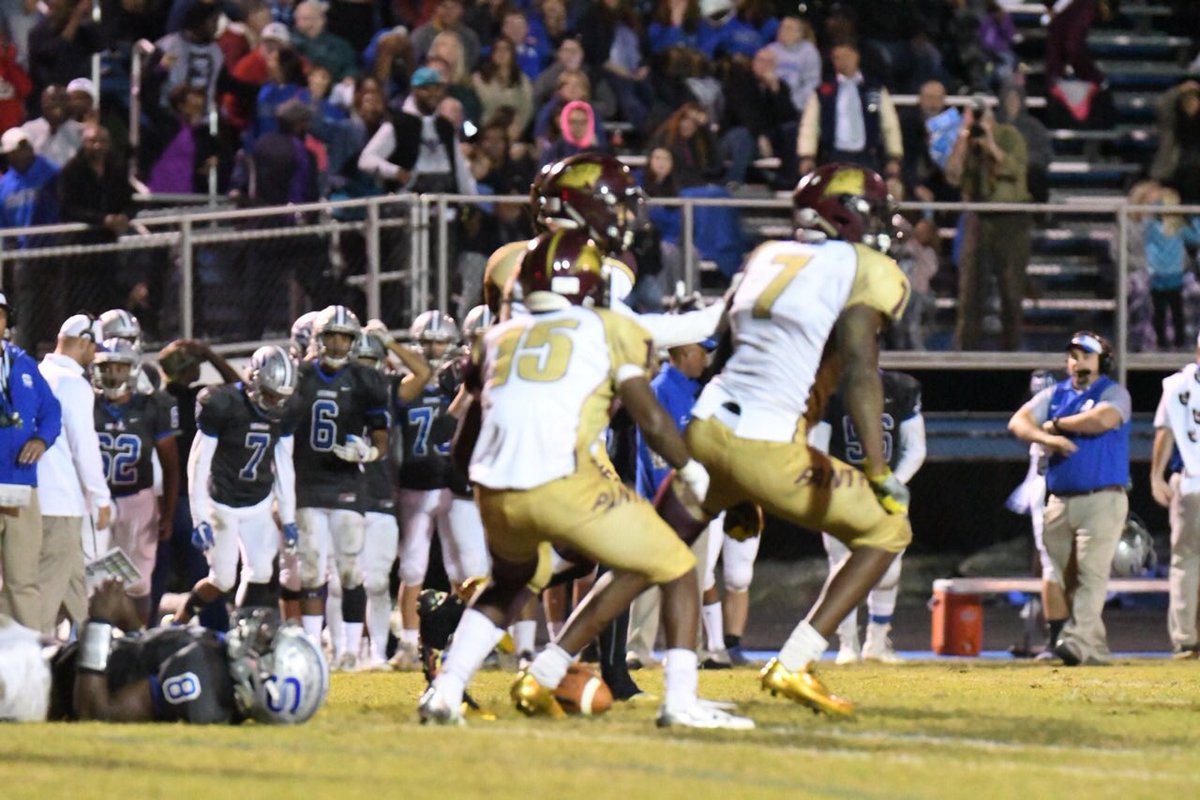 Paint Branch Defeats Sherwood, 22-20, in Sandy Spring under Friday Night Lights (PHOTOS)
The Sherwood Warriors host the Paint Branch Blue Devils in week eight of the high school varsity football season, Friday, October 20. The two teams have an impressive 6-1 record and are in the top three schools for the 4A North region.
Early in the first quarter, Paint Branch quarterback Norman Douglas throws to wide receiver Ishmael Agbodzah for a touchdown putting Paint Branch on the boards with a score of 7-0. Douglas rushes for a one-yard touchdown. Paint Branch leads 15-0 with about 5 minutes left in the first quarter.
Sherwood scores a touchdown with Eddie Dumas' 13-yard run in the second quarter. At the half, the score is Paint Branch 15, Sherwood 7.
Sherwood stops Paint Branch on the 6-inch-line after Norman Douglass 48-yard pass to Agbodzah. On the next play Paint Branch scores a touchdown bringing the score to 22-7, Paint Branch.
Sherwood quarterback Mike Mbony runs 18-yards into the end zone to bring the score to 22-14, Paint Branch with less than five minutes left in the third quarter.
With just 13 seconds left in the game, Mike Mbony scores for Sherwood making it 22-20, Paint Branch.
Paint Branch holds on and the final score is Paint Branch 22, Sherwood 10.
Next week, Sherwood plays the Springbrook Blue Devils in Colesville while the Panthers are also on the road against Blake.
Mbony fumbles at the 3 and Nchami covers it for Paint Branch. Defense holds with less than 6 remaining @mymcmedia @cszscores pic.twitter.com/rIGUYIp1JD

— Phil Fabrizio (@Photoloaf) October 21, 2017
Mbony on a 18 yd scamper makes it Panthers 22 Warriors 14 with 4:46 left in the 3rd @mymcmedia @cszscores pic.twitter.com/7AjNLAJQOK

— Phil Fabrizio (@Photoloaf) October 21, 2017
At half it's Paint Branch 15 Sherwood 7 @mymcmedia pic.twitter.com/lLaEzqfG0h

— Phil Fabrizio (@Photoloaf) October 20, 2017
Dumas on a 13 yd run puts Sherwood on the Board. PB 15 Sherwood 7 early in the 2nd QTR @mymcmedia pic.twitter.com/Hq7QABJvJs

— Phil Fabrizio (@Photoloaf) October 20, 2017
Upset Alert! Paint Branch 15 Sherwood 0 in the 1st. Under that pile is Douglas on a 1 yd drive @munch media @cszscores @WashPostHS pic.twitter.com/TsDNbtdgUe

— Phil Fabrizio (@Photoloaf) October 20, 2017
Agbodzah from Douglas and PB is on the boards after a Sherwood FUMBLE at the 19. 7-0 @mymcmedia pic.twitter.com/sUWupcE2Z7

— Phil Fabrizio (@Photoloaf) October 20, 2017
PHOTOS | Phil Fabrizio