No Records Set at County Pools on Opening Weekend
As the temperatures heat up outside, so do the popularity of area pools.
Montgomery County opened seven outdoor pools over the Memorial Day weekend for the start of the summer swim season and for a short time some of them had to be closed on Monday because they reached peak capacity.
"It was a great opening weekend for the pools but we didn't set any records," said Judy Stiles, spokesperson for the Department of Recreation. "Monday was the most popular day likely because of the hotter temperatures."
In fact, Stiles said it got so busy in Bethesda and Germantown on Memorial Day that the pools were closed for a short while after they reached capacity on the hottest day of the holiday weekend.
But, she said, the Martin Luther King Swim Center and Glenmont/Wheaton Pool were the busiest of the pools on Monday.
A total of 12,768 visitors were reported at the seven county pools over the three-day holiday weekend.
In case you are hoping to cool off today, note that the outdoor pools are operating weekends until June 13, when the seven-day summer pool season runs to Aug. 21.  After that, pools will be open weekends only Aug. 22-Sept. 7.
In Montgomery County, the outdoor pools are located at the following locations:
–Bethesda Pool, 301.652.1598, Little Falls Parkway and Hillandale Road;
–Germantown Outdoor Pool, 301.601.1690, 18905 Kingsview Road;
–Long Branch Pool, 301.431.5700, 8700 Piney Branch Road, Silver Spring;
–Martin Luther King Jr. Outdoor Pool, 301.622.1090, 1201 Jackson Road, Silver Spring;
–Wheaton/Glenmont Pool, 301.929.5460, 12621 Dalewood Drive, Wheaton;
–Upper County Outdoor Pool, 301.840.2446, 8211 Emory Grove Road, Gaithersburg; and
–Western County Outdoor Pool, 301.349.2217, 20151 Fisher Avenue, Poolesville.
For information about pool amenities or hours of operation at all swimming pools, visit the Department of Recreation website, here.
For information about pool safety in Montgomery County, watch this video:
As the temperatures heat up outside, so do the popularity of area pools. Montgomery County opened seven outdoor pools over the Memorial Day weekend for the start of the summer swim season and for a short time some of them had to be closed on Monday because they reached peak capacity. "It was a great […]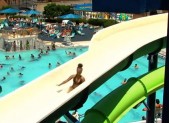 The Water Park at Bohrer Park was a hot spot for visitors looking to cool off on Memorial Day. A total of 1,831 visitors were reported at the pool on Monday compared to 837 on Sunday and 279 on Saturday, according to Parks and Recreation and Culture Director Michele Potter. In fact, she said the […]