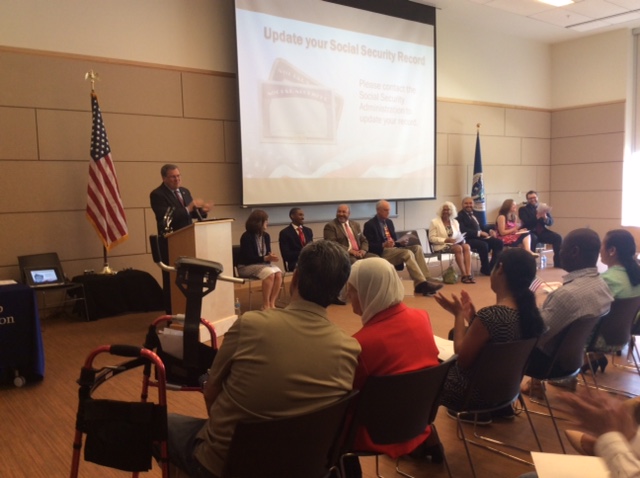 New Citizens Are Welcomed at Naturalization Ceremony in Gaithersburg (VIDEO)
A Naturalization Ceremony was held on June 1 at the Gaithersburg Library where 34 new citizens were welcomed from 27 different countries. Representatives from the United States Citizenship and Immigration Services officiated the ceremony.
MyMCMedia's Sonya Burke reports.
Countries represented, included: Albania, Algeria, Cambodia, Cameroon, Canada, Democratic Republic of Congo, Denmark, El Salvador, Ethiopia, Guatemala, Haiti, Hong Kong, India, Iran, Japan, Jordan, Kazakhstan, Kyrgyzstan, Nepal, Nicaragua, Pakistan, Russia, South Africa, Senegal, Republic of Korea, Sri Lanka and Venezuela.
A group photo from today's Naturalization Ceremony. @mymcmedia #newuscitizen @USCIS pic.twitter.com/nElCkNWz4g

— Sonya Burke (@SonyaNBurke) June 1, 2016
The cake at today's Naturalization Ceremony. @mymcmedia pic.twitter.com/zFgVbhw4oB

— Sonya Burke (@SonyaNBurke) June 1, 2016