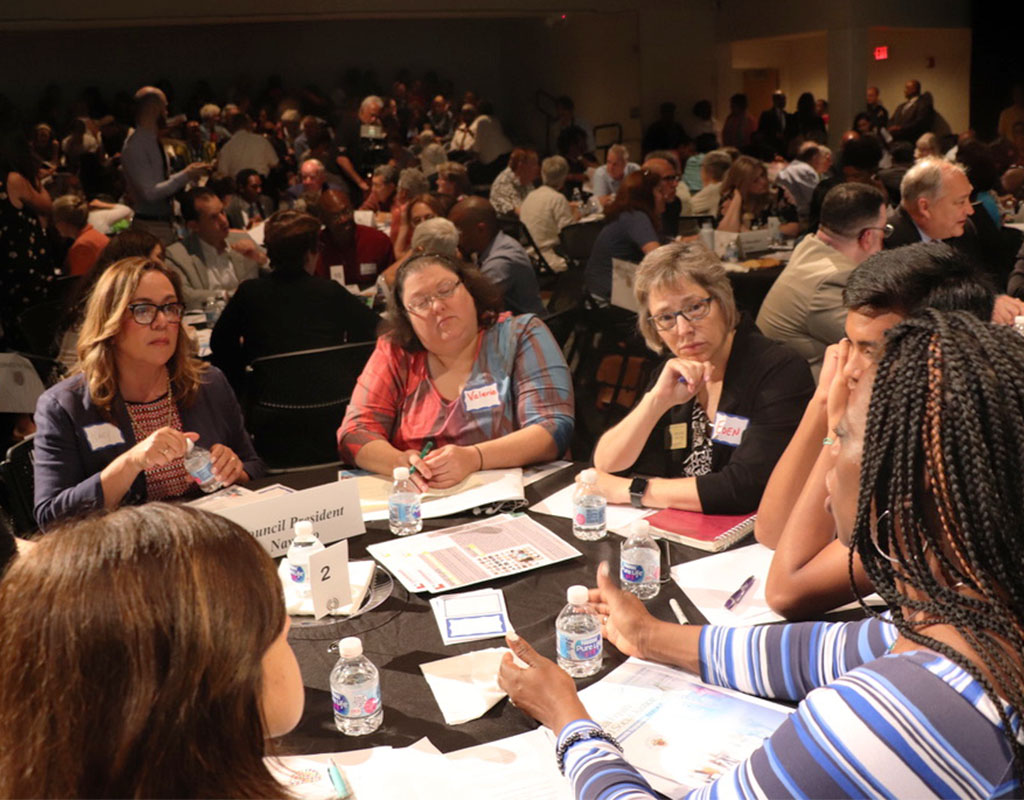 Navarro to Introduce County-Wide Racial Equity Program
Nancy Navarro is introducing Bill 27-19 at a press conference Tuesday, which would create a racial equity and social justice program for Montgomery County government.
Navarro has been spearheading the effort to create a policy about racial equity in the county since April 2018. Meanwhile, since March 2019, Navarro, County Executive Marc Elrich, and other county leaders have hosted a number of community forums for residents and students to weigh in on the issue. More than 750 people have attended community conversations on racial equity and social justice policy in Silver Spring, Germantown, and White Oak; students also met for a youth meeting at Gaithersburg High School.
During Tuesday's press conference at 11 a.m. in Rockville, Navarro will be joined by her fellow councilmembers, as well as Montgomery County Public Schools Superintendent Jack Smith, Montgomery County School Board President Shebra Evans, Montgomery College President Dr. DeRionne Pollard, and Montgomery Planning Board Chair Casey Anderson.
Navarro said in a statement that Montgomery County still has disparities in the community in regards to education, housing, gender, employment, healthcare, and more.
"The Racial Equity and Social Justice Act reinforces our commitment to being a welcoming community where all of our residents are treated with respect and dignity and provided with opportunities to succeed. Although not unique to our county, many of our community members suffer from stark disparities linked to hundreds of years of institutionalized racism, and this will persist without intentional intervention. Bill 27-19 will ensure that county government is working to dismantle inequity on an individual, institutional and structural level in an organized way with established goals and ongoing benchmarks to evaluate our progress," Navarro said.
Happening Tuesday at 11 a.m. #EquityMattersInMoCo https://t.co/o6BznD5Cdn

— Montgomery Council (@MoCoCouncilMD) September 15, 2019
Bill 27-19 has been cosponsored by all Montgomery County Councilmembers and it will be implemented across the county government by the Office of Racial Equity and Social Justice—the newest executive branch. Elrich plans to work with the council to monitor the progress of the program.
Elrich said in a statement: "I have been encouraged by the amazing conversations we have engaged in with people and communities throughout this county over the last few months. This bill is an example of Montgomery County's commitment to viewing the world through a racial equity lens, which will guide the creation of our policies and procedures."
Bill 27-19 also will require that legislation, public policy initiatives and government programs, supported by budget requests have a racial equity and social justice impact statement. Furthermore, the bill will establish a Racial Equity and Social Justice Advisory Committee, which will include public members.
In regards to land use plans and policies, Bill 27-19 requires that when Montgomery County Planning Board prepares master plans for the council to consider, those plans include consideration for racial equity and social justice issues.
In this week's Council President's Update, @nancy_navarro discusses the introduction of the Racial Equity and Social Justice Act.

Addressing issues of racial equity and social justice is not only a moral obligation; it's a socio-economic imperative.https://t.co/JtdUTnna6m pic.twitter.com/rSqK81lBs6

— Montgomery Council (@MoCoCouncilMD) September 16, 2019
Navarro has also tasked the council's Office of Legislative Oversight (OLO) with evaluating the impacts of racial inequity. OLO has produced two reports which have found disparities that are ongoing for people of color in the county: Racial Equity in Government Decision-Making: Lessons from the Field and a Racial Equity Profile for Montgomery County.
Starting on September 20, residents can sign up for public hearings at the council on the Racial Equity and Social Justice Act. The hearings are scheduled for October 29 at 1:30 and 7 p.m.
Previous Posts:
Here's What Happened at the Racial Equity Forum in Silver Spring