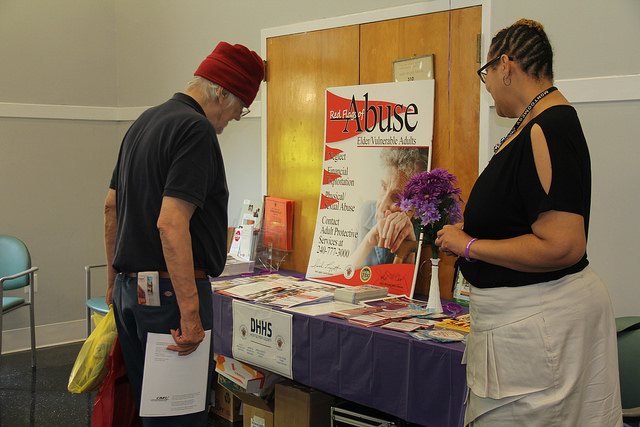 Montgomery County Officials Hosts Annual Senior Safety Forum
In honor of World Elder Abuse Awareness Day, Montgomery County officials hosted the seventh annual Senior Safety Forum on Wednesday.
The United Nations General Assembly designated June 15 as World Elder Abuse Awareness Day, where people from around the world could voice their opposition to the abuse of older generations.
Since the 60-and-over population in Montgomery County is growing faster than the County's total population of over one million abuse of the elderly is a top concern for officials.
Dozens of residents, county leaders and health officials gathered at the Rockville Senior Center  to learn more about the resources available in Montgomery County for elder residents.
"The aim of World Elder Abuse Awareness Day is to educate the community about elder abuse, exploitation, neglect, self-neglect abuse and some of the resources out there," Mario Wawrzusin, adult protective services administrator with Aging and Disability Services in Montgomery County's Department of Health and Human Services said.
With the help of Montgomery County Department of Health and Human Services, the Montgomery County Police Department and Montgomery County Fire and Rescue Services, elder residents and their caregivers learned more about the warning signs of elder abuse and isolation.
"There's a great prevalence of elder abuse that is not reported," Wawrzusin said. "There was a study done […] that only 1 in every 44 cases area actually reported to authorities."
In addition to learning about the warning signs of elder abuse, a workshop on technology safety was also offered by experts to teach seniors about internet safety and tips on avoiding financial scams.
And in case you missed Wednesday's forum, Wawrzusin said residents can learn more information by contacting the intake line in Aging and Disability Services at 240.777.3000.




Big turnout for Elder Abuse Awareness event at Rockville Senior Center. @mymcmedia pic.twitter.com/PiNnYgqpqA

— Sonya Burke (@SonyaNBurke) June 14, 2017