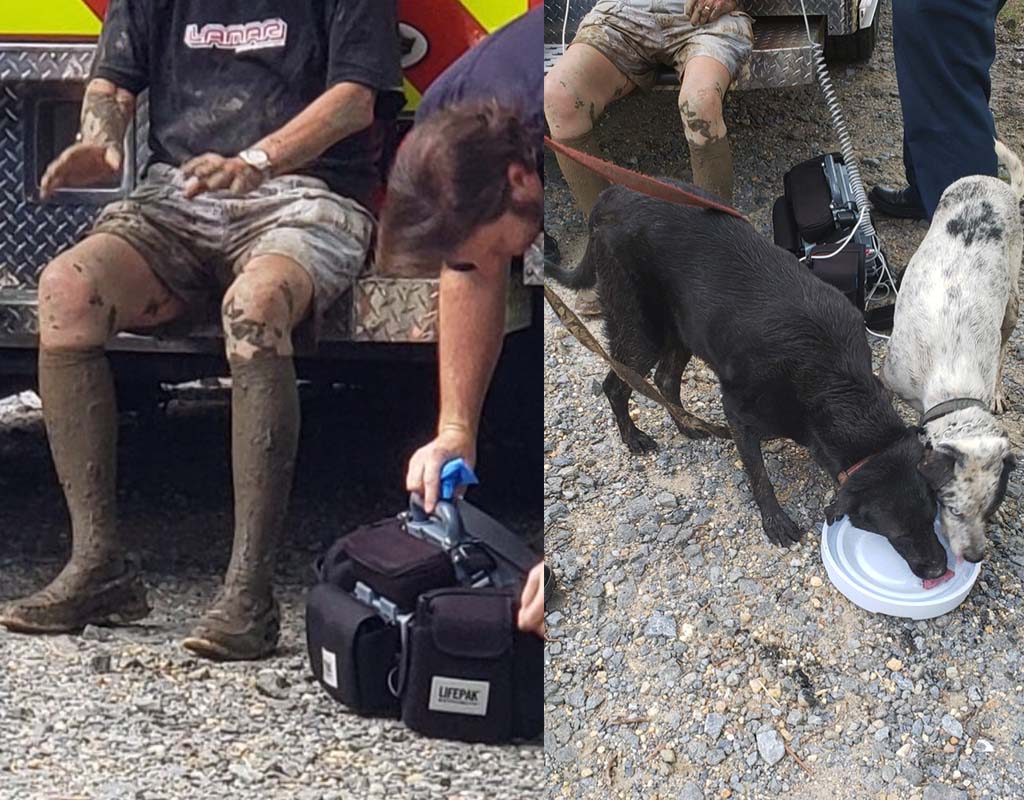 Man's Best Friends Help Save Owner Stuck in Mud
Things were not looking good for a man who was stuck in the mud at the edge of the Potomac River near Brookmont Dam at the C&O Canal on Monday.
According to Pete Piringer, the spokesperson for Montgomery County Fire & Rescue, the man was playing fetch with his two dogs about 50 yards away from a towpath close to lots 6 and 10. He was in a secluded area that was out of sight from passersby, Piringer said.
Man's BEST Friend(s) – Potomac River near Brookmont Dam, 2 barking dogs alert passerby cyclist on @COcanalNPS towpath of man stuck in mud out of sight ~50 yards away (hopelessly stuck in mud) – the cyclist alerted @mcfrs rescuers – once extricated/extracted from mud – no injuries pic.twitter.com/0Aa5JZ9o79

— Pete Piringer (@mcfrsPIO) July 22, 2019
At one point, the man got stuck in the mud and when he tried to get out, things only got worse.
As the man was stuck, Piringer said the two dogs ran around the towpath area wearing leashes and barking frantically. Eventually, two cyclists heard the barking.
WTOP reports that one of the cyclists was 63-year-old Steve Shollenberger of Damascus.
"It's good the dogs came closer to the trail. That's the nice part about it. That's why we saw him," Shollenberger told WTOP.
The cyclists walked toward the Potomac River and found the man with mud up to his knees. WTOP reports that Shollenberger went back to the towpath to call 911 and wait for a rescue team as the other cyclist waited with the man.
Eventually, MCFRS and swift water rescue teams came and were able to pull the man loose from the mud.
Piringer posted a video on his Twitter account on Monday, demonstrating technical rescue equipment that can be used to extricate an animal or person stuck in the mud.
Description of some simple @mcfrs technical rescue equipment that can be deployed to better extricate or assist the removal of an animal or person stuck in mud https://t.co/OmRaPkoVlB

— Pete Piringer (@mcfrsPIO) July 22, 2019
Although the rescue teams didn't have to use this equipment to save the man stuck in the mud, Piringer said that MCFRS has the equipment to perform complicated and difficult rescues.
After the man was freed from the mud, Piringer said he was taken evaluated by EMS in a nearby lot and refused to be taken to a hospital. Piringer said that the man was not injured.
Who let the dogs out…….woof, woof https://t.co/0JQwJBuQMK

— Pete Piringer (@mcfrsPIO) July 23, 2019
According to WTOP, the man's shoes were even recovered from the mud, which is unusual.
The man hasn't been identified by local authorities, but WTOP reports he's an 87-year-old man from Glen Echo.
Piringer was satisfied to see a happy ending to this story.
He tweeted, "This is a real cat's meow & dog gone good stuff…..Who let the Dogs Out….."