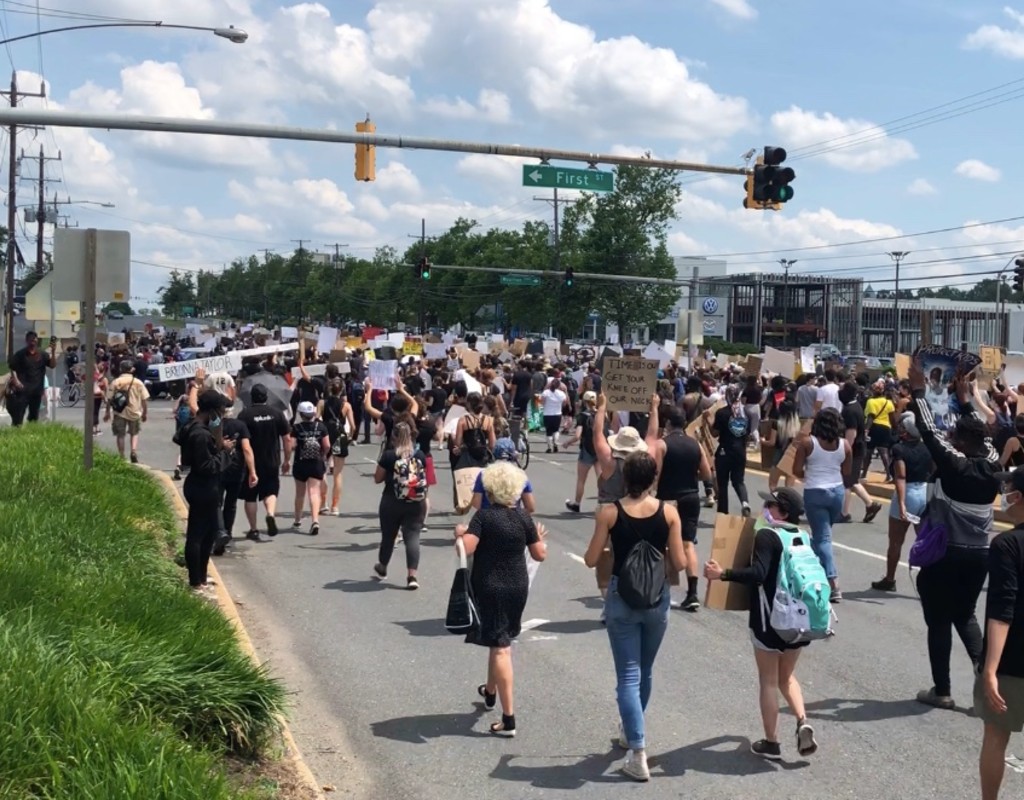 Local Leaders Reflect on George Floyd's Death One Year After He Was Killed
Montgomery County and state leaders reflected on the death of George Floyd one year after he was killed by former Minneapolis Police Officer Derek Chauvin on May 25, 2020.
Floyd was a Black man killed by Chauvin after the former officer held his knee on Floyd's neck for almost nine minutes. Floyd was accused of using a counterfeit $20 bill at a grocery store, which prompted the call to police. Witness footage of the incident went viral and sparked outrage among protestors who demanded justice for Floyd and other Black Americans who have been victims of racism and police brutality.
In April of this year, Chauvin was found guilty on all three of the charges he was arrested for: second-degree murder, third-degree murder and second-degree manslaughter. Many local leaders reacted to the verdict on social media. 
Leaders on social media reflected on Floyd's legacy:
When schools "fail" they're closed. But when police fail, more money is pumped into policing. Maryland spends more on policing & corrections than on higher education, which says a lot.

Defund the police. Refund our communities. https://t.co/VmwyVeXFnq

— Del. Gabriel Acevero (@GabrielAcevero) May 25, 2021
Lifting up Gianna and the entire Floyd family today. We press on in your dad's memory who continues to change the world. ❤🖤🙏🏾 #GeorgeFloyd #BlackLivesMatter https://t.co/0XDVki3nVz

— Will Jawando (@willjawando) May 25, 2021
One year ago George Floyd spoke his last words: I can't breathe. He should be alive and with his family today.

As his daughter said, "Daddy changed the world." He did. We must heed her words and pass the #GeorgeFloydJusticeInPolicingAct — and root out racism in all its forms. pic.twitter.com/VpDW3a5hIk

— Senator Chris Van Hollen (@ChrisVanHollen) May 25, 2021
.@RicePolitics We Remember #GeorgeFloyd #EqualJusticeUnderTheLaw #JusticeForRonaldGreene https://t.co/uTbCXU2V4B

— Craig Rice (@RicePolitics) May 25, 2021
Remembering #GeorgeFloyd one year after he was killed. Photos from my visit to the #Minneapolis site last summer and much more are here: https://t.co/tndyOiSL0s

— Cheryl C. Kagan (@CherylKagan) May 25, 2021
As we mark 1 year since the death of George Floyd, the Senate has a duty to take up and pass the George Floyd Justice in Policing Act. We simply must do more to ensure that the basic human rights of Americans are protected at all times. #BlackLivesMatter https://t.co/ljhTeVYWrS

— Senator Ben Cardin (@SenatorCardin) May 25, 2021
One year ago today the nation witnessed the murder of George Floyd, a tragedy that highlighted the horrific nature of police brutality in this country. We need police reform and we need it now. It's time to end systemic racism and police violence. #BlackLivesMatter

— Rep. David Trone (@RepDavidTrone) May 25, 2021
Justice is #GeorgeFloyd being alive today and Gianna having her father to embrace.

— Del. Gabriel Acevero (@GabrielAcevero) May 25, 2021
A "snapshot" and a "mirror." https://t.co/qtrd2hklCg

— Senator Will Smith (District 20) (@Willcsmithjr) May 25, 2021
He should be alive today.

The struggle for racial and social justice continues in every council, every courthouse and in the halls of Congress. #GeorgeFloyd pic.twitter.com/NOfUwTvxUi

— Evan Glass (@EvanMGlass) May 25, 2021
Last month's verdict in the Chauvin trial finally delivered some accountability for this heinous crime. But we must keep up the fight for justice and civil rights and we must ensure that Black and Brown lives are valued and respected by law enforcement officers across America.

— Rep. John Sarbanes (@RepSarbanes) May 25, 2021