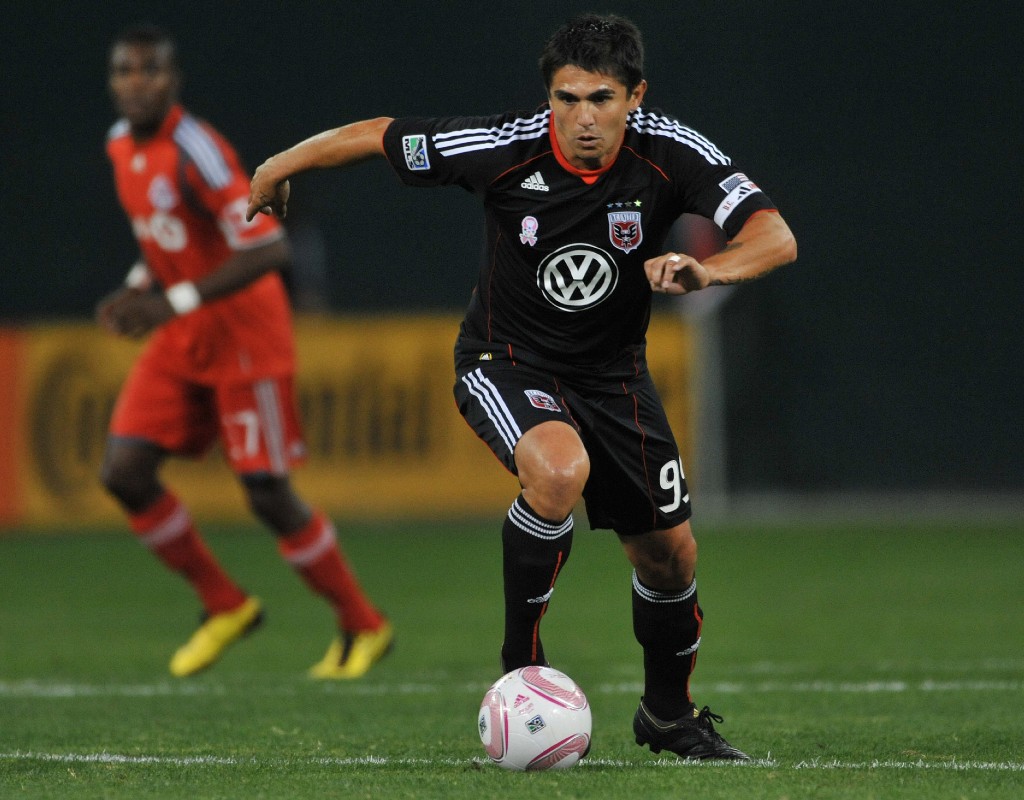 Leyenda del Fútbol Jaime Moreno Podría Perder un Ojo tras Accidente de Golf
La leyenda del DC United Jaime Moreno está en peligro de perder su ojo izquierdo después de un extraño accidente de golf ocurrido el jueves 16 de julio.
El nativo boliviano, que jugó como delantero estrella para DC United durante 14 temporadas antes de retirarse en 2010, jugaba con un grupo de amigos en el 1757 Golf Club en Dulles, Virginia, cuando su disparo rebotó y lo golpeó en la cara, según múltiples informes.
"Después de balancear el palo de golf, me encontré en el suelo, sangrando. No había nada más y estaba muy cerca del camino del carro de golf, y eso es lo único que puedo pensar, es que golpeé algo del carro y la pelota rebotó en mi ojo", dijo Moreno a NBC4 Sports.
— dcunited (@dcunited) July 24, 2020
Moreno se sometió a una cirugía reconstructiva del ojo después del accidente, pero es probable que se realicen procedimientos adicionales.
"Cuando les hablé después de la cirugía, me dijeron que había una posibilidad de que perdiera mi ojo", dijo Moreno a The Washington Post. "No lo sabremos hasta que mi ojo esté completamente abierto, y luego veremos si puedo recuperar mi visión. Podría tomar un par de meses".
Just hearing about this Thoughts and prayers for our @dcunited legend who has given so much joy to all of us @Barra_Brava @ScreamingEagles @DistrictUltrasX and if you can help Supporting our ALL TIME LEGEND Jaime Moreno https://t.co/z2mkDJkYrn

— Dave Johnson (@davejsports) July 24, 2020
Please spread the message far and wide that we're helping Jaime Moreno in this tough time

100% of your donation will go to Jaime (no fees or administrative costs) via this link:https://t.co/yzTF0IkeXA

We're also looking for other ways to help out (DM if you have ideas, too) pic.twitter.com/HPAJDtKLMJ

— ScreamingEagles (@ScreamingEagles) July 26, 2020
Moreno no tiene seguro de salud para soportar los gastos médicos. Oscar Zambrana, el fundador de "La Barra Brava", que es el grupo de seguidores de DC United, inició una página de GoFundMe.
"Mi razón de crear esta página es pedir que nos unamos en un momento de necesidad para apoyar a uno de los miembros de nuestra propia familia", escribió Zambrana en la biografía de la página, "no era solo un miembro de la Barra Brava, era un ídolo para todos los clubes de seguidores y una leyenda desde hace mucho tiempo con DC UNITED y el EQUIPO NACIONAL BOLIVIANO ".
Andrea Sarralde de MyMCMedia habló con Daniel Wadeson, entrenador de fútbol masculino de la Universidad del Distrito de Columbia, sobre la contribución de Moreno al juego y la comunidad.
Cientos ya han contribuido a la causa, recaudando más de $ 50,000 hasta el momento. Innumerables fanáticos y amigos han recurrido a las redes sociales desde que se conoció la noticia del accidente de Moreno para mostrar su apoyo al atleta.
Our thoughts are with Jaime Moreno – hit in the eye with a golf ball. Let's hope it's a full recovery. Get well soon bud we want to see you at the Riverside next year in the @beckmikkel game!! https://t.co/yvXjCWe8LH

— REDARMY.TV (@bororedarmy) July 24, 2020
Jaime Moreno was apparently hit in the eye on the golf course, almost lost his eye. One of the greatest players the DMV has ever seen, if you grew up supporting @dcunited you'd probably find it hard to name a better player to watch. Hope he's okay 🙏

— DMVSoccer.com (@DMVSoccerDotCom) July 24, 2020
Moreno, un jugador muy condecorado, lidera al DC United en varias categorías de todos los tiempos: goles (131), asistencias (102) y partidos jugados / comienzos (329/288). Es uno de los mejores jugadores para la MLS y fue incluido en el Salón de la Fama del Deporte de DC en 2018.