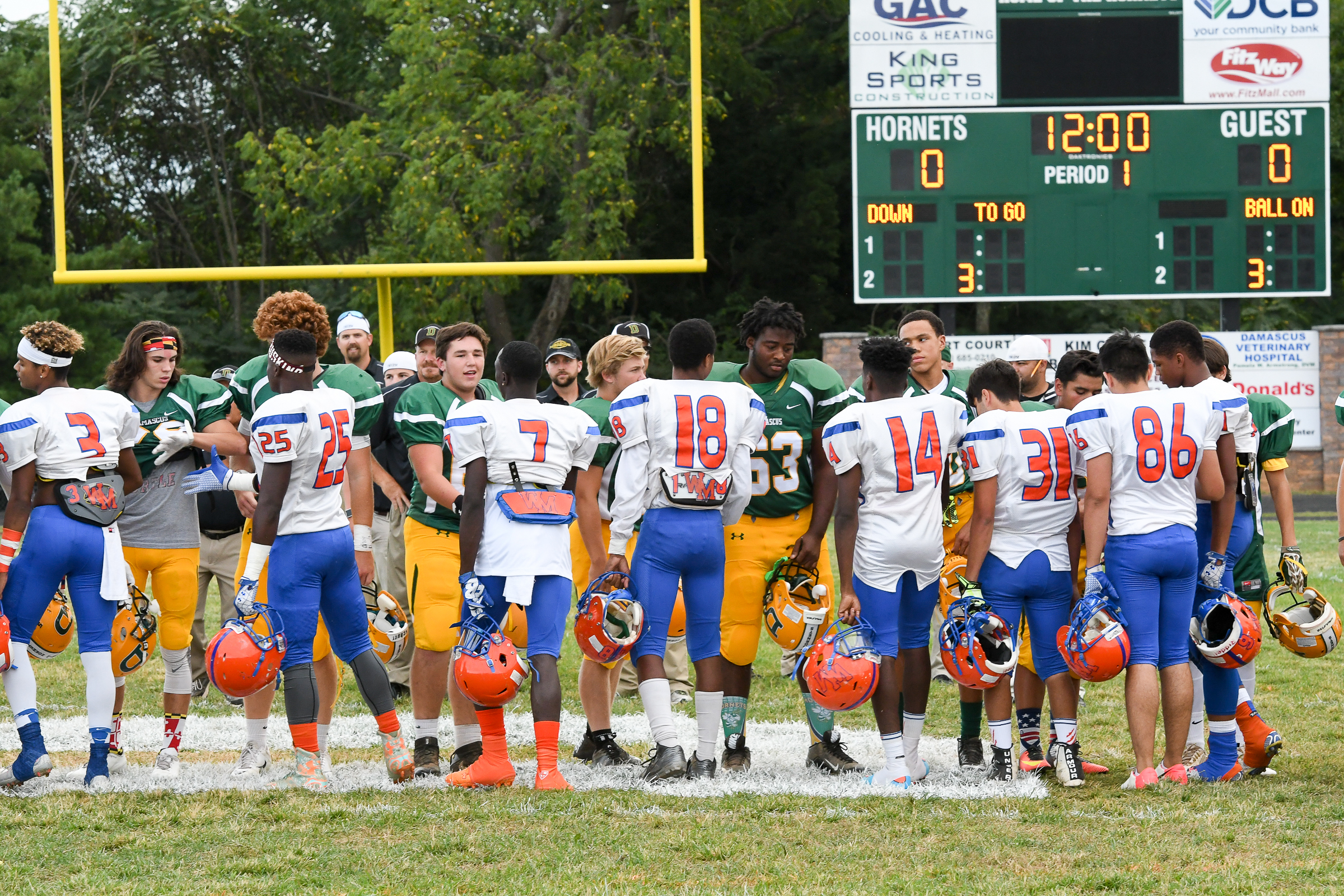 Last Week's Reflections: Give Youth a Chance
Usually my early week blog is a recap of county football action however last week it was a young adult filled on my first days back from vacay. Challenges and events conspired to make last week one to reflect upon now and remember later.
I began my week with a photo assignment that had me embedded with Montgomery County students attending the Congressional Hispanic Caucus (CHCI) on Wednesday and the Congressional Black Caucus (CBC) on Thursday. In its' own right the events stand on their own while providing a worldly glimpse of things to come for our youth. Keep in mind that these convention events are attended by a variety of adult age groups. For the youth in attendance this may be their first introduction to a political/issue convention caucus atmosphere.
Wednesday, CHCI main session speakers, a collection of social media experts and advertising executives were positive and upbeat concentrating on the Hispanic citizen's role in the future of the country. Specifically how they view Hispanic's role in business and government and as drivers of future economic expansion. Speakers used Nielsen data to prove how the advertising community is shifting media focus to the Hispanic culture. They spoke to the primarily youthful audience in terms of ambi-culture and hispennials for how youth learns and speaks both English and Spanish influentially and integrating into existing culture. And then to the growing power of millennial aged Hispanics purses. It is the ambi-cultural nature of Hispanics who claim both US national allegiance and cultural diversity allegiance of their representative Hispanic upbringing that portents strength.
CBC session speakers on Thursday concentrated on social issues that need to be carried forward after the Obama presidency transition, the Black Lives Matter movement, presidential clemency of federal offenses and even the role of the National Football League (NFL) as seen through protest of the national anthem. Breakout session speakers instructed attendees on financial literacy and the impact of current day issues with law enforcement both on our streets and in our school systems. An idea promoted at the caucus was the removal of police from schools while teaching administrators to better handle societal differences that at times become frayed.
In common to both groups was a call to register and vote as a necessity for all age appropriate youth to influence national and local political races.
So it was two different days, with two distinct messages for our youth all within eyesight of my camera. Little did I know at the time that by Friday night and later I would witness some of these same subjects played out on an up-county football field.
Friday Night – Damascus, MD
Watkins Mill Wolverines were in town for a high school football matchup with highly ranked Damascus. The action would not be necessarily game time but rather before the game even began. Watkins Mill players would take a knee during the playing of the national anthem, a freedom of speech protest fashioned in style to the protest by NFL's San Francisco 49er quarterback Colin Kaepernick.
High school administrators from both schools took time during the week to counsel and prepare both students and parents for the upcoming protest. As a result there was a call for additional security followed by increased media attention.
I was splitting time between two games that night for MCM, one here in Damascus and the other in Gaithersburg.
As I walked onto the field for pregame both teams uncharacteristically met at mid field to shake hands – a process I usually see only at Women's NCAA Basketball games. After the shake it was back to warm-ups and pregame crowd activity. The Damascus faithful and student section were in red shirts to celebrate Maryland Pride week and there was more than a smattering of US flags among the home team crowd. A plane flew overhead dragging an air banner – GO DAMASCUS HORNETS.
Damascus's marching band paraded to midfield and began the national anthem while members of the Wolverine's team removed their helmets and took a knee, as did a few cheerleaders and some fan faithful that sat in the stands. Not all members of the team took a knee nor did all the cheerleaders and fans. Those who stood did so to support their own convictions. And there were seen in the stands a few raised fists reminiscent of the Olympic protest movement.
Opposite of the protest there on the Damascus sideline the Hornets team had remained in the locker room while the crowd sang the national anthem. Shortly thereafter the team captains met at midfield for the coin toss as the rest of the Damascus team hunkered in their end zone. Damascus captains returned to the end zone to complete their entry onto the field with the team rushing through a spirit banner while one player held high the American flag.
End of the first period of play it was Damascus 14 and Watkins Mill 6. Next stop would be Wootton versus Quince Orchard.
In my observation many things were done right Friday evening.
Both High School administration got it right – they let the youth grow up and behave without incident managing the societal issue, peacefully.
Visible police enforcement presence was minimal for the start of the game and it was mostly at the entrances
The media was everywhere.
The crowds for both sides voiced/displayed their opinions peacefully
They played football – for it's only a game.
Scenes from Friday night:
Saturday Afternoon – Salisbury, MD
The next day, Saturday, I would travel to Salisbury University to watch and photograph a number of MoCo student-athletes who are now playing at the next level, one of which is my nephew. There at the new SeaGull Stadium in Salisbury, MD there was no protest or talk of taking a knee, just a good game between Salisbury and Montclair State University (MSU). Montclair State, a school of 20,000 is located near Newark, NJ and is comprised of student-athletes from all over NJ. Salisbury won Saturday's game 40-20.
Hours later we would all learn of a terrorist related act that took place along the Jersey Shore in Seaside Park, NJ and on the streets of New York. Some in that small crowd in Salisbury would have friends and relatives in the vicinity of the bomb explosions, my niece for one was ready to run that 5K along the beach roads in Seaside where she was once a lifeguard.
Maybe the young individuals who build bombs never gave peace a chance.
Sorry, John Lennon, it's just football.
© Photos | Phil Fabrizio | for MCM
@Photoloaf