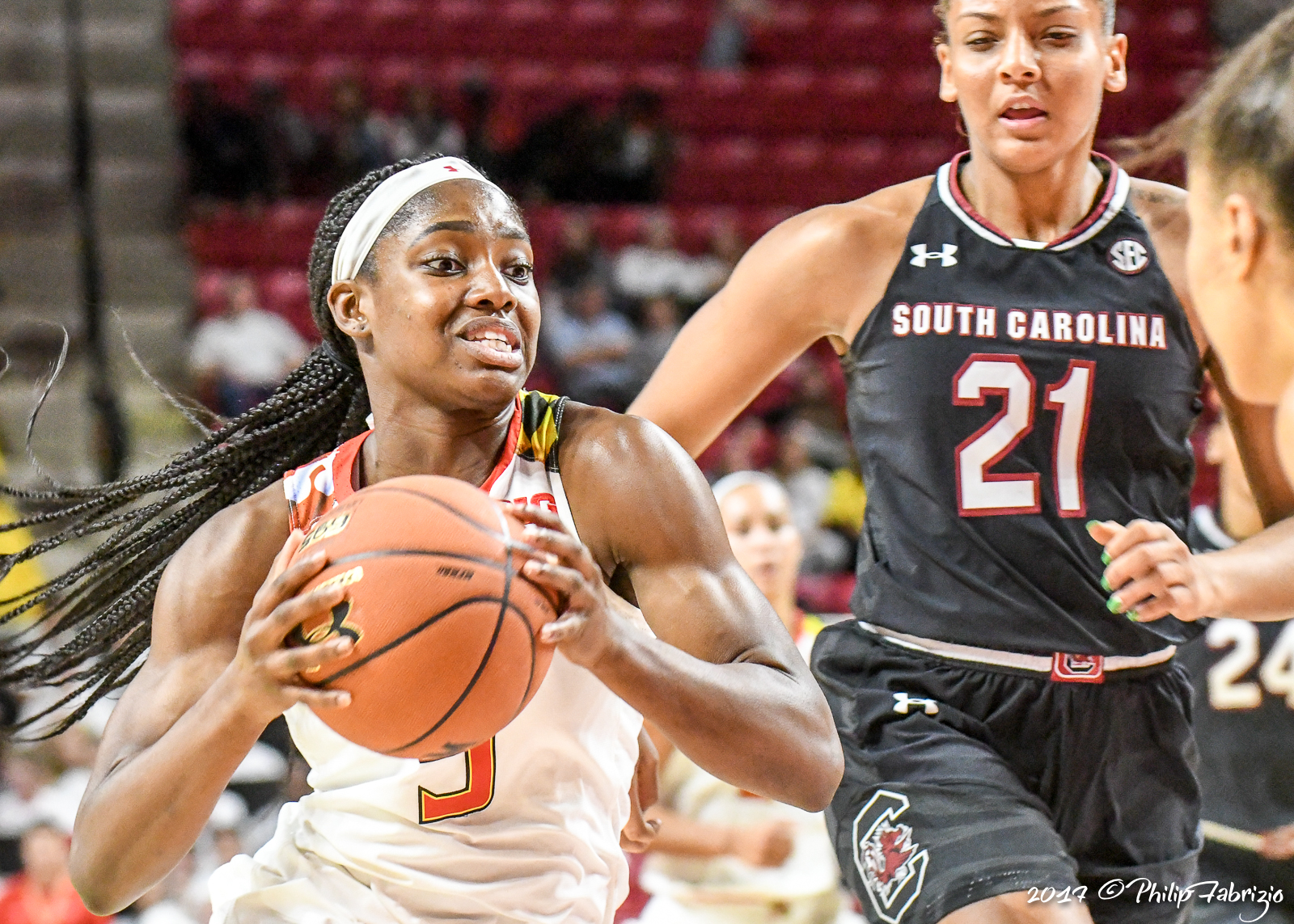 Lady Terps Fall to Defending National Champion South Carolina (PHOTOS)
The Maryland Women's basketball team fell to the South Carolina's Gamecocks, Monday, Nov. 15th in College Park.
A late fourth quarter Terps rally by Maryland Women's basketball team could not close the gap on South Carolina's Gamecocks, the defending national champions, as the Gamecocks held on for a 94-86 early season win.
Gamecock's A'ja Wilson had 32 points with 12 rebounds as the team used her and Tyasha Harris to control the game scoring and floor minutes. Both had over 36 minutes.  Both players proved to be a little too much for the younger Lady Terps who at one point spotted their opponent a 29-point lead.  However, a Lady Terps furious rally in the latter half of the 3rd quarter and the entire 4th quarter narrowed the lead down to 4 points at 90 to 86 with 19.9 seconds remaining.
Ultimately, the Gamecocks sealed the win on a double team turnover of a Terps guard just over mid court and held on to win 94 – 86.  Noteworthy, a comment from a sideline fan said that this was the first time in 47 years that Maryland (Women) has lost a home game after scoring at least 85 points in the game (not verified).
Ranked #4 (SC) and #15 (MD) these teams match up was a a yardstick for what may come during the season.  It was a test for sure for both teams.  Terps looks ahead to an upcoming schedule for the remainder of 2017. They play #1 Connecticut, Virginia, George Washington and Loyola.  South Carolina take on Rutgers, Duke, Temple and Texas A&M all before New Year's.
Eye of the Tiger performance pendant needs to be handed out to Terps Sophomore Guard, Kaila Charles.  Because when she got that "Jake Funk" (see sidebar note below) look in her eyes she was virtually unstoppable. In my estimation time was on the Terps side. Both Gamecock's Wilson and Harris showed the wear and tear of their time on the floor.  Terps just might have prevailed under Charles second half performance.  In conclusion, for that performance, she is featured in the photo slide show.
Phil Fabrizio
Copyright 2017 © Fabrizio |Photoloaf® photos for MCM
Sidebar:
I always concentrate on an athlete's facial expressions.  Know that one of my favorites was a MoCo athlete from Damascus.  It was high school football player, Jake Funk, who is also currently a Maryland Terrapin.  So, it was last night that, I could see the same level of competitiveness in her expression – just like Jake's.