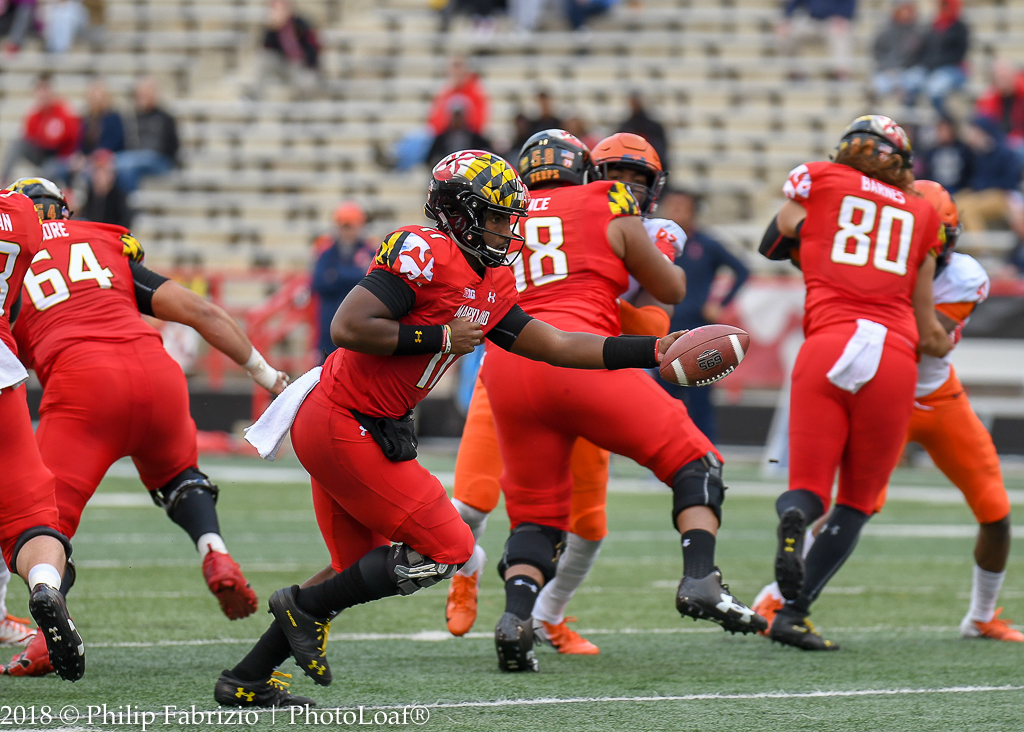 UPDATED: Maryland Football Coach DJ Durkin Fired
UPDATED 7:10 p.m. Maryland has fired football coach DJ Durkin just one day after he was reinstated, as reported in ESPN.
In a statement on the school's website, president Wallace Loh said,
"Yesterday, the University System of Maryland Board of Regents announced numerous recommendations, including employment decisions about specific personnel on our campus. I accepted the Board's recommendations. At the same time, I announced my retirement as president in June 2019.
"Since returning to campus after yesterday's press conference, I have met with the leadership of the Student Government Association speaking on behalf of numerous student organizations; the Senate Executive Committee; Deans; department chairs; and campus leadership. The overwhelming majority of stakeholders expressed serious concerns about Coach DJ Durkin returning to the campus.
"The chair of the Board of Regents has publicly acknowledged that I had previously raised serious concerns about Coach Durkin?s return. This is not at all a reflection of my opinion of Coach Durkin as a person. However, a departure is in the best interest of the University, and this afternoon Coach Durkin was informed that the University will part ways.
"This is a difficult decision, but it is the right one for our entire University. I will devote the remaining months of my presidency to advancing the needed reforms in our Athletic Department that prioritize the safety and well-being of our student-athletes."
Read my message to campus for updates on our football program https://t.co/z0WI3OPfjo

— Wallace D. Loh (@presidentloh) October 31, 2018
Gov. Larry Hogan on Wednesday called on the University System of Maryland's Board of Regents to convene a public hearing to address issues surrounding the decisions to reinstate Terrapin head football coach DJ Durkin and for University President Wallace Loh to retire in June.
In a statement released about 5 p.m., Hogan said he was "deeply troubled" by Regents' lack of transparency.
"The University System of Maryland has let down the University of Maryland community and the citizens of Maryland, and now is the time to fix it," the governor said.
Durkin had been placed on leave following the May 29 death of Jordan McNair, the 19-year-old offensive lineman for the Terps. McNair died from a heatstroke.
A report by outside consultants Walters Inc. said the football team's trainers failed to alert emergency medical services for an hour after McNair first showed symptoms of heatstroke.
The football program had come under fire after an ESPN report showed a toxic culture at College Park football program.
Hogan's statement came about a day after Democratic gubernatorial candidate Ben Jealous called on him to tell the Regents to fire Durkin and athletic director Damon Evans.
The governor's statement appeared to be a response, even if indirect, to Jealous' assertion.
Hogan pointed out the university system, by law, must operate independently of political influence; the governor plays no role in hiring or firing university personnel.
Loh had advised the board to fire Durkin. Instead, Loh announced his retirement from College Park on Tuesday.
News reports have said college boosters support Durkin.
The full statement from Jealous:
Under direction from the University System of Maryland Board of Regents, the University of Maryland has become a national embarrassment for putting the agenda of a few wealthy football boosters ahead of the health and safety of its student athletes.

Head Football Coach DJ Durkin made the decision to hire and continue to employ a strength and conditioning coach who used physically and verbally abusive conditioning practices until a student athlete died on their watch. He deserves to be held accountable and fired. Athletics Director Damon Evans oversaw a football program that failed to follow recommended safety protocols to prevent and mitigate heatstroke — measures that could have prevented the tragic loss of Jordan McNair. He was responsible for ensuring the health and safety of student athletes in the football program and he failed in that responsibility. He deserves to be held accountable and fired.

Instead of taking the necessary actions to hold those responsible for McNair's death and a toxic football culture accountable, the Board of Regents did everything they could to protect the interests of a few wealthy football boosters who were committed to saving Durkin's job. This is made even more preposterous by the news that the Regents ignored the will of University of Maryland President Wallace Loh to fire Durkin and then threatened President Loh until he stood down. I commend President Loh for taking responsibility for the Athletics Department's mistakes and at least attempting to move forward without Durkin. The Board of Regents should drop their coercion and reverse course.

If the Regents won't do the right thing on their own, Governor Hogan—who appointed the vast majority of the current Board—should step in and call on them to fire Evans and Durkin. It is not enough for the leader of our state to simply shift blame and throw his hands up, yet ultimately do nothing.
Hogan's full statement on Wednesday:
I am deeply troubled by the lack of transparency from the Board of Regents, and deeply concerned about how they could have possibly arrived at the decisions announced yesterday.

I share the concerns of many Marylanders and believe very strongly that more must be done to restore the public trust. I am calling on both the University System of Maryland Board of Regents and President Wallace Loh to reconsider their decisions and to schedule a public hearing to address these issues in an open and transparent manner.

While the university system is required by law to operate independent of political influence, and as such no governor has the ability to hire or fire any university personnel or members of the Board of Regents, I can and will demand that the university is held accountable for making the reforms they have pledged to put in place with the full transparency that the students, parents, and faculty expect and deserve.

The University System of Maryland has let down the University of Maryland community and the citizens of Maryland, and now is the time to fix it.
Hogan's full statement on Tuesday:
First and foremost, we cannot lose sight of the events that led to the Board of Regents' investigation. The death of Jordan McNair was a terrible tragedy that should never have occurred and must never be forgotten.

I've said from the beginning that this was a very serious matter that required action and transparency. Although our administration was not a part of the process and I do not know how the regents arrived at their conclusions, in the weeks ahead, we will be pushing for assurances that the issues outlined in the report will be effectively addressed.

University leadership still faces the considerable challenge of restoring the trust of students, families, and faculty, and proving that there is and will be accountability for any actions that adversely impact student welfare and the standing of our flagship university. The addition of an oversight board seems to be a positive step, but many will understandably question whether enough has been done to address the serious concerns that exist among many in the College Park community – I am one of them.

It is incumbent upon the regents, President Loh, and the College Park athletic department leadership to build a stronger athletic program where student athletes are always treated with dignity and respect, and to ensure that UMD remains a world-class academic institution that fosters a safe and supportive environment where all students can achieve their dreams.