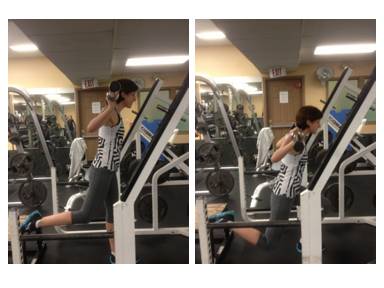 If Forest Gump Can Do It…
Hi folks, I'm back this week to eradicate another running excuse! Last week, my challenge was learning hip and glute strengthening exercises to manage my IT band pain. So I hit the gym with Melissa "The Gluteus Guru" Barber to work out a strengthening regimen for me.  Not only did she guide me through my work-out but she also took pictures to demonstrate what the exercises look like in action and so that I could get a jump on my fitness modeling career.
1)      Box Squats— If you can, use a box or a bench that puts you just below parallel when you squat. When you stand, contract the glutes to propel you up.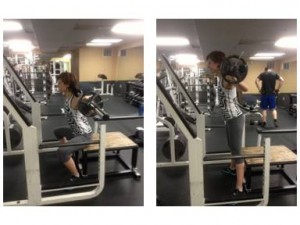 2)      Bulgarian Split Squats—I'd    recommend using less weight on this one than you did on the box squats. In my case, the un-weighted bar bell was enough of a challenge, but hopefully with enough practice, that will change.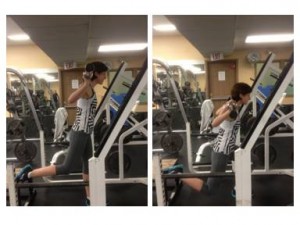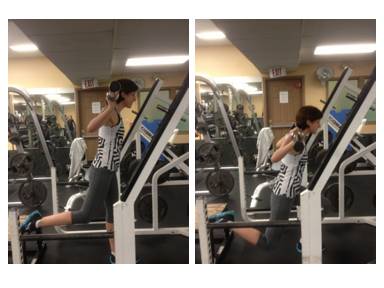 3)      Bar Bell Hip Thrusts—
Contract as you bridge up.
I like this one. It makes me look really intense…like I really know my way around a weight room.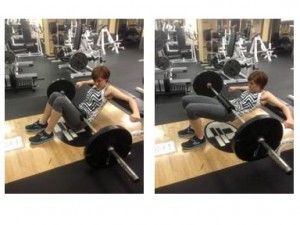 **To do the hip and glute abductors, not shown above because my face looked too ridiculous in the pictures to include them in a public forum, do the following: Put an exercise band around both ankles. Extend your non-standing leg to the side until you feel resistance and do 20 reps. Then extend the non-standing leg behind the body and do 20 reps. Repeat on the other leg. Do 4 sets on each leg. You'll feel the burn with this one folks, so do it last!
O.K., Time to review my list:
1)I have persistent IT Band Syndrome
2) It's too damn cold
3) I'm bored of running Seneca Creek/I don't know other trails in the area
4) I'm not signed up for any races, so I don't have a goal
Second on my list is the cold. If I'd been strategic about this, I would have listed this second one last. Then I could have avoided addressing the problem altogether because it would be mid-March by the time I got around to it. BUT I didn't, so check out my next post where I'll face my winter wimpiness and get out there in the cold!
I usually try to end my blog with a question, but I'm going to sign out on an inspiration note today:
Forrest Gump could run for three years, two months, fourteen days, sixteen hours, and cross the Mississippi 4 times and he's not even real. Just think of what you can accomplish!
-Maggie