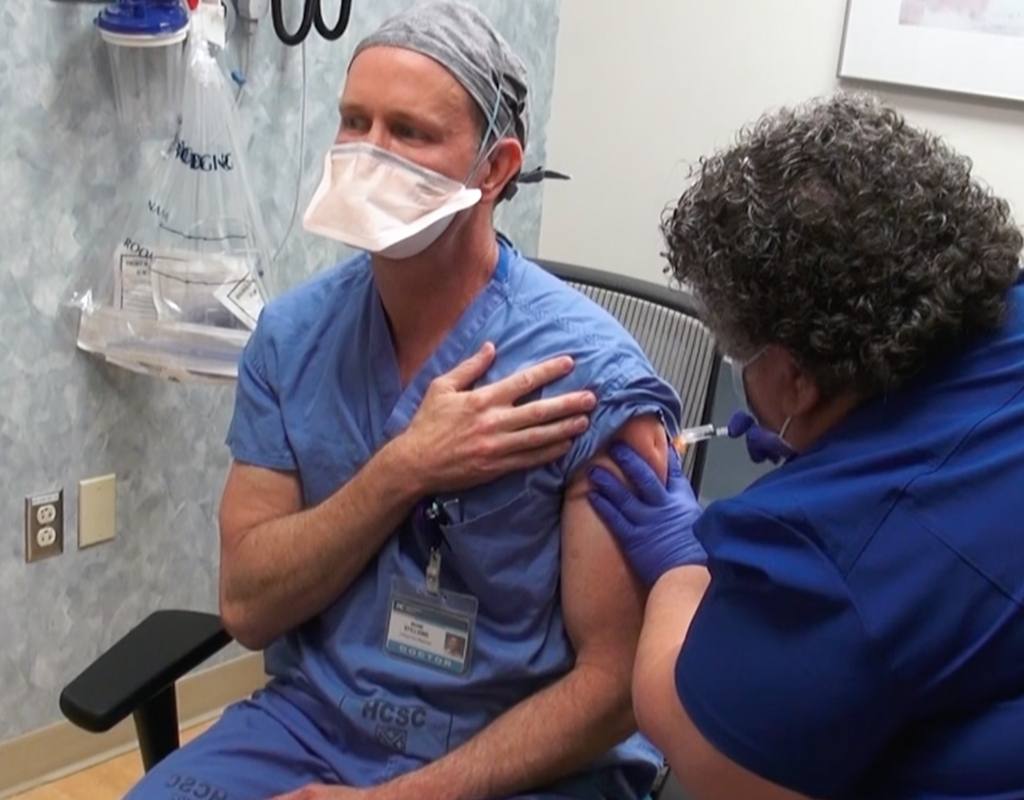 Hospital, Nursing Home Employees in Maryland Must Get COVID-19 Vaccine or Frequent Testing
Gov. Larry Hogan announced at a press conference Wednesday that all hospital and nursing home employees in the state of Maryland will be required to get the COVID-19 vaccine or undergo frequent testing. Workers at such facilities will be required to get their first shot by Sept. 1.
The news was announced shortly before the Associated Press reported that the Biden administration is moving to requiring nursing home staff get vaccinated as a condition for receiving Medicare and Medicaid funding.
Biden admin to require nursing home staff to get vaccinated as condition of Medicare/Medicaid funding https://t.co/iALFhpYI55

— Jayne Miller (@jemillerwbal) August 18, 2021
Currently, 79% of nursing home staff in Maryland have been vaccinated. State data shows that 18 nursing home facilities in Maryland are above a 95% vaccination rate. The governor's office displayed a list of facilities with high and low vaccination rates, and no Montgomery County nursing homes appeared on the list with low vaccination rates.
4a) Nursing home facilities with the lowest staff vaccination rates: pic.twitter.com/FxIeugPprd

— Kata D. Hall (@katadhall) August 18, 2021
Joe Demattos from the Health Facilities Association of Maryland spoke about the importance of mandating vaccines to healthcare employees.
"Your announcement today will save lives," Demattos told Hogan.
Hogan said that the state has transitioned away from its state of emergency to a longterm public health response to the virus. Health officials remain concerned about the delta variant, but the best way to prevent infection is through the safe and effective COVID-19 vaccines.
Hogan on Booster Shots, Monoclonal Antibodies
The Biden administration announced that it is recommending booster shots for Americans who received the Pfizer or Moderna vaccine eight months after they were inoculated with the dose. The booster shots are set to start rolling out on Sept. 20.
At his press conference, Hogan said state officials have been urging White House officials to make the shots available now to help vulnerable populations who were vaccinated early in the year.
Additionally, Hogan called on the FDA to fully authorize coronavirus vaccines, which he said is the "most significant hurdle to reaching those who are still hesitant." He is also urging the White House to expedite the approval of vaccines for children ages 5 to 11 now that schools are opening for a new academic year.
11a) Monoclonal antibodies have proven to be effective against the Delta variant, and state health officials are strongly recommending much wider utilization of them for patients with mild to moderate COVID symptoms.

— Kata D. Hall (@katadhall) August 18, 2021
Hogan said state health officials are strongly recommending monoclonal antibodies as a treatment to Marylanders 12 and over who've been infected with COVID-19. Monoclonal antibodies are highly accessible in Maryland and can be given early once someone is infected. "It has helped us prevent hundreds of hospitalizations and deaths," Hogan said.
Hogan said the state does not plan to reinstate its mask mandate at this time. (In Montgomery County the mandate has been reinstated.)