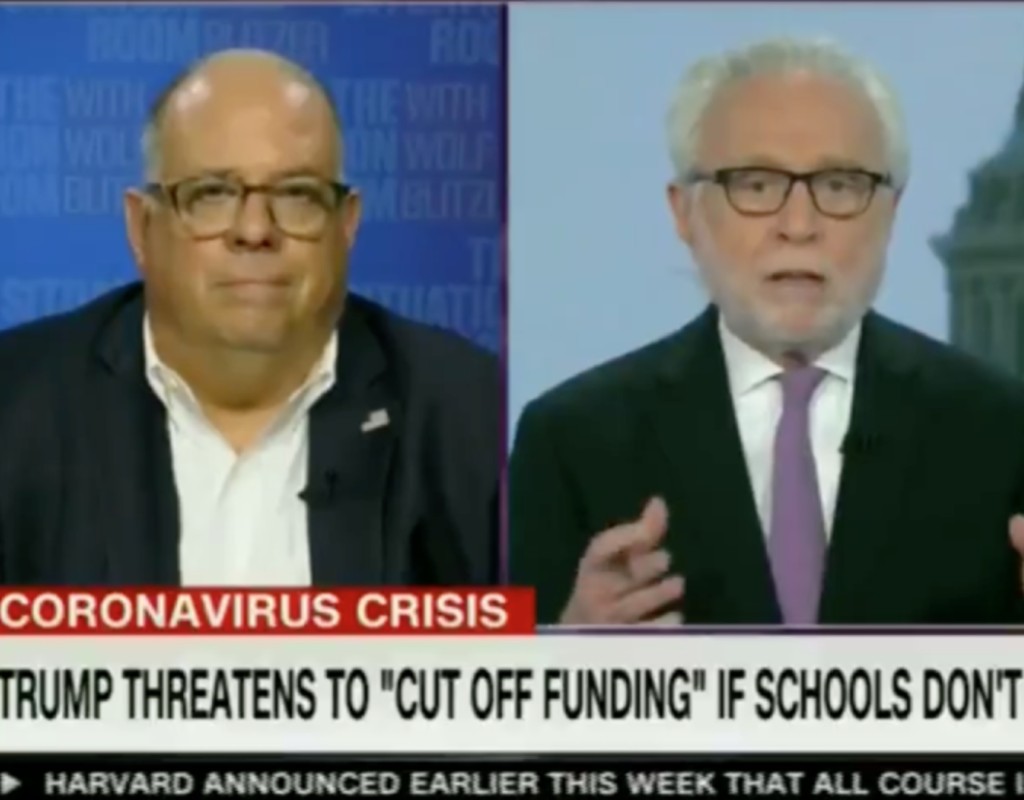 Hogan on School Funding: 'We're Not Going to Be Bullied or Threatened by the President'
Gov. Larry Hogan isn't worried about President Donald Trump's threats to cut federal funding to schools that choose not to fully reopen in the fall.
As the summer hits its halfway point and with coronavirus numbers spiking throughout the country, many states are unsure what to do regarding their schools in the fall. Some areas are even considering staying closed a bit longer until things calm down more. Trump, however, made a statement this week that he would remove federal funding from areas where schools remain closed.
In an interview with CNN's Wolf Blitzer Wednesday evening, Hogan said that he doesn't believe the president's threat is real, adding the rest of the governors aren't taking it that seriously either.
The nation's governors recently held a productive discussion with @VP Pence and @CDCDirector Redfield to discuss safe guidelines for reopening schools. We all want to get our kids back to school, but we're going to do so safely and listen to the experts. pic.twitter.com/uppb455aPx

— Governor Larry Hogan (@GovLarryHogan) July 8, 2020
"I really don't know what prompted such a remark. We had a great discussion on Monday with all the nation's governors and the National Governors Association…the vice president lead the call, Dr. Robert Redfield was on there, laying out the CDC suggested guidelines for states and local governments, and it was a productive discussion," Hogan told Blitzer. "I have no idea what it was that the President was concerned about…but it really was not helpful to the discussion."
In addition to wanting all schools to open in the fall, Trump has criticized the guidelines with which the CDC has suggested schools to do so, saying that they are too strict. During an appearance on MSNBC's "Morning Joe" Thursday morning, Hogan responded to the president's criticism.
Hogan said he didn't understand the president's problems with the CDC guidelines, noting that reopening decisions are ultimately determined by the states and local governments. He added that state and local governments will not fear threats.
"While we appreciate input from the CDC and from the federal government, we're not going to be bullied or threatened by the president," Hogan said on MSNBC. "I think everybody should be on the same page, we want to keep our kids safe and we want to try to get people back to school in a safe way."
He added that a cut to federal funding would be counterproductive as states are fighting for more aid so that they don't have to make their own drastic cuts to important personnel and infrastructure.
"We're in need of more federal funding not less federal funding and it's something that all of the governors are united in fighting for," he said.