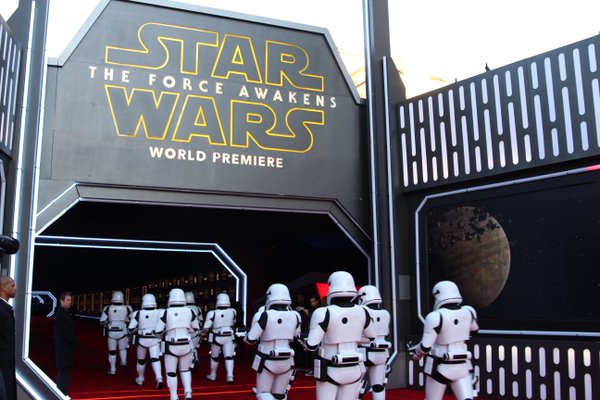 George Lucas and the Leadership Lessons of STAR WARS
The extraordinary vision of STAR WARS was from the mind of its creator, George Lucas. Lucas personally directed the first film in 1977, handed over the reins in the next two films, then reentered the director's chair for the next three movies in the series. Although those last films were huge commercial successes, they were often ridiculed by reviewers as too dependent on technical wizardry and less effective on getting a compelling story on the screen.
With this month's release of THE FORCE AWAKENS, Lucas has stepped away entirely from the franchise he created, trusting the skills of J.J. Abrams to bring Episode VII to life. In fact, Lucas refused to even view the project during pre-production, telling Abrams this would be the first STAR WARS film he has seen only after completion.
The baton of the most successful franchise in film history has been passed from its creator. Based on reviews and the box office returns, it was a wise decision.
Making the choice to step aside is never an easy one for a founder, whether you're a filmmaker, a business owner or a nonprofit leader. Many organizations don't survive the loss of their leaders. Or the handoff is badly managed and the magic doesn't transfer from one generation to the next. Corporate vision can easily be lost, or the mission can lose its way.
If you're in an organization that is facing (or needing) leadership change, or needs to prepare for it, here are a few lessons from the Lucas-Abrams transfer that are well worth noting:
Lesson #1: Surround Yourself with Great People
From the very beginning, George Lucas understood that no film project is a one-man operation. Whether it was the music of John Williams, the scriptwriting of Lawrence Kasden or the voice of James Earl Jones, Lucas pulled together an ensemble that created the extraordinary. You need to select and groom a team that's the best at what they do… and yes, even better than you. As the old management idiom goes: 'A' people hire 'A' people while 'B' people hire 'C' people, and 'C' people hire 'D' people. Do you have the courage as a leader to hire someone with skills superior to your own?
Lesson #2: Ask Questions & Question Assumptions
As his actors would say, Lucas' usual direction to them after shooting a scene was to "do it again, but faster and more intense". While you may be surrounded by terrific people, you as a leader must guide the journey toward your vision. Amazon's Jeff Bezos is famous for peppering his staff with project questions during meetings, and Microsoft's Bill Gates mercilessly challenged the assumptions of his software teams. That sort of leadership style forces your employees to defend their ideas, anticipating the boss's challenging inquiries and exceeding those expectations.
Lesson #3: Be Prepared to Step Back
After Lucas sold his production company to Disney in 2012, he decided to never again direct another STAR WARS film. He eventually hand-selected the creator of LOST and director of the reinvigorated STAR TREK films, J.J. Abrams to take over the directing helm. And while Lucas had some initial involvement as a consultant on THE FORCE AWAKENS, he himself stated he would "muck it up" if he became involved. Lucas stepped back completely from the project, having only seen the final film right before its public premiere.
In any organization, a leader deciding to move aside is one of the most difficult of decisions. Yet if she or he has done their most important job by laying the groundwork for the future, their legacy can continue but grow beyond their expectations. And as Han Solo might advise you, "Great kid. Don't get cocky".