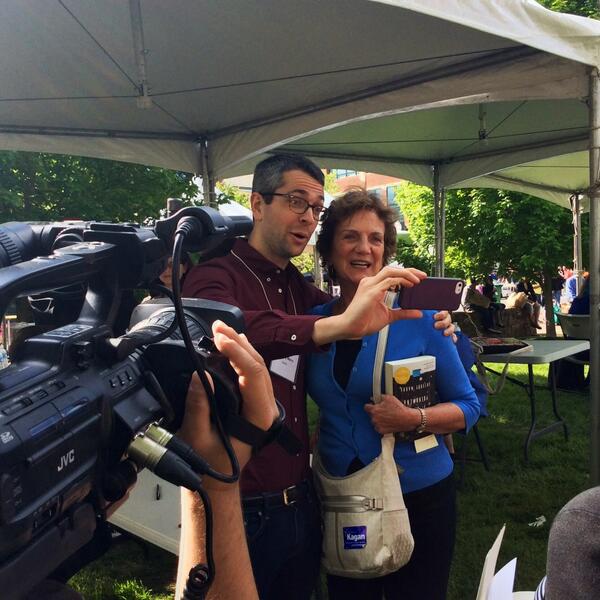 Gaithersburg Book Festival Does it Again (PHOTOS & VIDEO)
The fifth annual Gaithersburg Book Festival attracted thousands of people of all ages to the grounds of Gaithersburg City Hall on May 17 for what appeared to be a record turnout.
The weather was picture perfect for the daylong event, which was primarily held outdoors. There were lines of people that stretched across the lawn from the author signing tables while the pavilion tents were packed with people for the author presentations. By late afternoon, volunteers had passed out all of the printed programs to newcomers arriving at the event.
From the looks of it, Rachel Renee Russell, author of Dork Diaries, may have welcomed the biggest crowd of the day.
Organizers said Russell, who was joined by daughters Erin and Nikki Russell, autographed books for three hours at a signing table as patient young fans, with books in hand, waited to meet the popular children's author.
Other well known authors at the festival included Alice McDermott, Anthony Marra, John Feinstein, Tom Angleberger, Warren Brown, James Swanson, Allison Leotta, Fred Bowen, David Stewart, Mary Kay Zuraveleff, Brian Floca, Mark Leibovich and the list goes on and on. There were over 100 presenting authors, journalists, poets and educators at this literary event, which has put Gaithersburg on the map as a cultural destination.
By the time Marra arrived at his designated author signing table, his critically acclaimed book, "A Constellation of Vital Phenomena," had sold out at the Politics and Prose book tent.
The night before the festival, organizers hosted an authors' reception, which was also well attended, at Asbury Methodist Village for the presenters and sponsors. Many of the authors seemed to delight in meeting other authors or catching up with old and new friends.
Festival founder Jud Ashman expressed how happy he was with this year's event on his Facebook page as he thanked everyone involved.
"Take a fantastic group of authors and programs, gorgeous weather, and what-seemed-to-be a record-setting number of attendees, and you have the 5th annual Gaithersburg Book Festival," Ashman posted as his status update on May 18. "To everyone who played a part – from staff, to volunteers, to special guests, sponsors, exhibitors, moderators, introducers, and the whole lot – today was an enormous triumph, and I hope you share my pride in it. We are shaping a culture. And having fun doing it."
If you missed this popular event, mark your calendars for next year. Planning is already underway for the sixth annual Gaithersburg Book Festival, which is set for May 16, 2015.
If you attended this event, organizers want you to take a quick survey so they can gauge your feedback.
Below are some photos from the authors' reception and the festival. You can also watch a short video featuring a conversation that took place at the festival between The Washington Post's Ron Charles and author Alice McDermott about being a novelist and Catholic.
It's never too early to mark your calendar. #GBF15 will be on May 16, 2015.

— GburgBookFest (@GburgBookFest) May 18, 2014