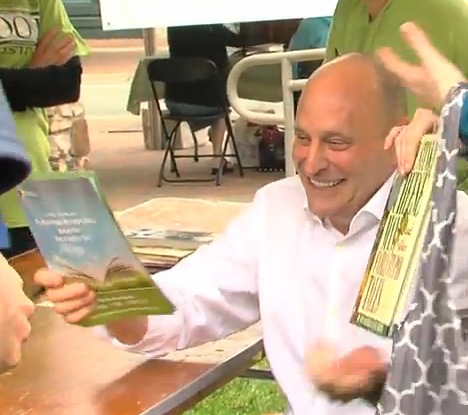 Gaithersburg Book Fest Announces Children's Line Up
The Gaithersburg Book Festival isn't just for adults. Featuring some of the top authors in children's literature, hands-on activities and interactive workshops, the festival's Children's Village offers an incredible program for younger readers – from the newest book lovers to avid teen readers and writers.  The festival takes place Saturday, May 17  from 10 a.m. to 6 p.m. on the grounds of City Hall at 31 S. Summit Avenue in Gaithersburg.
Among the award-winning and best-selling authors and illustrators coming to the Gaithersburg Book Festival this year are:
Tom Angleberger, author of the popular Origami Yoda series
Kathi Appelt, Newbery Honor and PEN USA Literary Award winner, National Book Award finalist
Brian Floca, 2014 Caldecott Medal winner for "Locomotive"
Deborah Heiligman, National Book Award Finalist, winner of Michael L. Printz honor and the YALSA Excellence in Non-Fiction Award
Tad Hills, author of the Duck and Goose and the Rocket books
Geoff Rodkey, author of the Chronicles of Egg middle grade adventure-comedy series
Dave Roman, graphic novelist and co-author of New York Times best-selling graphic novel "X-Men: Misfits"
Rachel Renee Russell, author of The Dork Diaries series
Lola M. Schaefer, Charlotte Zolotow Honor and Children's Choice Book Award winner
Tanya Lee Stone, winner of ALA Sibert Medal, YALSA Excellence in Non-Fiction Award and NAACP Image Award
James L. Swanson, Edgar Award winner
Raina Telgemeier, New York Times best-selling graphic novelist
These authors are joined by a host of other talents in children's literature, including Fred Bowen, L.M. Elliott, Ben Hatke, Gareth Hinds, Laurie Keller, Uma Krishnaswami, Lisa Martin, Valerie Martin, George O'Connor, Kevin O'Malley, Kate Samworth, Jon Skovron, Janet Tashjian, Chris Van Dusen and Jacqueline West.
Fierce Reads for Young Adults
Each year, Macmillan publishers showcase their best new YA authors with their Fierce Reads Tour. This year, the Festival will be a stop on this national tour, which features Lindsay Smith, Katie Finn, Anna Banks and New York Times best-selling author Emmy Laybourne.
Imagination Station
Imagination Station is where books come alive through storytelling, juggling, drama and dance. Performances include:
"Storytelling Through Dance: Tales of Krishna" by Nritya.  A tale that weaves together Indian Classical dance techniques and mime to tell the tale of the mischievous Krishna's childhood. Filled with Bollywood, this performance will be reminiscent of Dini and Maddie in Uma Krishnaswami's "The Problem with Being Slightly Heroic."
"Nicolo the Jester" combines juggling with comedy, poetry, storytelling, character acting and audience participation. New this year, Nicolo engages audience members to bring to life Gareth Hind's graphic novel as he acts out a scene from "Romeo and Juliet."
"Halley Came to Jackson" and "The Very Hungry Caterpillar," performed on a Penny Theater by Friends of the Library, Quince Orchard Chapter.
"It's Booktime with Ronald McDonald," hosted by Ronald himself, will encourage children to read, make use of their public library and always take care of their books.
"Classically Different Adventures," presented by Arianna Ross & Story Tapestries, is a fun and adventurous program that takes a trip around the world to meet a girl who is as big as a thumb.
InterAct Story Theatre will invite children on stage as it brings stories to life through storytelling, drama and song.
The Mayor's Book Club will announce the third grade student and class that read the most books in the month of April.  The ceremony will be accompanied by the Gaithersburg Elementary School Chorus.
StoryTime Tent
The StoryTime Tent is a place where children and families can enjoy having a story read to them by authors, school librarians, student storymakers and Maryland's Outstanding Teens, including Francisca Moreno, Miss 2014 White Oak Outstanding Teen, who will entertain with stories and songs in Spanish.
Writing Workshops
The Children's Village also will offer free writing workshops for children and teens, led by teaching artists from local writing programs.  Workshops, designed for ages 8-18, will focus on playwriting, poetry slam performance, book arts, children's books and college essay writing, among other topics.  The full schedule of workshops will be available on the Festival website in early April.
Where's Waldo
Do you know where Waldo is?  We do. This year, he'll be at the Children's Village where your children can participate in a Where's Waldo Scavenger Hunt.  Search for Waldo throughout the Festival grounds, and after finding all five hiding places, place an entry card in our raffle box. Two lucky winners, selected by random drawing, will receive deluxe Waldo prize packs.  And if your kids didn't get enough of Waldo, our book vendor, Politics & Prose, will have his books for sale.
The Book Nook
Located on the Concert Pavilion stage, the Book Nook offers a place for reading, building and learning. This unique space is where Home Depot will help kids construct a personal "writer's tool box," complete with a pencil to get them started on their own story.  Bach to Rock will provide a variety of story times during which kids will experience books through the rhythms of music, using musical instruments, songs and movement. Read and play along with Tipo's Toy Box as they introduce children and families to games that inspire reading and literature.  And the City's CHARACTER COUNTS® program will help kids craft the places where books can take them.
Even More Non-Stop Activities
Back by popular demand will be Leah Taylor Jefferson, author of "Horses of the Presidents" and "The Adventures of Oreo and Algonquin," with her pony, Oreo.  Children will be able to dress up and get their photos taken with Oreo.
Scholastic, Inc. will host "Read Every Day," an initiative where kids and parents can share their thoughts on why they love reading on a giant chalkboard.  Parents also will be able to pick up materials that will help them encourage summer reading and learn about how to do a Booktalk, a short, engaging presentation that is designed to inspire others to read.
Families are encouraged to visit with Keyote at the Frederick Keys booth.  The Keys will have information about their Junior Keys Kids Club, including a kid's activity packet, the Keys Summer Reading Program and special raffle items including team- signed baseballs and tickets to 2014 regular season games at Harry Grove Stadium.
In addition, the Children's Village will be home to a number of other literary crafts and activities:
The Montgomery College Early Childhood Club will offer an arts and crafts station, storytelling, imaginative games and will sell Education Bags, which include books and toys that go along with the stories.
Family Services, Inc. will help children make their very own Reading Buddy. Using various art supplies, kids will create a unique friend who will never be too busy to hear a good story and is always a good listener.
The Girl Scout Council of the Nation's Capital will be back again this year to make bookmarks with kids of all ages.
Whether you are a child, a teenager or an adult, the Story Tapestries tent has something for everyone.  Listen to and watch a DVD story.  Play with instruments and handle artifacts from all over the world.  Draw a picture that tells a story and decorate it with glitter.  Write a poem around the picture to illustrate your wonderful imagination.
Young Audiences of Maryland will be on hand supporting one of their performers, Nritya, and demonstrating bookmaking with another artist.
Jaree Donnelly, Associate Director of Education and Community Engagement at BlackRock Center for the Arts and art instructor at the Gaithersburg Arts Barn, will play storymaker games and provide insight on writing and illustrating a children's story.
Local artist Leigh Partington will compliment featured author Kate Samworth's presentation on her book, "Aviary Wonders Inc., Spring Catalogue and Instructions Manual," by helping children make bird collages.
Entomologist, Kay Taub, will have insects and activities to compliment featured author Lola M. Shaefer's presentation of her book "Lifetime: The Amazing Numbers in Animals."
Children's Book Week
For the second consecutive year, the Festival has been selected as an official event of Children's Book Week, which is taking place May 12-18. Children's Book Week is the longest-running literacy initiative in the country, bringing author and illustrator appearances, storytelling, parties and other book-related events to communities around the country.
For a complete list of children's and young adult authors, as well as up-to-date details about all the activities and workshops hosted in the Children's Village, visit the GBF website at www.gaithersburgbookfestival.org.