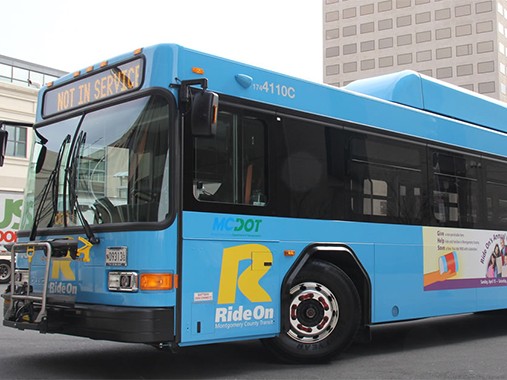 Further Ride On Bus Service Reductions Begin Sunday, March 29
Montgomery County Department of Transportation (MCDOT) announced Friday further reductions for Ride On bus service starting Sunday, March 29. The new plan, referred to as the Essential Service Plan, includes 35 critical routes so that residents can take Ride On buses for essential trips during the COVID-19 health crisis.
All buses will operate the same Essential Service Plan seven days a week, there is no difference between weekday and weekend schedules.
Details for each Ride On route remaining in operation under the Essential Service Plan can be viewed at https://www.montgomerycountymd.gov/DOT-Transit/essential-plan.html.
An interactive map for the new service plan is available online at:  http://ow.ly/jypS50yXNK
The map shows all Ride On routes that will be operating under the Essential Service Plan and their proximity to essential services (such as healthcare, pharmacies, groceries, banks and Montgomery County Public Schools food distribution sites).
Some Metrobus routes remain in operation as well, and the most up-to-date information on Metrobus coverage can be viewed at wmata.com/service/bus/.
MCDOT advises riders to check schedules daily in case additional changes are required. Significant delays remain a possibility. Real time arrival information is no longer available by specific routes, but real time bus locations are visible at rideon.app/busmap. Passengers can look at the bus map to see in real time if a bus is approaching their bus stops. During the changing conditions due to the health crisis, other trip planning resources, such as transit apps and Google Maps, may not be accurate.
Under the Essential Service Plan, 35 routes will continue to operate—less than half of the routes normally in operation. The routes selected for continued operation are based on the heaviest ridership patterns, Metrobus routes anticipated to remain in service, maintaining access on primary corridors and maintaining access to key locations such as hospitals, medical facilities, grocery stores and pharmacies. Some food distribution sites operated by Montgomery County Public Schools are covered by the new plan, but not all. The Essential Service Plan also includes careful consideration for those areas defined as Equity Emphasis Areas by the Metropolitan Washington Council of Governments.
Four routes servicing area hospitals (52, 53, 66 and 67) have been modified to include midday service, which is an increase in service.
The Essential Service Plan maintains service to all primary transportation nodes in the County, including all Metrorail stations and established transit centers. The Grosvenor-Strathmore Metrorail station will still be served by Ride On, despite Washington Metropolitan Area Transit Authority's announcement that the station is now closed.
Ride On bus operators will not be asking for proof of need for travel. However, if buses have high passenger loads, it may become necessary to leave passengers behind in order to maintain social distancing guidelines. Buses that have reached safe social distancing capacity will display "Full Bus" signs and report to main dispatch if more capacity is needed to meet demand.
During the health crisis, all Ride On services will be temporarily free to all passengers. In addition, MCDOT has implemented a procedural change for riders. Passengers are now required to board at the rear door of the bus. Passengers can board through the front doors if a ramp is needed to accommodate a disability or stroller.
Bus interiors will continue to be cleaned by the County's Department of General Services on a nightly basis with hospital grade disinfectant. Bus filter and ventilation systems are also treated each night with a disinfectant.
Previous post