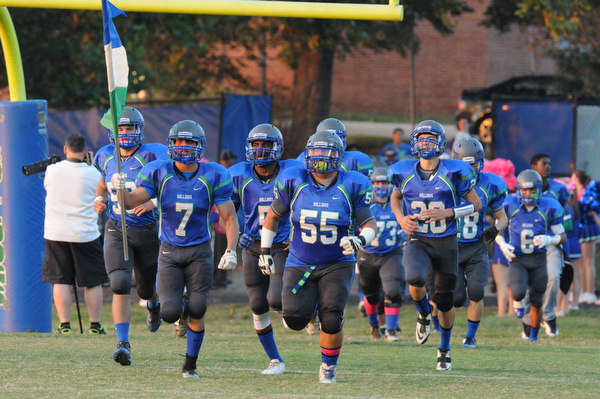 Friday Night Star-Lights
Half of the high school football season has gone by and it has been my pleasure to travel around the county to photograph many games for Montgomery Community Media.
In this first edition of Friday Night Star Lights, I will provide a brief introduction to those outstanding individual performances played under those Friday night lights. So let's get started.
September 12 – Gaithersburg 40 – Watkins Mill 0
Star-Light: #7 Kamonte Carter, Gaithersburg QB/Defensive Lineman
Penn State commit Kamonte Carter stepped under center as Quarterback for the Trojans to lead Gaithersburg over rival Watkins Mill. Carter, who played both offense and defense, is better known for his prowess at Defensive End and it clearly showed as his teams held "the Mill" scoreless. Carter's stats for the evening were not stellar (total offense of 77 yards) having infrequently appeared in the QB position. But that opening night at John Harvill Stadium on Route 355 belonged to Carter. Next up is Churchill.
September 19 – Northwest 46 – Seneca Valley 6
Star-Light: #23 E. J. Lee – Northwest Running Back
Northwest fought Seneca Valley for the Kings Trophy on SV's football field that evening. If it is any consolation to Seneca's players they have been the only team to put up any points against NW this season. NW has blanked everyone else they faced. That evening and frankly the season so far shines a light on it's captain #23 E. J. Lee. That evening #23 rushed for 177 yards and this season he has 560 yards on 43 carries.
September 26 – Paint Branch 39 – Churchill 29
Star-Light: #20 Darryl Hill Jr. – Running Back
A game like this comes along only once in a while for a player. Paint Branch's Running Back #20 Darryl Hill Jr. had one of those nights. Hill ran for 180 yards on 26 carries and accounted for 5 touchdowns against the Bulldogs. Glory days indeed.
Paint Branch travels to Germantown on Friday October 10th in a matchup against Northwest. Both are undefeated teams after 5 games both have star running backs.
October 2 – Quince Orchard 44 – Churchill 3
Star Light: #23 Marvin Beander – Quince Orchard Running Back
Star Light: #42 Adam McLean – Quince Orchard Defensive Tackle
After having watched Churchill's fourth quarter comeback against Paint Branch the prior week I expected the Bulldogs passing and running attack to solidify for the QO game. That is until I watched #42 Adam McLean for Quince Orchard. He was the monster in the middle and too much to handle for Churchill's offensive line. He was the game changer. On QO's offensive side of the game a sophomore standout appeared in the persona of #23 Marvin Beander. The QO offensive line opened holes for Beander that allowed him to shine. I counted 3 TD's for #23. It was that kind of night for the Cougars. Next up is B-CC.
Go to my website http://sugarloafphoto.smugmug.com/MCMsports for complete photo coverage for all of the above and upcoming football games.
Tonight, I will be in Olney for the battle between two powerhouse teams DeMatha and Good Counsel.