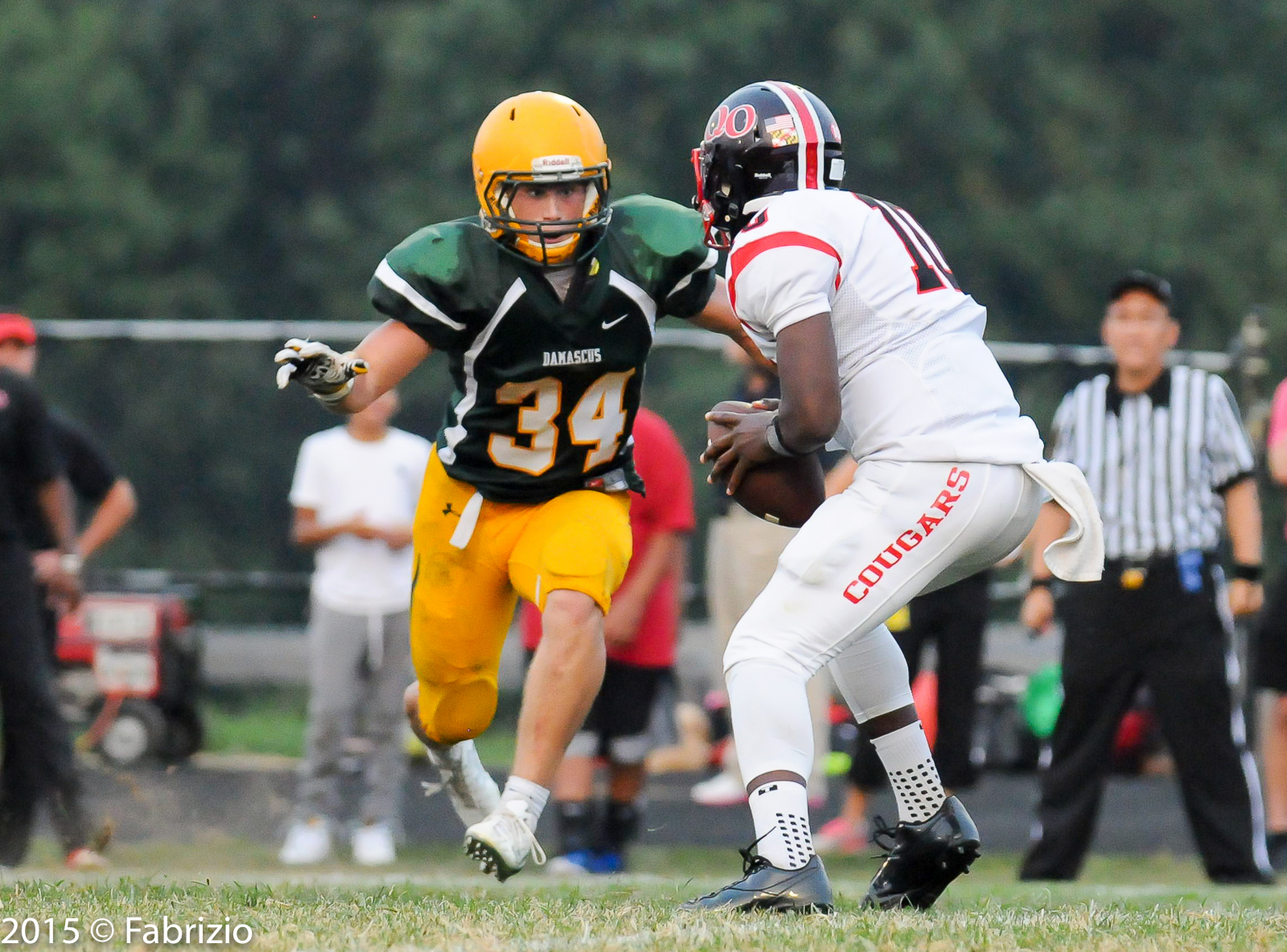 Football in Montgomery County (PHOTOS)
There's been six weeks of football and there's been some great performances on the field across the county.
Here's a look at some of the players I think are among the county's top:
Best Offensive Performer: Quarterback, Junior – Desmond Colby, Blair
Through six games Desmond Colby has accumulated over 1,700 yards of offensive might for the up and coming program at Blair. Blessed with receivers who catch his spirals he has become the leading quarterback in the DMV in total passing yardage who presently has 15 TD's and 8 INT's. What makes this performance unique is because he outshines two other QB's in the MoCo, Dwaine Haskins of Bullis, a D1 recruit potentially heading to U of MD and Mark Pierce at Northwest, holder of two 4A state championship rings.
Best Defensive Performer: Defensive Back, Senior – Jake Funk, Damascus
You might think that I have this a little bit askew. Funk has been stellar all season handling the running duties for Damascus. He has 20 TD's and over 1,000 yards rushing but ask anyone who faces him on the other side of the line – he is fearless and in your face. He is an athletic game changer on defense. The only obstacle standing in his way to an All Met season will be his team's date with Seneca Valley on Friday, October 30th when these two top 3A division squads face off in Germantown.
Best Special Team Performer: Kicker/WR, Senior – Justin Parrales, Clarksburg
I have seen many kickers over the years covering football in the DMV, but what Justin Parrales did with the game on the line against Urbana last Friday night was spectacular. Yes, earlier he had missed an extra point attempt; and yes he badly missed a FG from about 30 yards that would have put Clarksburg up by 9 at half. Then with less than 2 minutes in the game remaining he nails a 47-yard FG – for a 9-7 win on homecoming night. Forty-seven yards in a high school game is a long, long, long try. The coaches had faith in his skills; they knew and now so do you.   Hopefully, a next step football program is looking for that one special person, like Justin, who wins it when the game is tight. Way to go Justin!
Best Team: Seneca Valley, Montgomery 3A, Germantown MD
Ok, I can hear it now – what about Damascus – they are ranked #2 by the Post; and Seneca – well they are #9. You see this is where I really miss the Gazette's sports writers – they loved to mix it up over who is best in the MoCo. But Seneca made its loud statement earlier this season by knocking off defending 4A State Champion Northwest at NW to claim the Kings Trophy. With four games left Seneca Valley will be 9-0 awaiting the arrival of an undefeated Damascus team on October 30th. They are the underdog "with a yearn, to return" glory days to Germantown – and this just might be the team to bring that glory all the way back to G'town from Baltimore.
This week look for me in Gaithersburg when those Friday Night Lights return to the Cougar Dome, for a cross divisional matchup between Northwest and Quince Orchard in the Battle for Great Seneca.
Phil Fabrizio
@Photoloaf