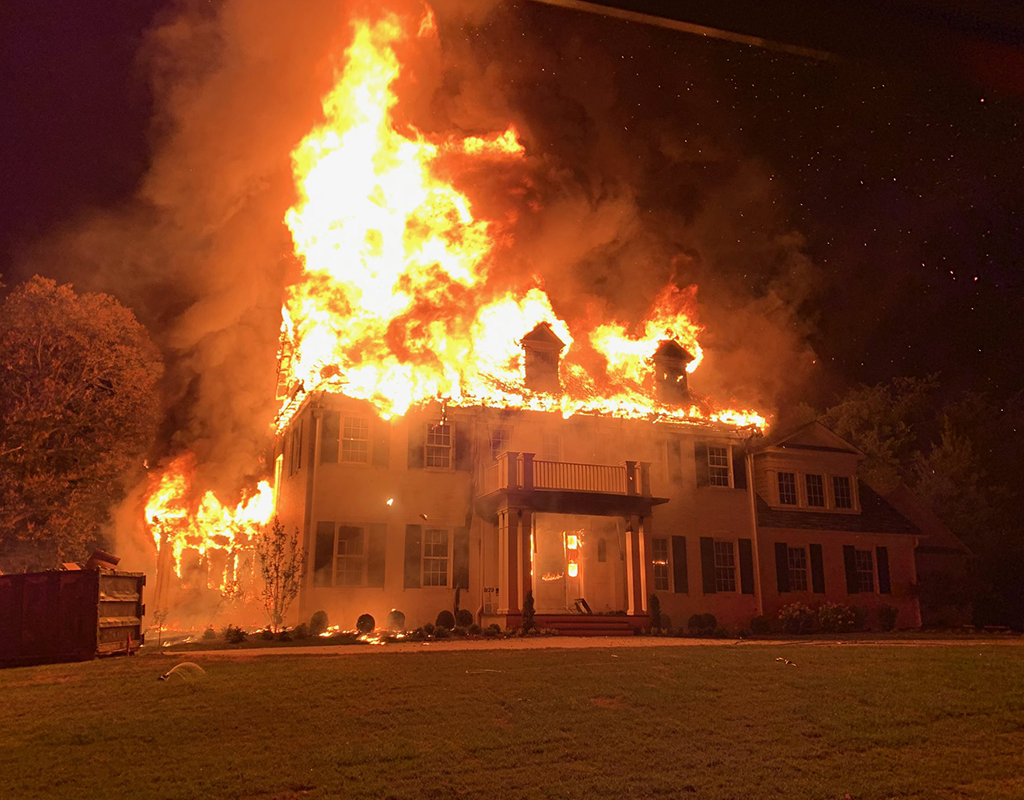 Fire Causes More than $1.5 Million in Damages to Bethesda House
A fire at a Bethesda house—located off Bradley Boulevard on Kittery Lane and Redwood Avenue—caused more than $1.5 million in damages, according to Pete Piringer, spokesperson for Montgomery County Fire and Rescue Services.
Piringer tweeted that the fire started around 4:20 a.m. on Monday. More than 50 firefighters arrived on the scene to battle the heavy fire conditions. The house was unoccupied because it was undergoing renovations and was in its final stages of construction, Piringer tweeted.
Update – 9179 Kittery La, Bethesda; new home in final stages of construction; Area of Origin, fire damage is consistent w/ fire starting inside of sprinklered home, Redwood Av side; Cause, Due to partial collapse & structural integrity concerns, thorough scene exam not possible https://t.co/isiH5hFsel pic.twitter.com/eZE6eNWxci

— Pete Piringer (@mcfrsPIO) June 28, 2021
No one was injured from the fire, Piringer tweeted. However, Piringer wrote there's significant damage to the structure of the house, which has partially collapsed.
Piringer says that firefighters have not been able to thoroughly examine the cause of the fire due to the "structural concerns." He noted that the house had sprinkler system inside.
Update – Kittery Lane off Bradley Boulevard, large single-family house unoccupied, heavy fire upon arrival, https://t.co/6H9cF1yVS8 pic.twitter.com/jgwMjHz4oF

— Pete Piringer (@mcfrsPIO) June 28, 2021
A possible cause for the fire, according to Piringer, is a spontaneous combustion of rags and brushes.
Piringer tweeted that some neighbors in the area speculated that the fire was caused by a fireworks show at Bethesda County Club, which is nearby. However, Piringer says "fire investigators have all but ruled this out as a cause of the fire."