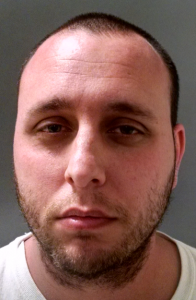 Essex Man Arrested for Sex Offenses; Police Believe There May Be More Victims (PHOTO)
Montgomery County police have charged an Essex man with committing sexual offenses against a 14-year-old girl.
Police arrested Roy David Evans Jr., age 31, of Woods Court in Essex, on March 31, and charged him with three counts of third degree sex offense.
Police said investigators learned of a sexual relationship between Evans and a 14-year-old girl on Feb. 16. According to police the relationship began in June 2015, when the two began communicating after the victim replied to an ad posted on Craigslist by Evans, looking for young models. Police said the victim found the ad through a social media application, Kik, where Evans went by the username "Roddanger86."
She communicated with him through the app and email, and told Evans she was 14-years-old, police said.
According to police, Evans drove to the girl's Montgomery County residence on three separate occasions and engaged in sexual acts each time they met.
Police arrested Evans at his home. He was released after posting a $150,000 bond.
During the investigation, detectives determined that Evans has been posting ads for young models since 2014. Police say Evans used the Kik handle "Roddanger86" and an alias name "Rodney." Police warned that there may be additional victims, specifically in the Baltimore region.
Detectives ask anyone who believes has been victimized by Evans to call the Special Victims Investigations Division at 240.773.5400 or their local police department.