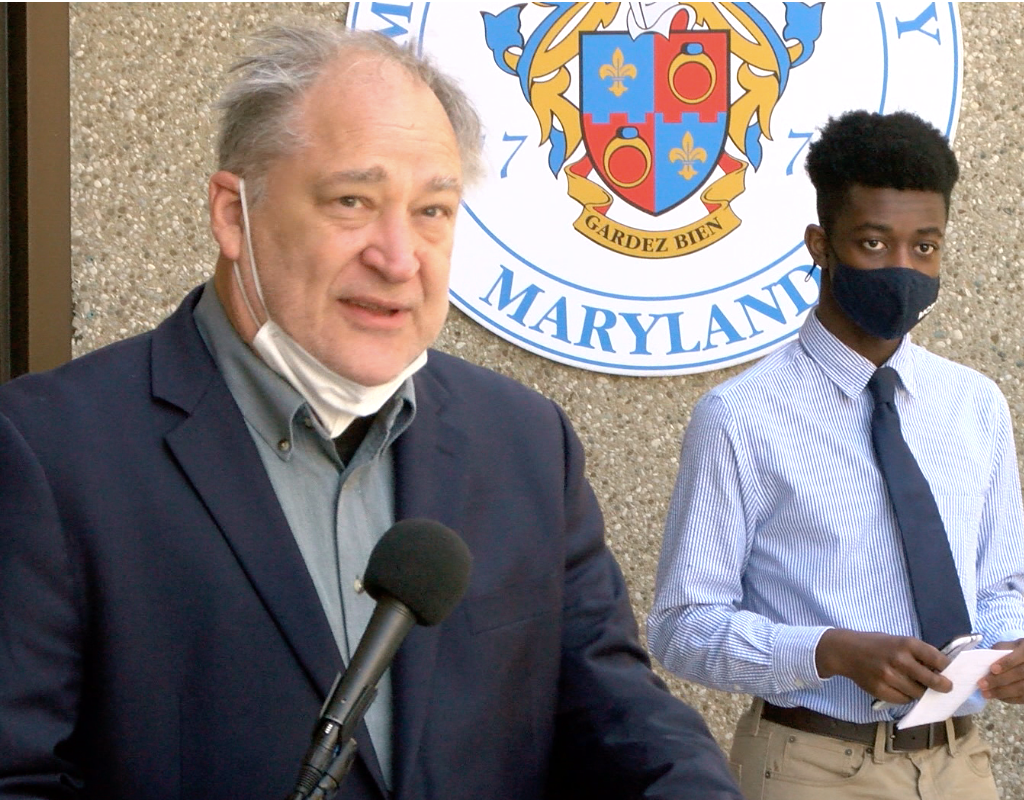 Elrich Names Committee Members for 'Reimagining School Safety and Students' Well-Being Initiative'
Montgomery County Executive Marc Elrich announced the 32 members of a new steering committee tasked with leading discussion and implementation of recommendations for reimagining safety and mental health supports in Montgomery County Public Schools (MCPS) and the county.
Elrich launched the "Reimagining School Safety and Students' Well-Being Initiative" during a press conference April 23. It's an interagency effort between the county, MCPS and county police department (MCPD). The committee will provide a preliminary report with recommendations to Elrich and MCPS Interim Superintendent Dr. Monifa McKnight by June 15 and a final report by Sept. 30. Elrich said he fully expects recommendations will start being implemented as soon as possible and that not everything will wait for Sept. 30.
The steering committee is chaired by representatives from MCPS, the county Department of Health and Human Services (DHHS) and MCPD: Associate Superintendent of the MCPS Office of Student/Family Support and Engagement Ruschelle Reuben, DHHS Chief of Children, Youth and Family Services JoAnn Barnes and Assistant Police Chief Willie Parker-Loan.
Other members include three students and representatives from MCPS, the MCPS school board, DHHS, MCPD and the council council.
The steering committee members are as follows:
JoAnn Barnes, (committee co-chair) chief of children, Youth and Family Services, Department of Health and Human Services
Willie Parker-Loan, (committee co-chair) assistant police chief, MCPD
Ruschelle Reuben, (committee co-chair) associate superintendent, Office of Student/Family Support and Engagement, MCPS
Josean Acevedo-Soto, security support staff, MCPS
Kirsten Andersen, administrator, Linkages to Learning, DHHS
Elaine Bonner-Tompkins, senior legislative analyst, Office of Legislative Oversight
Elise Burgess, principal, Sally Ride Elementary School, MCPS
Luis Cardona, administrator, Positive Youth Development, DHHS
Norman Coleman, principal, Francis Scott Key Middle School, MCPS
Stacey Flynn, captain, MCPD
Anita Garcia, social worker, Office of Student/Family Support and Engagement, MCPS
Tocarah Hargrove, sergeant, MCPD
Dan Helton, lieutenant, MCPD
Lauren Hurly, teacher, John F. Kennedy High School, MCPS
Luis Hurtado, security Support Staff, MCPS
Dustin Jeter, teacher, Springbrook High School, MCPS
N'Djetchi "Juslin" Kacou, student, Argyle Middle School, MCPS
James Koutsos, area associate superintendent, Office of Teaching, Learning and Schools, MCPS
Deborah Lambert, senior fiscal and policy analyst, Office of Management and Budget
Asashia Martin, instructional specialist, Office of Student/Family Support and Engagement, MCPS
Monica Martin, administrator of Child/Adolescent School and Community-Based Services, DHHS
Regina Morales, deputy chief of Behavioral Health and Crisis Services, DHHS
Kiera Norris, student, Northwood High School, MCPS
BB Otero, special Assistant to the County Executive
Nicole Rodriguez-Hernandez, Legislative Analyst, County Council
Rolando Santiago, chief of Behavioral Health and Crisis Services, DHHS
Neha Singhal, teacher, John F. Kennedy High School, MCPS
Sydney Smith, student, Clarksburg High School, MCPS
Caroline Sturgis, assistant chief administrative officer, County Executive Office
Elizabeth Thomas, principal, Quince Orchard High School, MCPS
Lori-Christina Webb, chief of staff, MCPS Board of Education
David Wilson, security support staff, MCPS