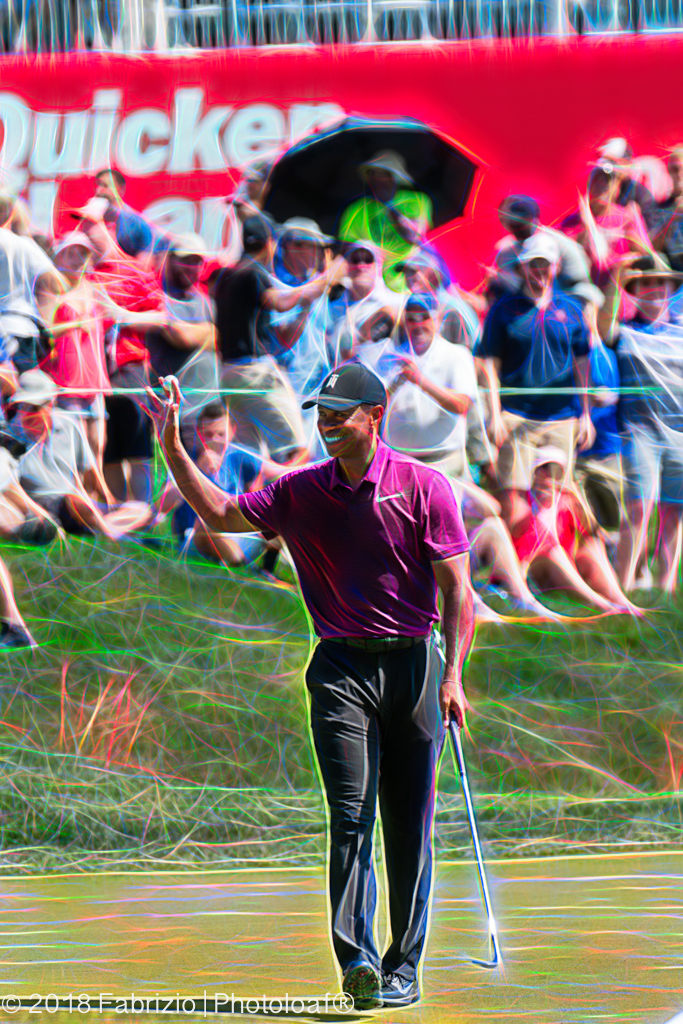 DAY 2 at the TPC Potomac at Avenel Farm
POTOMAC, MD:  June 29, 2018
I was up early and headed out to TPC Potomac at Avenel Farm to catch the fan favorites.  Morning light is the best on this golf course, streaking through the tree leaves stretching across tees and greens.  The crowds that showed up were there early, too.  The threesome that included Rickie Fowler teed off at 8:08 a.m. on number 10 followed by Tiger Woods 8:20 a.m. group.  Looked to me like not much work was getting done around the DMV with the size of the crowds following these two threesomes.
I was here for the ride, or shall I say, the Walk.  Having shot at the TPC Potomac at Avenel Farm before I have developed a few favorite singular views.  I love the 10th and 12th tee boxes and the wide open finishing hole at 18.  Because I was on the course early there was not much chance to follow yesterday's leaders.  Andrew Landry, Billy Horschel and Andrew Putnam whom all were spread out over the course with differing tee times.  That will change as we head into the weekend.
Right now it's all about making the cut.  Two players in particular could be in jeopardy today, that being Woods and Fowler.  So I chose to follow them early.  Both headed into the 18th green at one under par and needed to climb the board with only 9 holes left.  Woods hit a cut spinner chip at the 18th green for a birdie to go 2 under after 9.
Fowler finished the day 4 under par with Woods shooting a 65 to go 5 under for two days.
As I did yesterday and will continue to do, I will take 10 photos best suited for the day and post them with a stylistic-twist to give a lasting impression of this final Quicken Loans National.
Follow the action on Twitter with @QLNational @Photoloaf, @Mymcmedia or at Instagram @TGRFound.
All Photos copyrighted © 2018 Phil Fabrizio | PhotoLoaf® for MCM
Photos to follow.