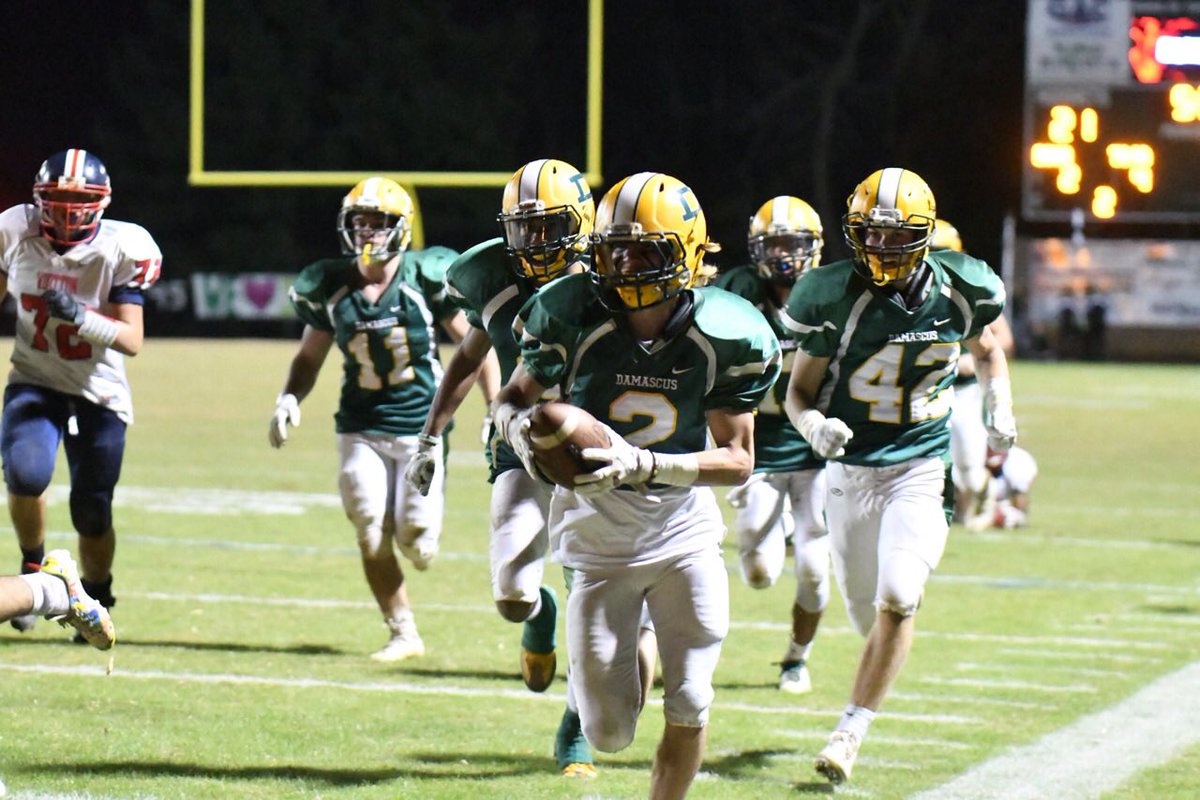 Damascus Remains Undefeated with 49-7 Win Over Wootton (PHOTOS)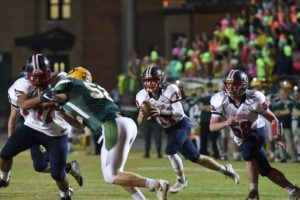 The Wootton Patriots travelled to Damascus to meet the undefeated Damascus Swarmin Hornets for Friday night football under the lights.
Wootton scored first with a touchdown pass from quarterback Grant Saylor to Elijah Trent with 7:40 left in the first quarter, making the score 7-0, Wootton. By the end of the first quarter, Damascus scored 14 unanswered points, making the score 7-14, Damascus.
During the next three quarters, Damascus put 35 points on the board taking the win with a final score 49-7.
PHOTOS | Phil Fabrizio
Final. Damascus 49 Wootton 7. @mymcmedia @DmassFootball @WashPostHS pic.twitter.com/fu9TeiQqtA

— Phil Fabrizio (@Photoloaf) November 4, 2017
Damascus's Casablanco is rewarded for this huge gain he scores 2 plays later and it's 49-7 with a running clock @mymcmedia @DmassFootball pic.twitter.com/pmlAFhaDah

— Phil Fabrizio (@Photoloaf) November 4, 2017
17 secs into 3rd Qtr Tad Ayo-Durojaiye scores from the 30 his 4th TD of the game. It's a running clock 42-7 @DmassFootball @mymcmedia pic.twitter.com/QytJM0iNAr

— Phil Fabrizio (@Photoloaf) November 4, 2017
Showing sportsmanship @DmassFootball players come over to Wootton's kicker Kiyaan Chavoshi who injured his hip @mymcmedia @WoottonSports pic.twitter.com/Ji3L0fgpL6

— Phil Fabrizio (@Photoloaf) November 4, 2017
Half ends in Damascus as Bryan Bresee sacks Saylor. Wootton sideline protests the tackle earning them 2 penalties. 35-7 Hornets @mymcmedia pic.twitter.com/DAPgAEdHHW

— Phil Fabrizio (@Photoloaf) November 4, 2017
14 yd TD run by Lokos puts Hornets up 35-7. @dmassfootball @mymcmedia pic.twitter.com/Hc2xDyRT7I

— Phil Fabrizio (@Photoloaf) November 4, 2017
Intercept by Gallagher sets up Damascus for a 11 yd score by Ayo-Durojaiye. 28-7 Damascus @mymcmedia @DmassFootball pic.twitter.com/oSY42lqR6P

— Phil Fabrizio (@Photoloaf) November 3, 2017
Wentzlaff caps a 72 yd drive with this run and score. 21-7 Damascus in the 2ndQtr. @mymcmedia @DmassFootball pic.twitter.com/U1mq1CWNmB

— Phil Fabrizio (@Photoloaf) November 3, 2017
Ayo-Durojaiye from 7 yds out Damascus 15-7 @mymcmedia pic.twitter.com/hAbcqWRXMA

— Phil Fabrizio (@Photoloaf) November 3, 2017
O'Neil behind blockers scores for Damascus but Hornets miss 2pt conversion 7-6 Wootton in the 1st. @mymcmedia pic.twitter.com/S51eMxIFIl

— Phil Fabrizio (@Photoloaf) November 3, 2017
Saylor to Trent and Wootton strikes first 7-0 with 7:40 in the 1st. @mymcmedia @WoottonSports pic.twitter.com/p4mdNrCzpS

— Phil Fabrizio (@Photoloaf) November 3, 2017