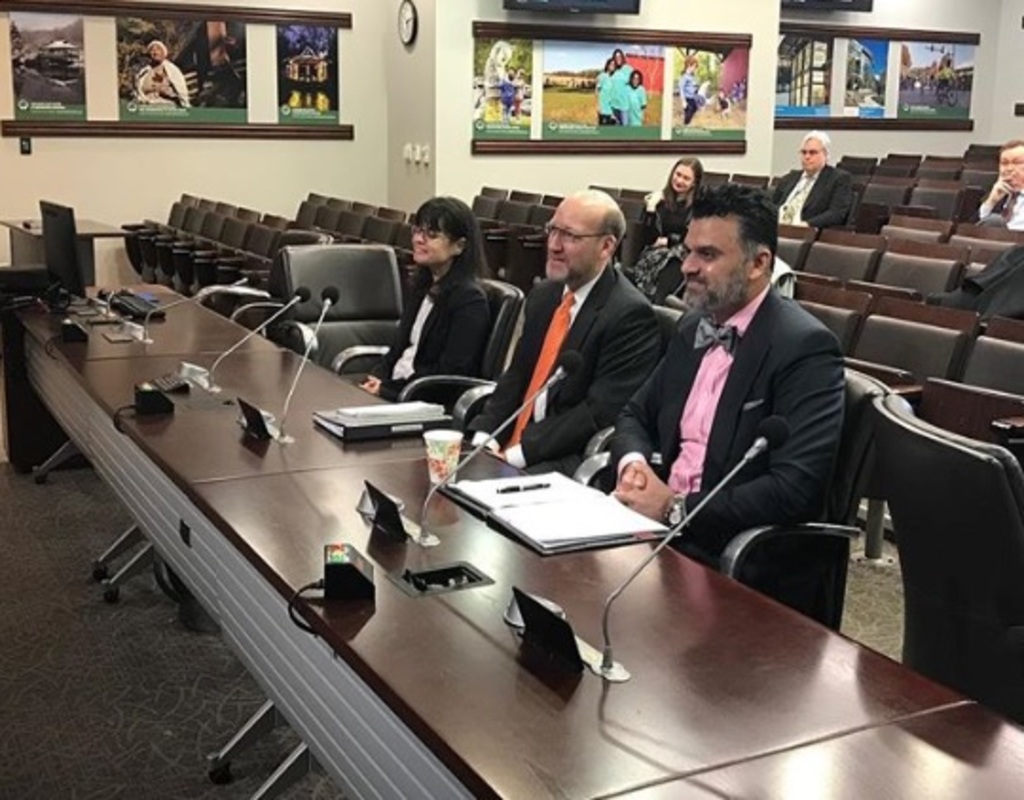 County Council Unanimously Confirms Two New Appointees
The Montgomery County Council voted unanimously on Tuesday to appoint a new Director of Procurement and an Assistant Chief Administrative Officer (ACAO). The council plans to interview and vote on the appointment of two more ACAO's on Thursday.
The new Director of Procurement, Ash Shetty, expressed in detail his plans to make the office more efficient and active in the community. "I believe we have not only an opportunity but a responsibility to be part of the community," he said in his interview with the council.  "I think there are some easy wins that are just waiting for us to reach out and grab."
Shetty, whose wife, Emily, is a state delegate, has spent his career consulting at several firms in the D.C. area for over ten years, and he hopes to translate those skills to make Montgomery County a more financially efficient county. "A big part of what I do professionally right now is going to organizations, find inefficiencies, and root them out," said Shetty.
He also stresses the importance of communication between the Office of Procurement and the businesses they work with, mentioning a lack of transparency and high qualification barriers in the contract and vendor approval process that can be adjusted to increase the amount and the diversity of prospective business partnerships.
After his interview, council members were not only impressed by his ideas and his qualifications, but they were eager to work with Shetty moving forward. "I don't know if I've been more excited about an appointment that's come over from a county executive in a long time," said Council member Craig Rice. Another Council member, Andrew Friedson, in agreement with the rest of the council, stated, "I think Mr. Shetty will be a tremendous asset across county government."
Adriana Hochberg was also appointed on Tuesday as one of three new ACAO's to the county executive, with her focus being on environmental policy and infrastructure development. "Adriana will be the lead on a greener county and easier commutes," said Chief Administrative Officer Andrew Kleine.
Hochberg started her career with the U.S. Environmental Protection Agency, where she primarily worked with Native American reservations in creating and maintaining wastewater treatment resources and facilities.
From there, she wanted to limit her scope and focus on smaller scale government efforts to address infrastructure and environmental issues in local communities, so Hochberg joined the D.C. Department of Energy & Environment, where she has been the chief of staff for the last 6 years.
Though she was born in the U.S., Hochberg spent much of her childhood living in Porto Alegre, Brazil, which is where she started noticing and listing problems with infrastructure and living conditions at the age of nine. "I had a profound sense that what I was seeing around me was wrong and unjust," said Hochberg. "I maintained a deep interest in making communities more livable."
As ACAO, Hochberg plans to work towards the county's goal to reach zero greenhouse gas emissions by 2035. "We need to increase the county's resilience and adaptability to a changing climate," she said. "I'm eager to apply my experience in environmental policy, local government management, and traffic safety to help make our county greener."
The council's reaction to Hochberg's interview was that of excitement, but there was also a sense that she would face difficulty in her work. "The role of ACAO is critical for department heads," said Council member Gabe Albornoz. "There is going to be a steep learning curve."
The Montgomery County Council will interview Alfred Jerome Fletcher II and Caroline Sturgis, the two other ACAO nominees, in their session on Thursday. Fletcher is currently the senior deputy director for the Department of Small and Local Business Development for the District of Columbia, and Sturgis is the deputy budget director for the City of Baltimore.