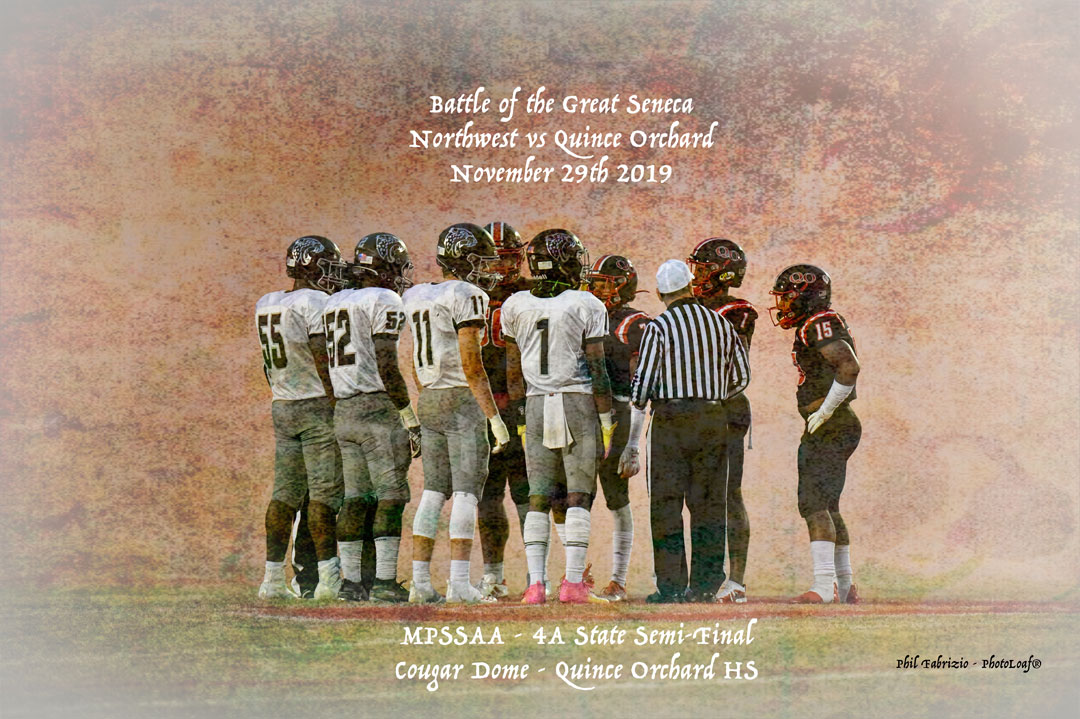 Countdown to the Battle of the Great Seneca
Tuesday, November 26, 2019
Like a traditional Thanksgiving dinner, this last MoCo high school football game was long in the making.  The stakes could not be higher for the players and the coaches. The winner moves on to the Maryland 4A state championship. The loser turns in their pads.
If you follow the Washington Catholic Athletic Conference (WCAC) as broadcasted by Monumental Sports come on over to Gaithersburg, sit back, wrap up warm and enjoy. It's not on TV.  Follow me on Twitter at @PhotoLoaf for the highlights.
The Finale:  The last and best game in MoCo in 2019 is the MD 4A state semi-final. It is #13 DMV ranked (Washington Post Sports) Northwest Jaguars (11-1) traveling next door to play #2 ranked Quince Orchard Cougars (12-0).
How did we get here?  Under a revised state playoff system, the top ranked teams in their class (4A) face off weekly.  The Jags defeated in order Clarksburg, Richard Montgomery, and Paint Branch.  The Cougars defeated Gaithersburg, Walter Johnson and Arundel.  Quince Orchard ranked #1 in their class gets home field advantage to play at the Cougar Dome.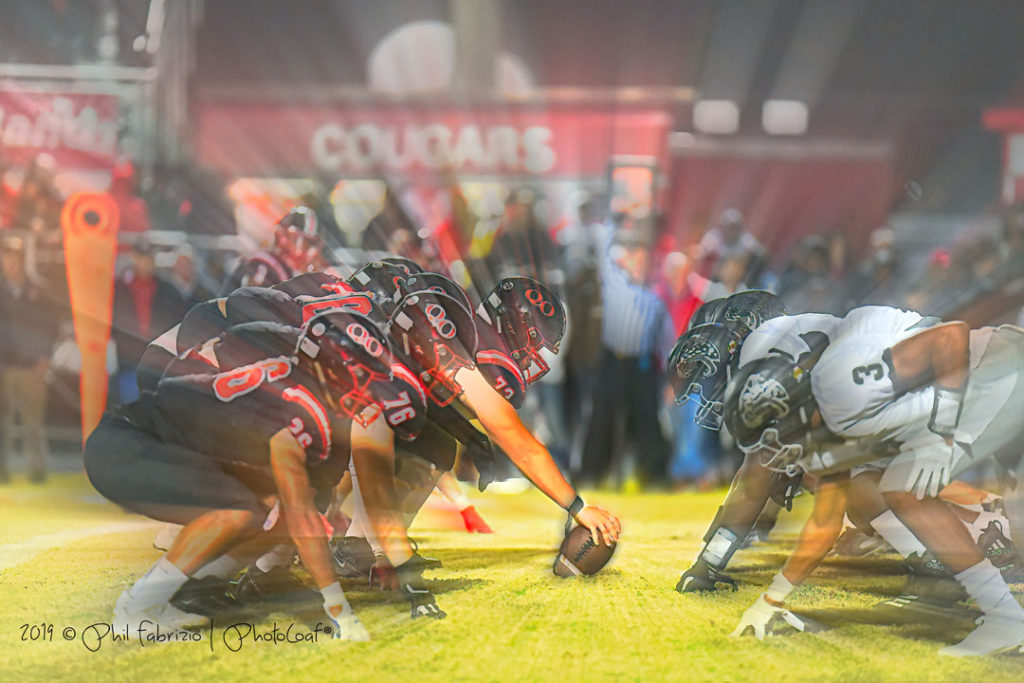 What's at stake?  History, and a fictional battle flag.
Never in the history of the MPSSAA playoffs or MCPS league play has either team played each other this late in the season.  The state championship game at the Navy-Marine Corps Memorial Stadium hangs in the balance.
However, what's bigger is this battle along state route 119, the Great Seneca Highway.
Route 119 is that thoroughfare running aside Northwest High intersecting the Quince Orchard boundary starting below the Great Seneca State Park and running all the way south to Sam Eig Highway/I-370 in Gaithersburg.  Neighbors and neighborhoods abut each other.
Players and families are friends, they go to the same restaurants, churches and movie theaters. They shop at the same stores, as well as, gyms and summer programs.  A game like this becomes bragging rights fodder.  Will all remember the subsequent state championship game?  Hardly, because it is about this game.
It is truly the Battle of the Great Seneca.   Battle flag #119.
On field Scenario:  Coaches Mike Neubeiser (NW) and John Kelley (QO) started side by side under Dave Mencarini at Quince Orchard.  Both achieved head coaching positions in the years since.  They have been the ying and yang, the up and down, the jimmer and jabber on the football field.  Awards achieved, championships won or lost, they found and crafted future student leaders along with NCAA and NFL players.  You get my drift, it's the best of the best, a chess match on 100 yards of yellowed Bermuda turf, lit by a bank of 48 old school lights.
A run-pass game versus a potent running game.  Defensively, both are strong.  Each team is steeped in talent. It will be a game to watch along the sidelines and from the stands.
Fans Amok:  Ok, on one side is the Red Army student section and on the other is NW's Black and White.  In between will be 4,000 to 5,000 standing room only paying fans.  The Cougar Dome will be so loud that you can hear the bands across the Seneca and Muddy Branch Creeks that flow nearby to the Potomac.  Cars and pickup trucks will line up along Route 28 South and act as an elevated endzone platform of peering fandom.
Those that are home for the Thanksgiving will find it a post-holiday football feast.  The biggest game in town since World Series game 7 watch parties.
MPSSAA was Right:  Huh?  Yeah, my apologies for ragging on the MPSSAA think tank that put this new playoff system in place.  Conceivably, these two teams could have met in Annapolis had things worked out differently – how's that for crazy.  I still don't like the early match ups where teams with losing records make the playoff brackets. But hey – you get the ok with the sublime.
Looking Forward:  In the 4A class you have four high school teams that all have been former state champs.  Wise, Northwest and Quince Orchard have achieved multiple state championships since 2007.  Old Mill has one championship.  All four of these teams remain viable as of Black Friday morning.  Two will move on and eventually one will need to make room for another championship plaque.
Again, MPSSAA got this end of the revised playoff system right.
The Over and Under:  52 points.  This will not be a blow up or blow out.  It will be tightly contested.  Big plays, big stops, momentum swings all a part of this feast week event.
A Christmas Wish List:  Since I am shopping on Black Friday I have a quick wish list for the area high school athletic sports directors who manage DMV football schedules.
My list follows:
To the WCAC conference – STOP traveling out of the DMV to find competition to supplement your schedules. Your best competition is within reach by using I-495, I-66 and various toll lanes.
To Virginia – same could be said of your schedules. Competition in Fairfax and Loudoun may be great with their many large schools.  However, you both do not have enough players to play varsity.  The impact on youth football does not look so good.  So, how about dropping JV and sticking to only Freshman and Varsity.
To Montgomery and PG – ditto on the schedules – just hand over 1 more game and rotate in a Private, a WCAC or cross county team perhaps moving those games to Saturday daylight scheduling. MCPS scheduling looked promising with Landon, Bullis and Good Counsel in the mix in past years.
To MPSSAA – tweak the football playoff brackets to winning records only. Simultaneously, open up – GIVE – an incentive point rating for those county teams who play games out of class/division/state (win and lose).
It's just a wish list, Santa.
It's been a fun Friday Night Lights season here in MoCo as supported by MCM.  A special thanks goes out to Joe Yasharoff @JYash at MCM and to my two fellow compatriots Daryl Schultz @SurfFishOBX and David Wolfe @The_Red_D for the added game day photo coverage that they supplied.
Happy Thanksgiving.
Phil Fabrizio @PhotoLoaf.