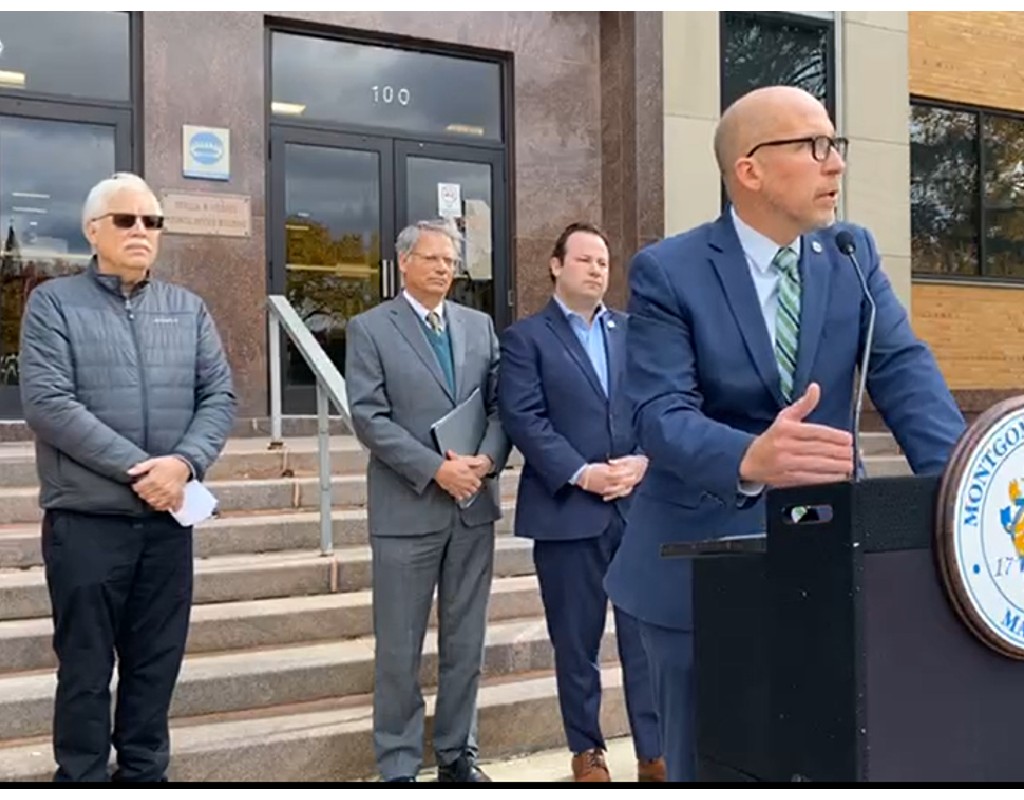 Council Wants to Redirect 10% of Energy Tax for Energy Efficient Loans
Montgomery County Council President Tom Hucker and Councilmember Andrew Friedson will introduce a bill Tuesday designed to enable more commercial property owners to fix up their buildings and make them more energy efficient.
During a 30-minute press conference Monday, Hucker explained he would like to direct 10% – nearly $20 million – of the county's energy tax revenues directly to the Montgomery County Green Bank in an effort to reduce greenhouse gases here. The remaining 90% would remain for county expenses.
Four years ago, the council passed a resolution to reduce greenhouse gases by 80% by 2027 and completely by 2035.
"It is indisputable that we are way behind on our goals," Hucker said as he stood outside the county council offices on a windy morning. "We need to be much more aggressive."
He noted that half of the county's carbon emissions come from the building sector, and half of that amount emanates from commercial buildings.
Some property owners have told councilmembers they would like to fix up their buildings to make them more energy efficient but don't have the funds to do so, especially due to an increased vacancy rate. Under this bill, the county loan and grant opportunities will help them handle the costs.
"If enacted, this bill would allow the Green Bank to invest millions to green our infrastructure and provide upfront capital for property owners to make critical energy efficiency improvements. This will spark a real and vigorous effort to make much-needed retrofits in our older buildings," Hucker said.
The Green Bank will use the $20 million and work with the private and governmental sectors to increase that amount by four to five times, making about $100 million available, Hucker said. Some of the money is expected to come from the Biden Administration's Build Back Better program.
"This would be a game changer" in the county's efforts to reduce its carbon footprint, Hucker said. Cleaning the environment "is a commitment to our children and the next generation who call Montgomery County home."
Friedson called the need for this dedicated funding "more urgent now then it has ever been." Reducing emissions "is all our responsibilities, and that should start with the public sector."
The county can't mandate reducing carbon footprints and then just sit back, he said. "We can't just raise the bar without providing the ladder."
Tom Deyo, CEO of the Montgomery County Green Bank, said his organization will take the county energy tax money and create a larger pot of money to distribute through loans with lower interest rates.
Brian Haaser, President of the Glen Manor Condominiums near the Forest Glen Metro in Silver Spring, also spoke at the news conference. He talked about his positive experiences with the Green Bank, which helped him obtain a $500,000 loan that was used to repair aging equipment. The result is a $9,000 annual savings in utility bills, he said.
He is considering applying for another loan to add solar panels at the condominiums.
"We have to take swift, united and decisive action. We know we need to act with urgency," Hucker said, pointing to the county's more frequent floods and temperatures that soar past 100 degrees.
Council President @CmHucker & Councilmember @Andrew_Friedson are spearheading a new bill to fight climate change by working with Montgomery County's Green Bank. Learn more about Bill 44-21: https://t.co/yvC7ofOo1m pic.twitter.com/XPkA2ssYtR

— Montgomery Council (@MoCoCouncilMD) November 15, 2021