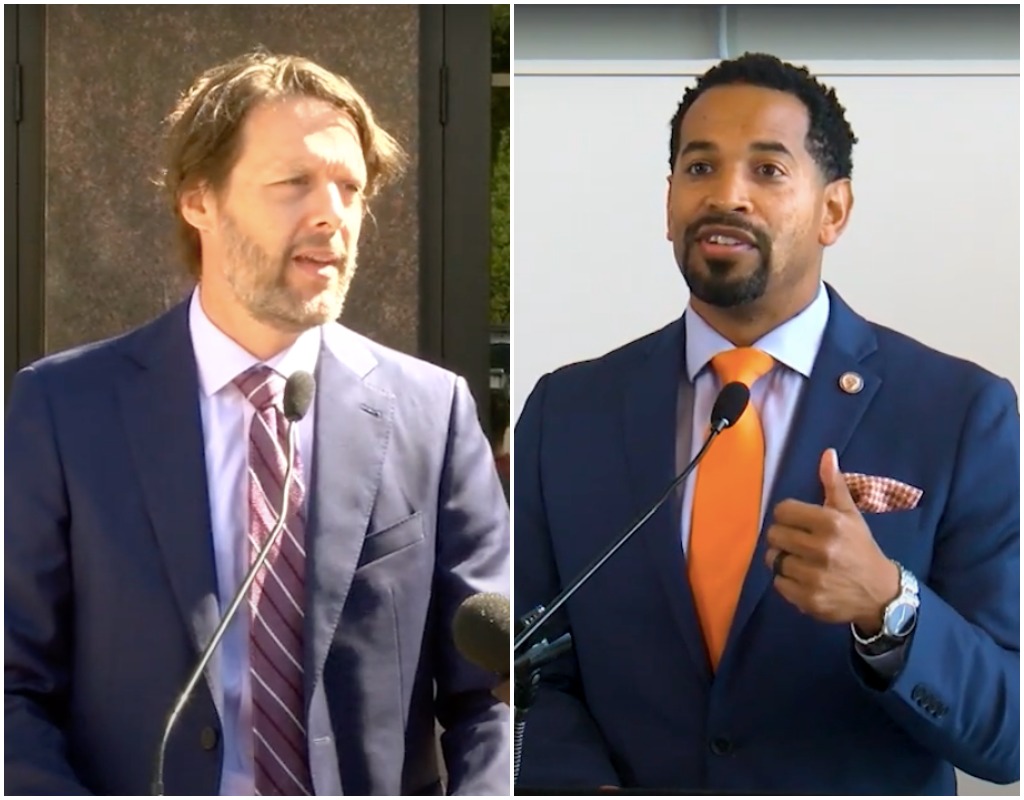 Council Bill Would Require All County Employees to be Fully COVID-19 Vaccinated
Montgomery County Councilmembers Hans Riemer and Will Jawando introduced a bill that would require all county employees to be fully vaccinated against COVID-19 or face losing employment, with exemptions for medical reasons.
The bill would require employees to show proof of vaccination or apply for a medical accommodation within seven days after being notified by the county, Christine Wellons, legislative attorney for the council, explained during a virtual council meeting Tuesday. Employees who fail to comply would be placed on unpaid leave for seven days and given another opportunity to show they have received at least one dose of the vaccine or applied for medical exemption. Employees placed on unpaid leave must show proof of full vaccination within 40 days of placement on leave, per a council document.
Those who fail to comply with all the provisions would ultimately be dismissed from employment, Wellons said.
If an application for medical exemption is denied by the Office of Human Resources, the employee must show proof of at least one vaccine dose within seven days of the denial, according to the proposed act. They must show proof of full vaccination within 40 days after the application was rejected.
"It's not easy," Riemer said, "But our employees need us to stand up for them right now. And there are many of our employees who are going to work everyday and they know that they are side-by-side with somebody who is refusing to take the vaccinations."
"We have let the Executive take his course of action with a testing requirement. And unfortunately we are not seeing good results," Riemer said. As of Tuesday, 77% of county employees are at least partially vaccinated, according to the county's COVID-19 data dashboard. 6% have reported being unvaccinated and 17% have not reported their status.
Currently, county employees who are not fully vaccinated are required to provide weekly proof of a negative COVID-19 test, as County Executive Marc Elrich announced in late August. In a statement ahead of the bill's introduction, Elrich said it would "upend the collaborative approach" developed with employees.
"The recently proposed legislation to mandate vaccinations or be terminated is unneeded," Elrich said. He said it is not smart policy and will result in staffing shortages, decreased public safety, more taxpayer costs and legal entanglements.
"Making threats and resorting to a "get a vaccine or else you're fired in 40 days" policy is not the right approach considering the progress we have made in Montgomery County." Elrich said the county should continue its current efforts.
Jawando noted low vaccination rates among County Fire and Rescue Service (MCFRS) personnel. About 63% have received at least one dose and 32.6% have not reported their status. 4.55% said they are not vaccinated. Jawando thinks residents would be surprised to hear some recent numbers.
"They shouldn't have to question whether the one that responds and risks their life to come save their life, is potentially exposing them to COVID[-19]," he said.
Council Vice President Gabe Albornoz supports the bill.
"I believe it's our responsibility as legislators, and the County Executive's as well, to protect the health of our entire community, all of our county employees and not the very small percentage – through some combination of fear, stubbornness, misinformation, political ideology or maybe just plain laziness – have not yet decided to sign up for a vaccination whose efficacy is absolutely unquestioned at this point."
He said the vaccine is saving lives and protecting residents like his children, three of whom are not yet eligible for the shot. Albornoz said the least the county can do is ensure public officials and public servants are following the science of what is necessary to keep the community safe.
"I get very frustrated and I just had it at this point with people who are holding out for God knows what reason," he said.
The mandate would be exempt from collective bargaining so all employees must comply, per a release from the council. A public hearing is scheduled for Oct. 19 at 1:30 p.m.
The bill is expedited, so it will take effect the day it becomes law.